---
This article was updated on September 2, 2022.
Small business owners wear many hats, and in many cases, that includes the role of a marketer. When operating a local business it is important to know exactly how to promote a new business. Fortunately, there are easy, low-cost (and even free) ways to get the word out about your business.
Whether you are looking for ways to attract new customers, or you're looking for new ways to engage your existing customers, this article is full of tips to get your business name out in the community.
What's ahead:
Search engine marketing (SEM)
Small business marketing 101: Identify your target customer base
Before considering any new advertising ideas, take a moment to identify your business's target customer base.
That is, who exactly are you trying to reach and serve with your marketing?
Maybe you're the owner of a brick-and-mortar shop who wants to get more customers through the door.
Perhaps you tutor part-time and are looking to get your name out in front of neighbours in your local community.
Regardless of your niche, the best way to begin your marketing strategy as a small business owner is by identifying your local customers or potential clients and understanding where they look for information about your business.


13 free and low-cost local advertising options for small businesses

1. Google My Business
Cost: Free
Looking to advertise your business for free? One of the first places your potential customer will search for your business is Google. While Google My Business may not sound familiar, it's the platform that lets you create a business profile and listing that appears in Google Search or Google Maps. For instance, when someone searches for "salons near me," a local list of salon locations appears. Your listing will tell Google to include your nearby business.
Claiming or setting up your listing will make your company's information - including contact information (phone number, website, address), and business hours - visible in Google's search results. Google My Business also provides helpful analytics, such as how many times your listing has been viewed and appeared in searches. Additionally, it's a great way to get reviews, which are free advertising and are often a top factor influencing new customers to choose your business.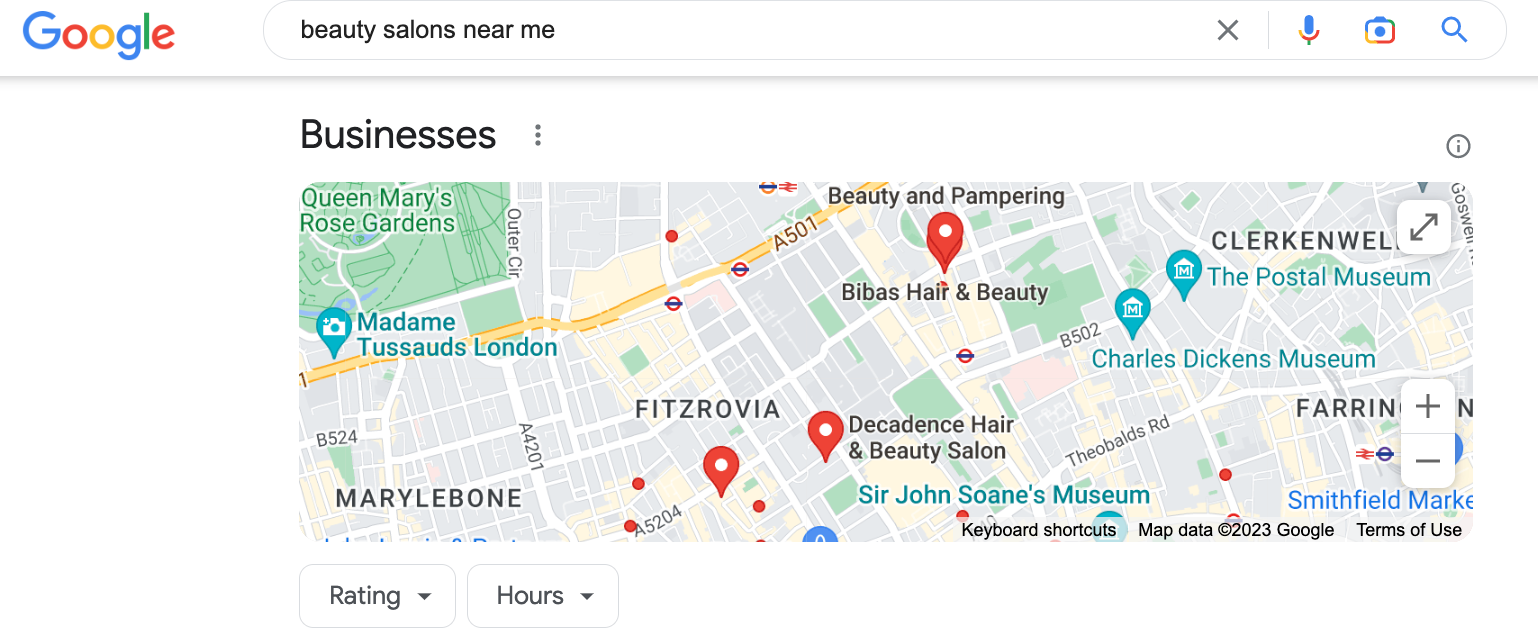 2. Search engine marketing (SEM)
Cost: Low-cost (you determine the budget)
Search engine marketing (SEM) is a paid ad option where your listings are featured in sponsored placements (i.e. highly visible) in search engines. Say a popular demographic that likes to frequent your business includes women in their 30s. You can set up pay-per-click ad campaigns (PPC ads) to target that demographic and focus your campaign by other criteria, such as postcode. Try SEM tools like Google Ads (and similar services from Bing ads and Yahoo!).


3. Word of mouth: engage in-person and online
Cost: Free or low-cost
Spread word of mouth where your neighbours frequent, in-person and online. Place flyers and ads in the community daily newsletter and bulletin boards, and in local online communities like Nextdoor. With 67% of Nextdoor neighbours sharing recommendations, you'll want to make sure they know about your business. It's free to set up a Business Page, collect recommendations, and engage with customers in your neighbourhood. Consider Local Deals, a hyperlocal targeted advertising offering that enables small businesses to target an exact area - down to specific neighbourhoods up to 10 miles away.


4. Social media
Cost: Free or low-cost (you determine the budget)
Customers can learn important information about your business on social media platforms, including where you're located, when you're open, and how other customers have reviewed you. As with Google My Business, it's free to build business profiles on Facebook and Instagram. Creating a Facebook page for your business is beneficial because it could also lead a new customer back to your website for additional information. There are paid advertising options, such as Facebook ads, to reach your target audience (by demographics, interests, and location) as well.
Consider other social platforms like TikTok, Twitter, Snapchat, LinkedIn, YouTube, Pinterest, and Reddit. These platforms are all great for telling your customers about reopening schedules, any changes that have been made to the business, as well as safety precautions that are being followed to make everyone feel safe while visiting your store.
Video marketing is a valuable component of social media marketing. YouTube is one of the best platforms for this type of marketing. You can really showcase your brand identity to the audience by demonstrating your product or service. Since there are millions of users on YouTube, you are also able to really expand your reach and have the potential to truly connect with customers.
There are so many tools out there, so it's important to prioritise where your customers are spending time online and what makes the most sense for your business.


5. Local listings, local search, and business directories
Cost: Free or low-cost (you determine the budget)
New digital advertising options like Yelp, Yell, and Nextdoor provide a platform for companies to list your business with local advertising options. Choose the business listing service that makes the most sense for your niche or industry.


6. Search engine optimisation (SEO)
Cost: Free
Search engine optimisation (SEO) is the practice of ensuring your company's website ranks high in search engine results.
SEO involves understanding how people search for your products or services. Are they more likely to look for "Thai restaurant near me" or "Thai food nearby"? Know the keywords people use to search for you, and ensure your website's content satisfies those queries. Keep your contact information up to date, and maintain your social media profiles.


7. Blogging
Cost: Free
Once your website is up and running, a great way to help improve your SEO and connect with the community is to create a blog. For example, if you're a restaurant owner, feature profiles on your staff, share recipes, and highlight loyal customers in your blog post. Strong content helps Google understand your niche, which should result in your business appearing in more results. Guest blogging is also a great option where you can create content elsewhere that will attract traffic with prospective customers back to your site.


8. Email marketing
Cost: Free or low-cost email marketing tools are available
Creating an email list for customers to join is one way to keep them engaged. Consider offering a one-time discount or other incentives to encourage people to sign up to receive emails. Small businesses can share updates such as new products or services, promotions, or changes to hours. Tools like MailChimp can get you started.


9. Direct mail
Cost: Varies
While some may think email has made physical mail obsolete, marketers have done some number-crunching around the response rates to direct mail. According to Forbes, response rates for mailers and other physical items sent to local customers' homes may be 10 to 30 times higher than digital marketing tactics like email.


10. Influencers
Cost: Varies
Growing your own social media following can take time. One way to generate interest in your products or services on popular apps like Instagram and TikTok is to partner with local influencers. Influencer marketing is an increasingly popular form of marketing. Followers look to Instagram influencers and their social media accounts for reviews or promotions that they can trust. Influencer marketing is a promotional strategy used to really humanise your brand. While costs vary among different influencers, they may be willing to post about your business in exchange for freebies or VIP experiences. Another benefit of an influencer partnership is the advertising products can often be recycled for another ad format such as video ads.


11. Business cards
Cost: Varies
Like direct mail, business cards haven't lost their power to make an impact. If you are making connections face-to-face, always have a card on hand. If you want to give them a modern update, be sure to include information like your company's website and social media handles.
Local event networking is crucial for new businesses. Networking events are useful, however, you can build connections in many other ways. Showing up to community events, for example, is a great way to form meaningful relationships and gain trust from others. Increasing your presence in the community is a great business promotion strategy.


12. Supporting local organisations
Cost: Varies
Sponsor a community sports team, place an ad in a local newspaper or school yearbook, or support a charitable event to raise awareness of your company. Gain positive word of mouth as a business that's looking out for your neighbours' best interests.


13. Establish a Customer Loyalty Program
Cost: Free
It's well known that happy customers are often very loyal customers. By creating a customer loyalty program as part of your local marketing strategy you can give back to those who commit to supporting your business. There is great flexibility in setting up a program to incentivise your local audience to keep coming back. Offer your local market store credit, discounted products, free gifts, or even premium content access in the next promotions newsletter.


Monitor and measure performance
With more ways today than ever to market your business, it is vital that any campaign is supported by a strong performance tracking plan. From banner ads to content marketing, collecting data on what customers respond to will help you tailor your future efforts to be more successful. Most advertising methods have built-in detailed tracking on everything from demographics to the number of impressions; this information can help you compare previous advertisements and allow you to make informed decisions on where best to focus your time and resources.


Whether it's improving your brand awareness through social media platforms or creating a rewards program for your existing customers, there are many ways you can attract and maintain customers. Now that you know how to promote a new business, you can implement the small business promotional strategies listed in this article to attract new customers and build relationships with neighbours as you reopen.
Start promoting your business with Nextdoor. Claim your free Business Page and share special offers and promotions with Local Deals.
Already have a Nextdoor business page? Click here to go to your page.