In-house collective uses neighborhood data to develop engaging campaigns
Today Nextdoor is announcing Nextdoor Create, its collective of in-house marketers and strategists focused on leveraging the power of the neighborhood to drive local connections between people and brands. Nextdoor Create works directly with the revenue team and brand partners to help bring awareness of and education about Nextdoor offerings through narratives and insights.
Nextdoor Create regularly publishes #NextdoorInsights series. The series features timely, local data about emerging neighborhood trends for brands to better understand how to engage with target customers, especially household decision makers. The latest insights spotlight how neighbor recommendations can influence purchasing decisions. Read the full report here.
Together with advertisers and agency partners, Nextdoor Create develops valuable, unique and engaging campaigns. In addition to innovative campaigns, the team regularly helps advise on best practices, ad creative and advice on how to integrate Nextdoor into ongoing campaign plans. Examples of collaborative brand campaigns include Make Every Block Better (with H&R Block), the Treat Map (with Party City) and the COVID-19 Vaccine Map (with Albertsons Companies and Moderna).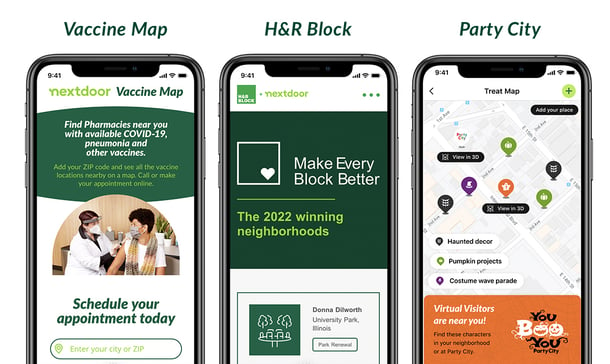 Collectively, these campaigns (and many more) have won top industry creative awards including: Muse, Marcom, Shorty and regional ADDY.
The latest partnership to launch with support from Nextdoor Create this month is the Seasonal Home Maintenance Neighborhood Spot in partnership with Leaf Home, intended to help neighbors keep up to date with home maintenance. "The Nextdoor Create team provided marketing consultation for Leaf Home to communicate and connect better with our neighbors on the platform," said Jeff Beck, Chief Growth Officer at Leaf Home. "We are excited to launch the Seasonal Home Maintenance Neighborhood Spot and provide users with everything they need to keep their homes in top shape."
"Every day, brands turn to Nextdoor to reach a uniquely engaged and influential audience of neighbors," said Heidi Andersen, Head of Revenue, Nextdoor. "We recognize there's a tremendous opportunity to help brands connect to local communities. Nextdoor Create is specifically designed to help find creative ways to leverage data and insights from the neighborhood and to grow brands and businesses."
Watch this video to learn more about Nextdoor Create.