Nextdoor is built for the neighborhood. From local businesses and services to nonprofits and civic organizations, Nextdoor connects neighbors to each other and everything in between - including your brand. The Neighborhood Ad Center (NAC), which is currently in beta and available to a limited number of businesses, is Nextdoor's ad campaign management platform for businesses and the only place where brands can reach potential customers locally, and at scale.
Why advertise on Nextdoor?
Nextdoor is the only place where your brand can share a national message that can be customized for a regional or local audience. 1 in 4 households nationwide use Nextdoor and every neighbor is verified in order to join. With no minimum advertising budget, easy audience targeting, and a conversion pixel; it is easy to create an ad in the Neighborhood Ad Center (NAC) and scale quickly to meet your performance goals.
If you're a business interested in advertising to a hyper-local customer base and at scale, follow these best practices to give your brand a leg up. To get started, sign up for your account here.


5 Best practice tips to help you get started



NAC Homepage
#1 Tailor ad copy and creative to feel organic on the Nextdoor feed
When neighbors come to Nextdoor, they're coming with a local mindset focused on their home, family, and community. Add a local angle to your messaging so it resonates with neighbors.
Use a friendly, neighborly tone. Just because you're a brand doesn't mean you can't also be a neighbor. Feel free to share tips, solutions, and advice so neighbors find your ad useful and are more inclined to engage.
Layer on local context by including these dynamic parameters in your ad copy: , . These variables will allow for the correct neighborhood or city to dynamically populate in your ad copy. Even if you are a national advertiser, we still see improved performance by mentioning the or in your ad copy. Additionally, you can tailor your post to reference a local landmark.
Note: your ad preview will not populate the city/neighborhood name but rest assured, it will pull in correctly when the ad goes live.
Test using images that are less tailored and feel more like they were taken by a neighbor. User-generated content (UGC) tends to perform very well on NAC.
All NAC ad formats contain text and copy elements prominently in the post. When selecting imagery, choose photos that contain minimal text. Instead, we recommend using lifestyle images that speak to the neighborhood mindset. You can add text details in the post subject line or body copy.
Example ad: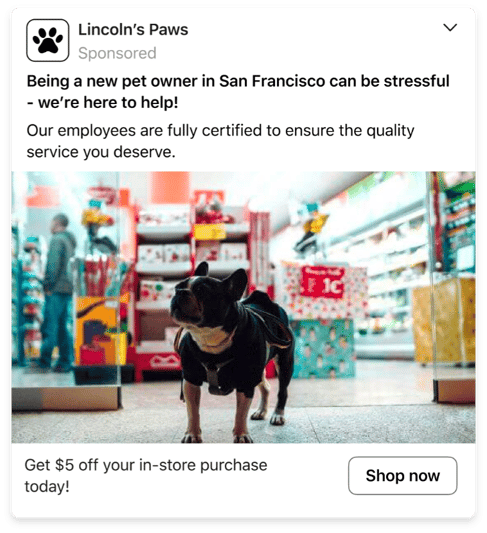 #2 Install the Neighborhood Ad Center pixel
All NAC customers receive a pixel to help track the conversions from your website and determine the effectiveness of your ad campaigns. By using the pixel, you'll be able to accurately measure conversions and gain valuable insight into how you can optimize your campaign strategy to improve your ROI.
As NAC is still in the early stages, you'll want to keep these things in mind:
Conversions will be attributed to Ads, Ad Groups, and Campaigns within the NAC dashboard.
The maximum default look back window is 30-days click (7-days on iOS).
One pixel is generated per account and is applied to the single domain (or subdomain) being promoted. This means it will track against all campaigns with that domain's landing page URL but not others.


#3 Update frequency cap to 20 to increase exposure and reach


The frequency cap is the number of times a Nextdoor neighbor will be exposed to your ad during the campaign flight. When you get to the delivery option of setting up your ad group, you want to make sure you increase the frequency cap from 10 to 20 impressions per week. Updating this number will match the frequencies on other digital marketing platforms. However, if you are running an awareness or consideration campaign, you may want to increase the frequency beyond 20 to ensure more exposure and reach.
NOTE: Frequency is set at the Ad Group level and is therefore applied to all ads within the Ad Group.


#4 Run ads across Nextdoor's most popular destinations
NAC ads run on two of the most popular places within the Nextdoor app - the newsfeed (the home screen for neighbors) and the For Sale & Free section (where neighbors can post items they're selling and giving away). We recommend running your ads on both to start, then compare ad performance to determine which platform is more effective and how much to invest in each. It's worth noting that the For Sale & Free platform has lower CPMs. Neighbors who are scrolling through For Sale & Free are already in the mindset to purchase.
For Sale & Free Placement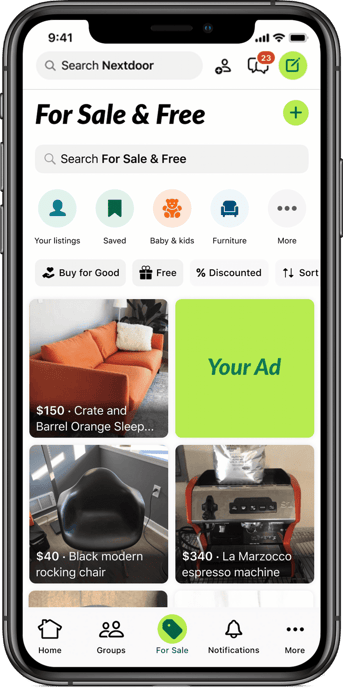 Newsfeed Placement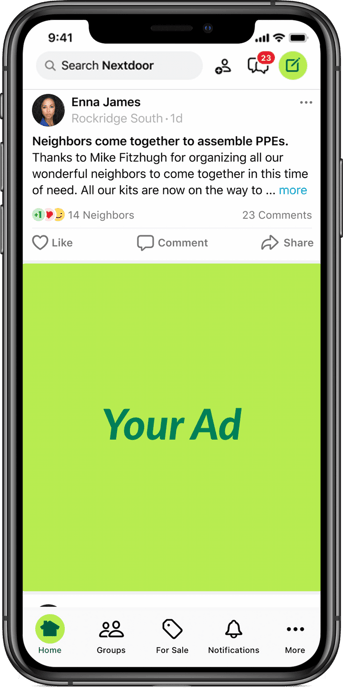 #5 Test narrow and broad targeting to maximize impact
When it comes to determining who will see your ads, we recommend starting with broad targeting parameters to gain better insight into where and with who your ads are performing best. This means not layering in demographic or interest targeting. Alongside this broad campaign, you can create more narrow targeted ad groups. By testing both broad and narrow audiences, you can determine where your ad investment is most effective.

These are just a few of our recommended best practices to leverage Nextdoor's Neighborhood Ad to scale your brand. If your business is interested in advertising on Nextdoor, sign up here to get started. Already have an account, sign in here.