The latest installment of Nextdoor's Insights series focuses on how neighbors are creating new kinds of social gatherings, supporting local businesses and looking for localization and personalization from brands. Read the full report here.

A recent survey of Nextdoor neighbors found that 73% say neighbors are their most important community. Connections continue to grow around the world, with active neighbors engaging on Nextdoor nearly four times a week.
Series highlights:
Neighbors are prioritizing proximity.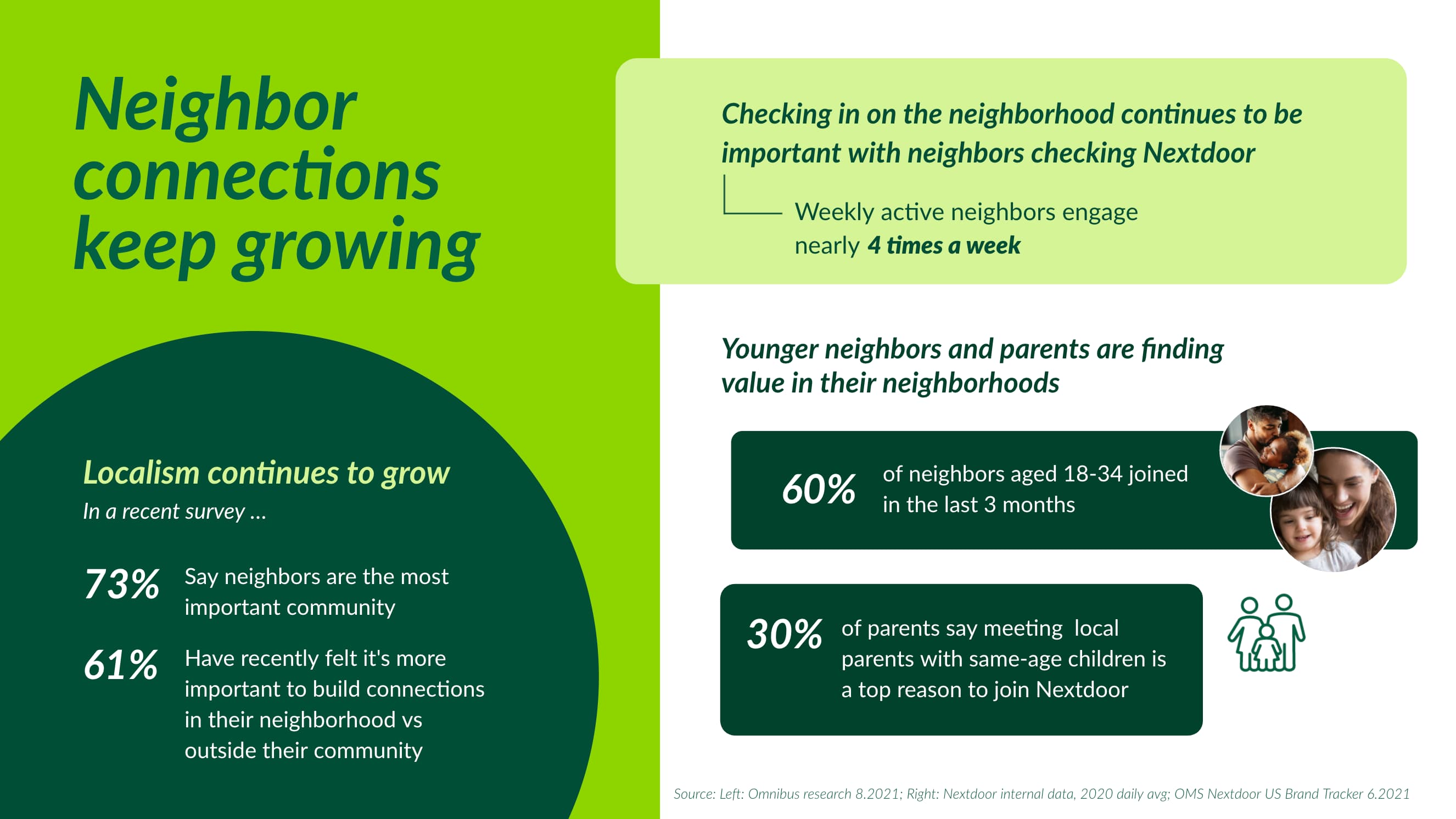 61% of neighbors have recently felt it's more important to build connections in their neighborhood vs. outside of their community. 30% of parents say meeting local parents with same-age children is a top reason they joined Nextdoor, and 60% of neighbors aged 18-34 joined in the last 3 months.
In-person gatherings are returning.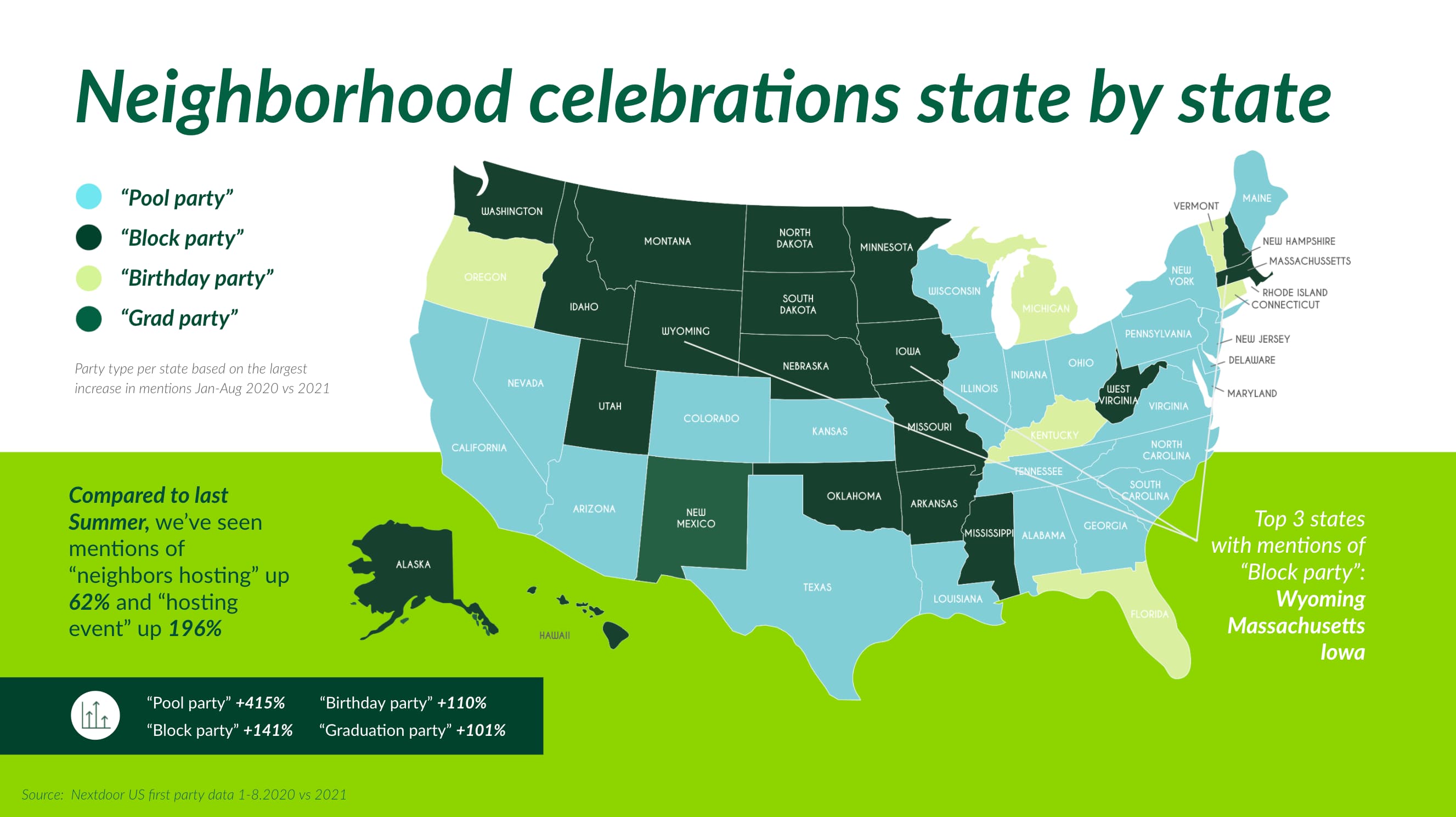 While 71% of neighbors are still uncomfortable attending large indoor events, they're creating smaller social gatherings close to home. 60% have attended a social gathering in someone's home or yard this year, and mentions of "block party" "yard wedding," and "yard birthday" have risen significantly.
Self-care is essential.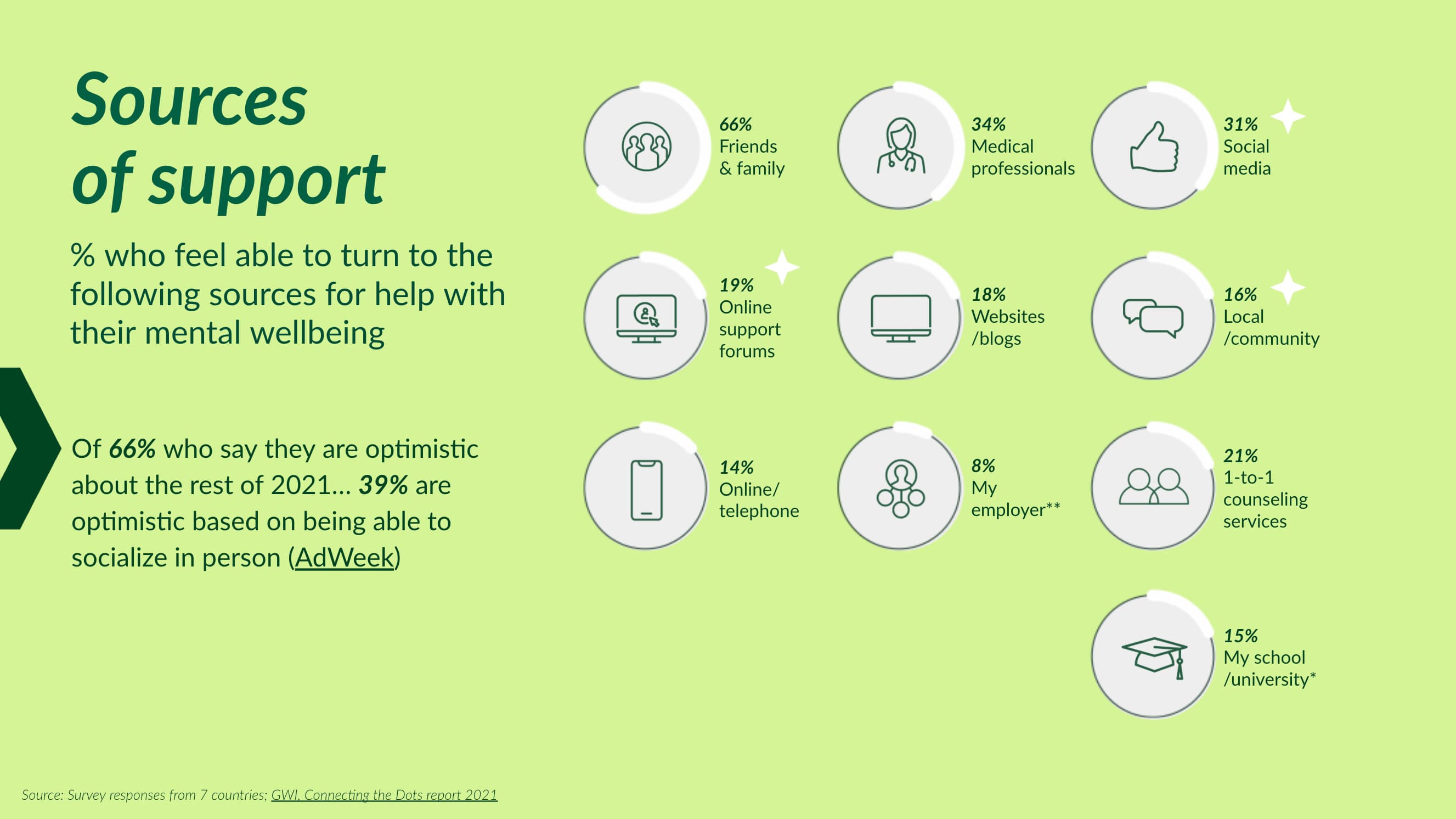 Neighbors are prioritizing their mental health by creating in-person gatherings and seeking in-person sources of support. These connections matter; Nextdoor's global scientific study conducted by leading loneliness experts found that knowing as few as six neighbors reduces the likelihood of feeling lonely and is linked to lower depression, social anxiety, and financial concerns related to COVID-19.
Neighbors are on the move—literally.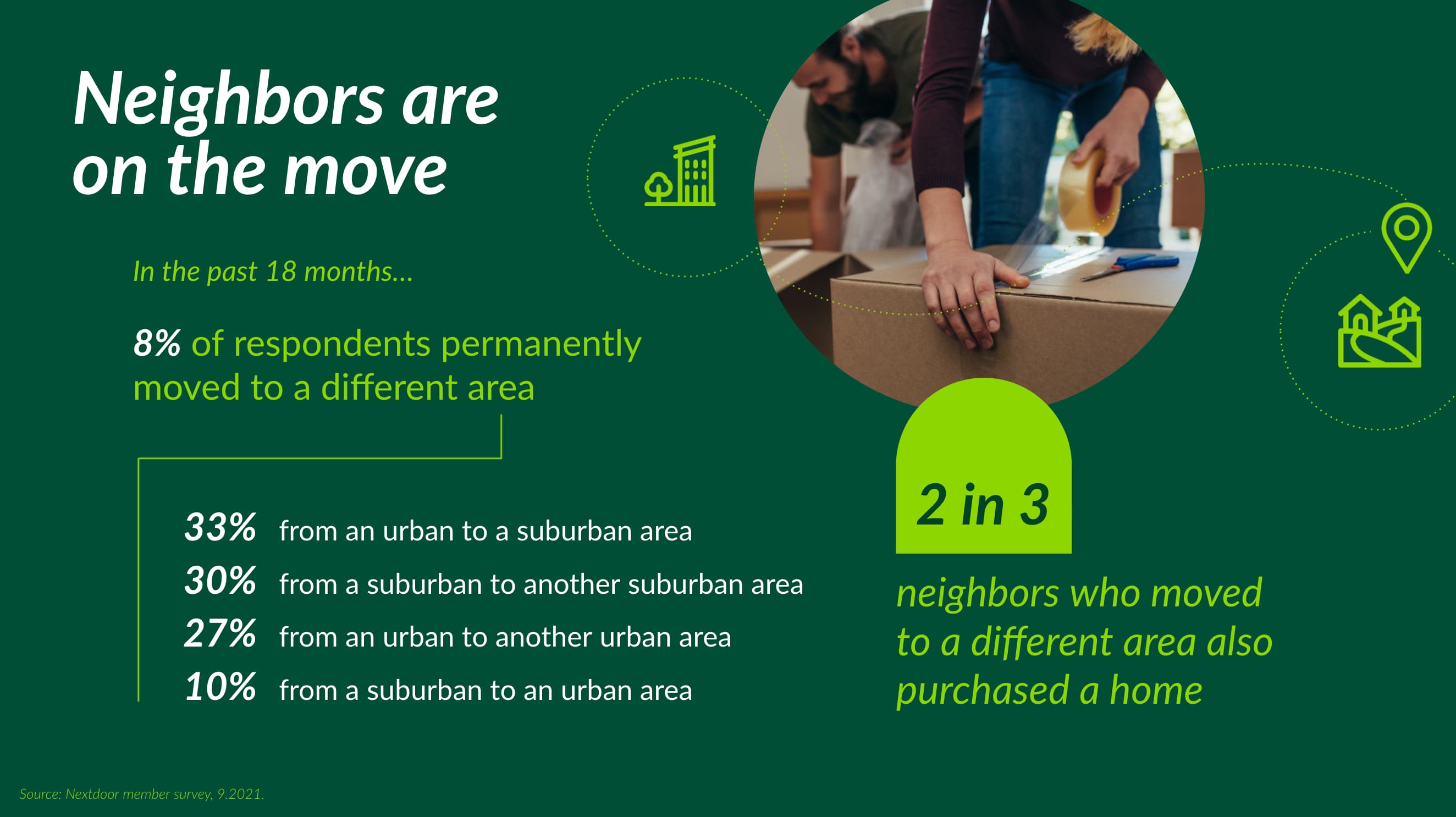 In the past 18 months, 2 out of 3 neighbors on Nextdoor who moved have purchased a home. 47% say they moved to be in a more relaxing environment, while 37% moved for cost savings.
Also, 23% of neighbors have bought or leased a car in the past 18 months, with travel to recreational/outdoor activities being a top reason for purchase.
Neighbors expect more from brands.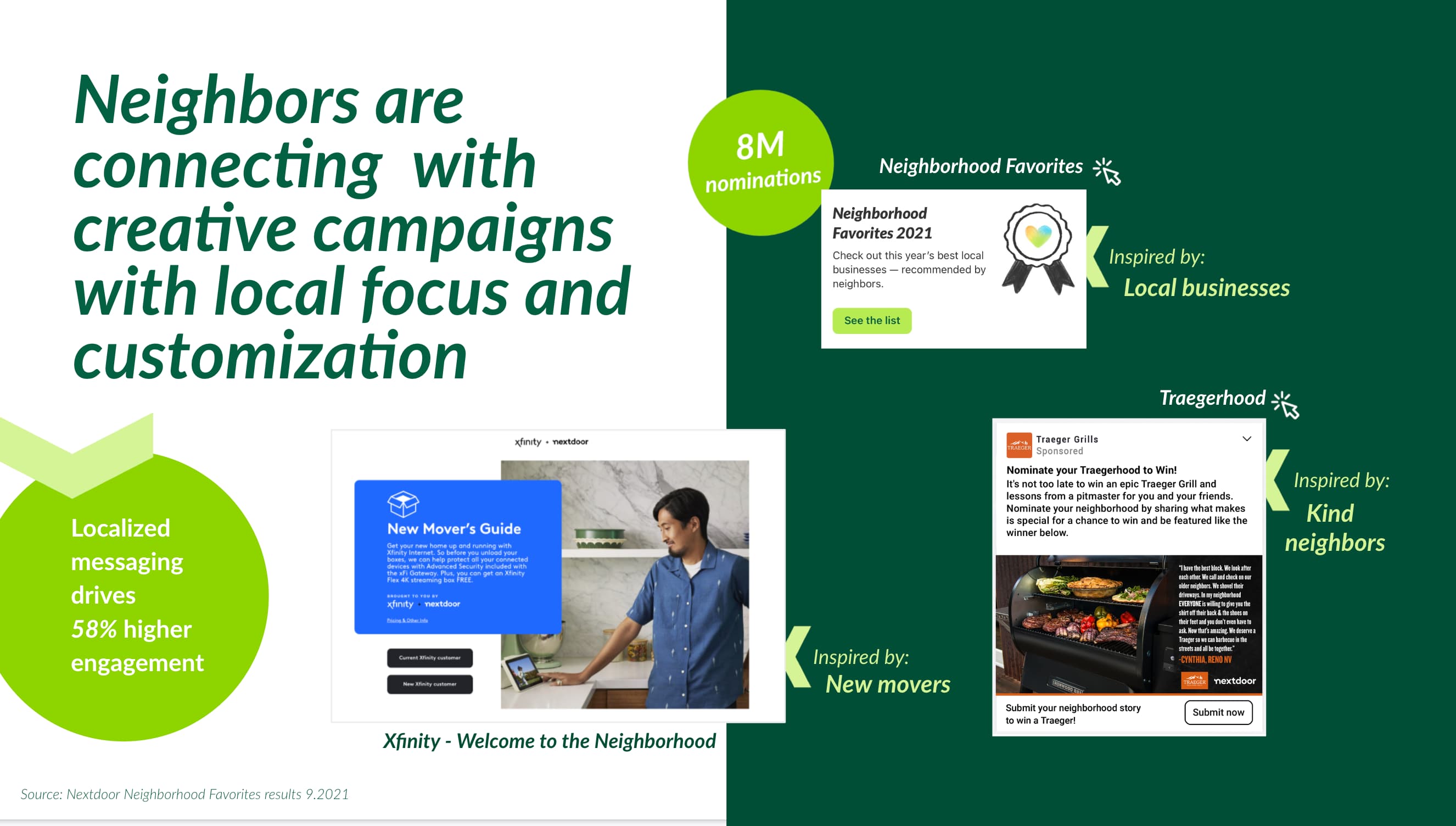 U.S. neighbors are connecting with creative brand campaigns that offer personalization and a local focus. While they're shopping at all types of local businesses, Gen Z shoppers are more likely to support local home and garden stores and boutiques, and parents with younger children are more likely to look for local grocers.
When it comes to larger brands, this year Traeger Grills saw success with its contest focused on stories of neighborhood kindness and "meaningful and flavorful moments." Comcast offered a "New Mover's Guide" to welcome recent movers to their new neighborhoods. Localized messaging is essential; Nextdoor research shows that it drives 58% higher engagement.
Stay tuned for more from our Insights series. Missed past #NextdoorInsights? Find them below: