As we end the year, many of us have settled into a new normal with spending, work/life balance, and a return to in-person activities.
New data from Nextdoor shows how neighbors' shopping behaviors, brand expectations, and travel plans are shaping up for the holiday season and into 2022. Find the full report here.
Series highlights:
Neighbors are spending again.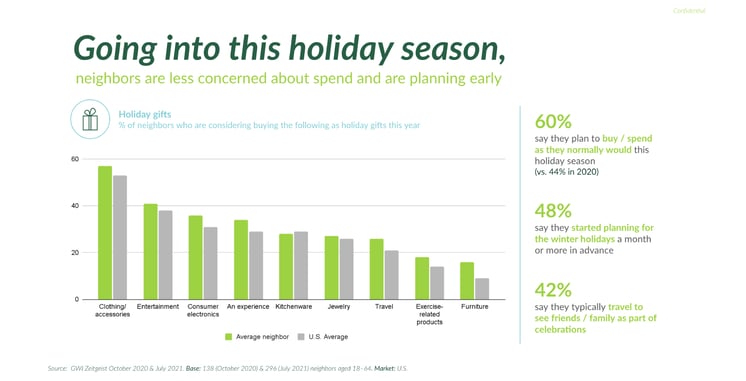 Neighbors are feeling optimistic about the future of their finances, and more than half plan on purchasing travel, home or electronic items in the next 6 months. Investment in cryptocurrency continues to increase, with younger, male and urban neighbors especially invested.
A work/lifestyle balance is essential.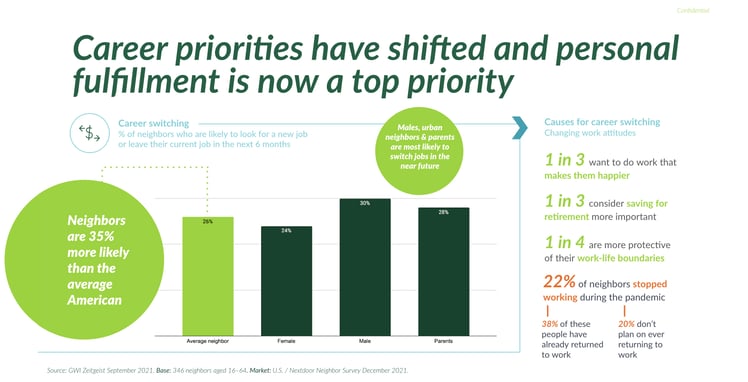 26% of neighbors—and 28% of parents—are likely to look for a new job or leave their current job in the next 6 months. 1 in 3 say they want to do work that makes them happier, and 1 in 3 also say saving for retirement has become more important.
In-store shopping is back.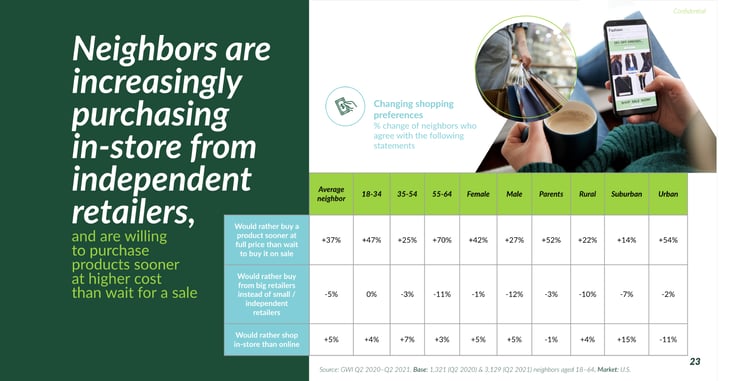 Neighbors prefer a mix of online and offline shopping across categories, and they're increasingly purchasing in-store from independent retailers. Urban neighbors are over 2x as likely to prefer shopping online only for beauty and technology products, and 1 in 5 men prefer shopping in-store only for clothing (vs. 1 in 10 women).
Brand expectations have increased.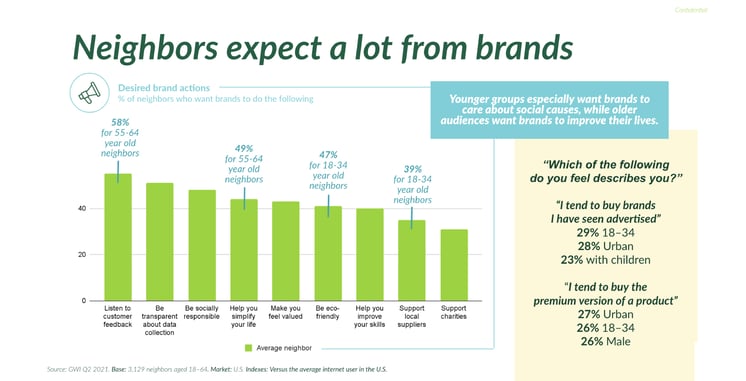 Neighbors say they want brands to listen to customer feedback, be transparent about data collection and be socially responsible. 29% of neighbors ages 18-34 and 28% of urban neighbors say they tend to buy brands they see advertised.
Holiday travel and shopping are on the rebound.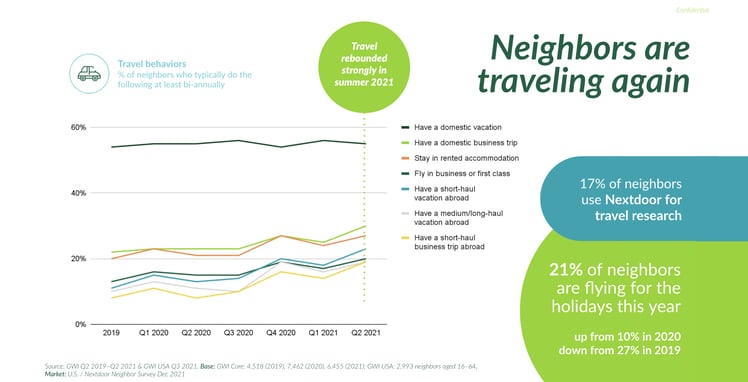 60% of neighbors plan to spend as they normally would this holiday season (vs. 44% in 2020). 53% plan to travel for the holidays this year, with 21% planning to fly. 90% of neighbors plan on decorating, and more than half say they don't mind if others leave up their decorations past Jan. 1.
Moving forward, there's still time to mark your decorated home on Nextdoor's annual Cheer Map — an interactive local guide to find the best holiday lights and decorations around town.
Stay tuned for more from our Insights series. Missed past #NextdoorInsights? Find them below: