Throughout the COVID-19 pandemic, Nextdoor has been instrumental in assisting neighbors and their families gain the critical insight and information they need to stay safe and healthy at home. With new information being presented each day, Nextdoor has continually worked with brands to ensure relevant information related to COVID-19 is reaching neighbors in a timely manner.
Now with the availability of multiple vaccines, neighbors are turning to Nextdoor to understand the process and their options. That is why Nextdoor has partnered with Moderna and Albertsons Companies to launch the Vaccine Map to ease vaccine scheduling and information. Neighbors enter their zip code to locate nearby COVID-19 vaccine appointment locations. For Albertsons Companies locations, such as Safeway and Vons, the map allows neighbors to schedule an appointment to the specific location they've clicked on right from the map. Neighbors can also learn more about the vaccines with educational information from the U.S. Centers for Disease Control and Prevention (CDC).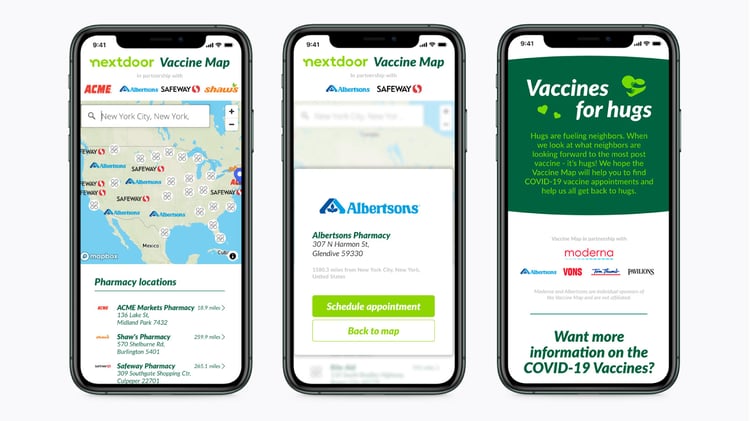 Nextdoor's CEO, Sarah Friar, is excited about this new initiative and partnership: "We are honored to partner with Albertsons and Moderna to help spread awareness, education, and accessibility of COVID-19 vaccines to neighbors across the country. Brands recognize the importance of reaching people at the neighborhood-level with Nextdoor's unique targeting to encourage and support vaccinations. The Vaccine Map will help ease the burdens of the scheduling process while providing trustworthy, locally relevant information so neighborhoods can come together once again."
The Vaccine Map is available nationwide at www.nextdoorvaccinemap.com and in the "More menu" on Nextdoor.