Neighbors are looking to Nextdoor for trusted and local retail recommendations. As the only platform to create meaningful local customization at national scale, Nextdoor is driving awareness of your business and products to household decision makers in neighborhoods across the country. We are here to help you reach your neighbors by increasing affinity and driving more traffic to your business. Here are a few things to consider.
Shopping Attitudes Have Changed Since the Pandemic
Coronavirus has influenced shopping attitudes nationwide. According to Nextdoor data, 62% of members are more likely to spend time shopping online due to COVID-19 with almost half of these potential customers more likely to purchase products online. 22% are more likely to strongly approve of advertising that shows how the brand is responding to the coronavirus or helping customers in this difficult time. We can help you craft this story to share with your customers.
Nextdoor Members are Engaged Shoppers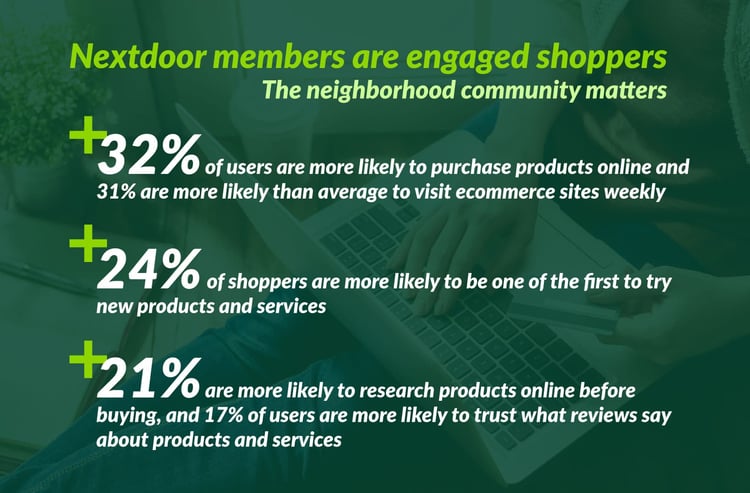 Build Trusted Connections
Your customers are coming to Nextdoor to discover meaningful retailer recommendations from their nextdoor neighbors. Here's how we will help showcase your business:
Drive awareness of your products to household decision makers in a relevant context.
Highlight real neighbor testimonials and join local initiatives to boost advocacy of your product and brand.
Increase personal connections by reaching members with custom messaging based on demo and life stage.
Drive action by sharing local brick and mortar locations or incentives to drive traffic online.
Retail recommendations from neighbors are influential and building advocacy and trust around your brand is essential. Whether you're looking to drive in-store traffic, promoting traffic online, or improving customer sentiment and loyalty, we will help you reach your target audience one neighbor at a time.