During his service as a U.S. Navy Seal, Bryan Hall took ropes courses and found a passion for climbing. Once out of the military, he became certified in ropes access by the Society of Professional Rope Access Technicians (SPRAT) at their highest level. His climbing skills put him in high demand for various jobs around the country that necessitated travel, ultimately keeping him away from his own home and community.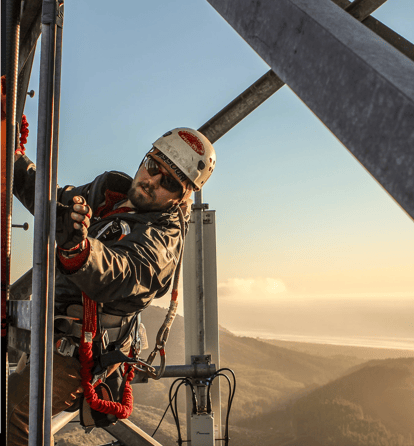 Bryan uses his ropes access to reach great heights without the support of scaffolding or ladders.
That's when he realized there was an opportunity to continue to pursue his passion and earn a living at home, surrounded by the people he loves. He started his own company, Rose City Ropes, and now makes his living primarily through carpentry and handyman work – and climbing ropes – right in his hometown of Portland, Oregon.
In the beginning, in order to build his business, Bryan took nearly any handyman job he could find. Some of his early jobs ranged from helping replace batteries in smoke detectors, to hanging Christmas lights, to washing windows, to rigging up ropes to paint a historic home on a cliff by hand. His rope access skills enable him to save his clients thousands of dollars since he can do the work without the rental and assembly of scaffolding.
After successfully completing one of those early jobs, Bryan's satisfied client told him she wanted to promote him on Nextdoor – which was how he first learned about the platform. Bryan claimed his Business Page, and has since joined as a member in his own neighborhood. He often chimes in on conversations when neighbors are seeking help with a project and offers himself as a resource – which often results in him getting five to ten solid leads.
As Bryan's business grew, so did his reputation on Nextdoor. Client after client turned to Nextdoor to share their praises of his business.
He already has 41 recommendations on his Business Page.
Says one neighbor, "He's receptive, fair, and kind - a great guy to work with!"
Another says, "They were on time, they were personable, professional, and efficient."
And, yet another says, "I highly recommend Bryan! Great personality and full of integrity."
According to Bryan, the recommendations he has on Nextdoor have been critical to driving more business. "If you trust your neighbors, you trust the people they recommend. The real value [to my business] comes from what people are saying on Nextdoor, from the recommendations from the community." Word of mouth is so effective for Bryan's business that he doesn't need to do any other marketing or advertising.
And, because Bryan does play such an active role as a member of his own neighborhood, when he noticed several posts from neighbors expressing frustration and fear over a spate of break-ins, Bryan decided to volunteer his time and skills for a whole day: he told neighbors he'd happily install motion sensor lights for free at as many homes as he could get to if folks simply provided the materials. "I told them, 'Just have the lights ready and I'll do it.' I want people to feel safe in their homes, in our great community."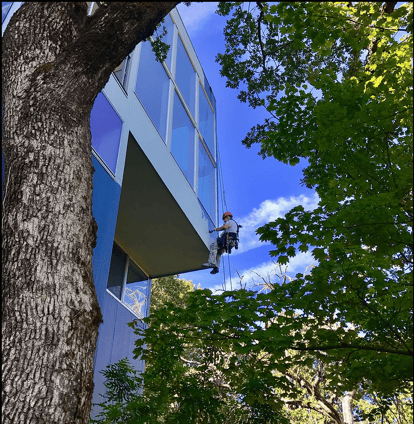 Bryan's handyman skills enable him to help local neighbors and businesses alike.
Bryan found the experience to be so rewarding that he now dedicates at least one day each month to volunteering his services to non-profit organizations, individual homes, or for safety in the community. It's an opportunity to better the lives of his neighbors – and demonstrate the quality of work he does in an authentic way.