---
If you are a small business owner with a local storefront, one regular challenge you may face is continually driving foot traffic into your establishment. Maybe you are regularly coming up with new products or promotions to keep your offerings fresh and exciting, or an outstanding product that customers can't find elsewhere. Bringing in new and loyal customers is critical to keeping you in business, but reaching them and staying top of mind to earn their business requires marketing.
So, how can you market to your customers and bring them into your store using Nextdoor? The first step is to make it easy for customers to find you in Nextdoor by claiming your Nextdoor Business Page. A Business Page is free and enables local customers to discover your business, learn more about you, send you private messages, and leave you recommendations.
But how can you use Nextdoor to drive foot traffic into your store?
Once you have claimed your free Business Page, create a Local Deal for customers closest to your business: your neighbors.
Do you have new menu items you can promote? Are you selling new, seasonal products that customers might not know about? Discounts (for example, 20% off) on customers' total purchase, discounts only available between certain hours, and buy-one-get-one deals are great ways to bring customers into your establishment. Offering free samples of your new products is another tactic to try. Special promotions that you have never offered before could be most enticing.
To create a Local Deal for your business, follow the tips and tricks in our Guide to Local Deals.
Below are successful Local Deals that are redeemable in-person and drive foot traffic: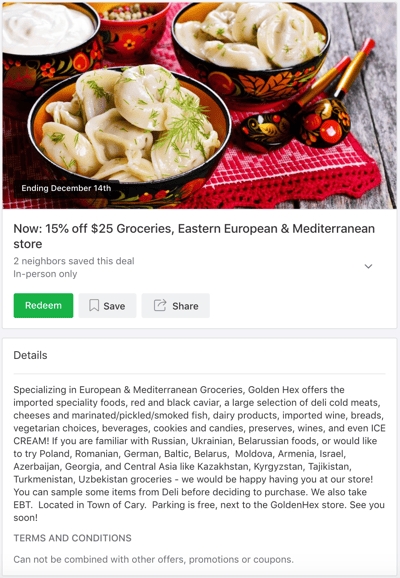 Why this works: This business offered 15% off an in-person purchase of $25 or more. Their deal outlines all of the different goods the business sells and even notes that they'll give samples of items if customers visit them in store.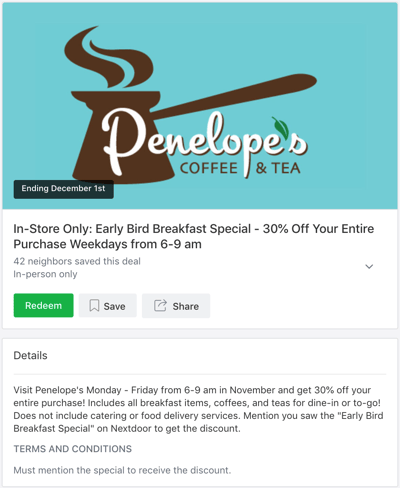 Why this works: This business used a Local Deal to drive in-store traffic early in the mornings, offering a 30% discount on customers' entire purchases between 6-9am.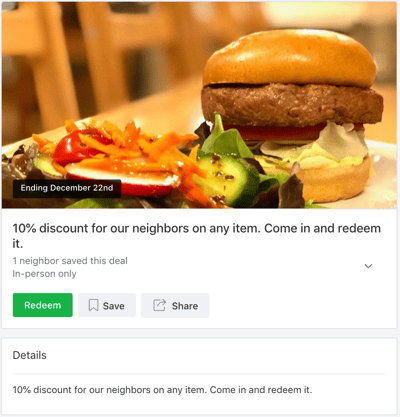 Why this works: This Local Deal offers 10% off on any item in store and is exclusive to neighbors. It also features an appetizing photo of an item that customers can come in to purchase!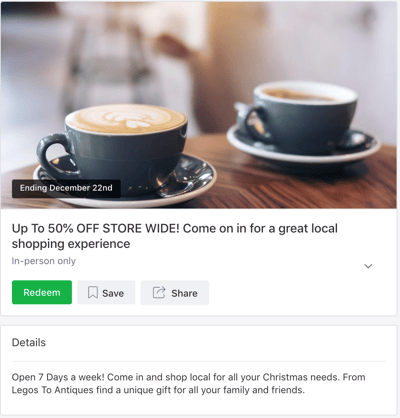 Why this works: This deal lets customers know that the business is hosting a sale where some items are as much as 50% off in store. It also promotes the breadth of items – from Legos to antiques – that the store sells.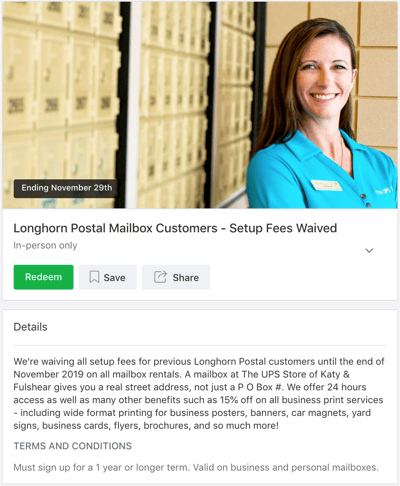 Why this works: This business offered to waive setup fees if customers come in store for a mailbox rental. The deal lists additional services that are available in store, so if a neighbor comes in to take advantage of the free setup fee, this business is ready to upsell additional products and services.
Don't forget these marketing best practices:
Prepare for the influx of customers to your business.

Make sure any specific items promoted in your deal are prominently displayed and available in your establishment, and that your employees know how to redeem any discounts or coupons.

Be ready to upsell.

If your deal brings customers into your store, how can you maximize the opportunity so that customers purchase more than just what your deal promotes?

Greet each customer that enters your establishment

. Whether they make a purchase or not, you want to make sure they have a good experience with your business so that they're more likely to return – and leave you a recommendation on Nextdoor.

Take note of what was most successful for your business after your deal expires. You can rerun the same deal with the click of a button, or you can create a new offering and target a different set of neighborhoods.