---
An invigorating exercise class isn't just good for physical health, it's also good for one's overall well-being. The same applies for receiving a good haircut, a relaxing massage, or a perfect manicure. These health, fitness, and beauty routines are important to one's wellness in everyday life – and if you own one of these businesses, you're likely located right in the community, ready to play your role in keeping neighbors happy and healthy.
Since these services are so important to neighbors' everyday lives, running a Local Deal to advertise special promotions or new offerings at your business is a great way to attract new clients and delight existing customers.
Here are the top Local Deals from health, fitness, and beauty businesses to inspire your own:
Cary Massage of Cary, NC offered $50 massages in honor of Wellness Week.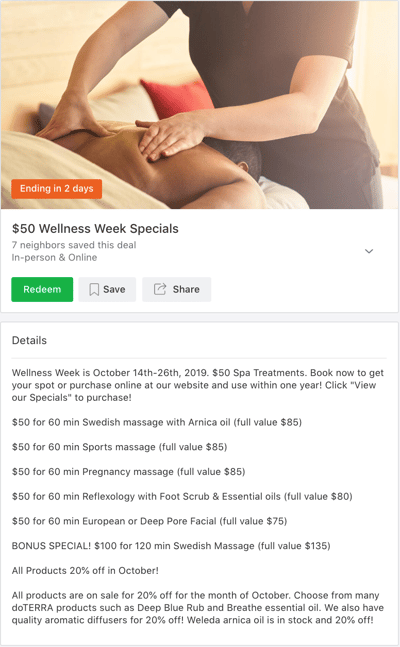 Why this works: Being able to tap into an event – in this case, Wellness Week – that is specific to your business is a great reason to run a Local Deal. Offering a set price for various services also provides up-front clarity to potential customers, so there's no question about what price they'll pay.
Revolution Salon on Monaco of Denver, CO offered several discounts on their services for new customers.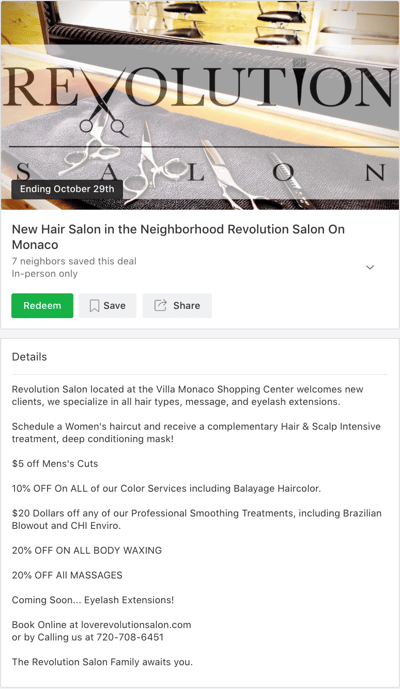 Why this works: New local businesses can promote their services and attract new clients by offering discounts that encourage customers to give them a try.
Yoga by Degrees of Wheaton, IL offered a free week of yoga to new students.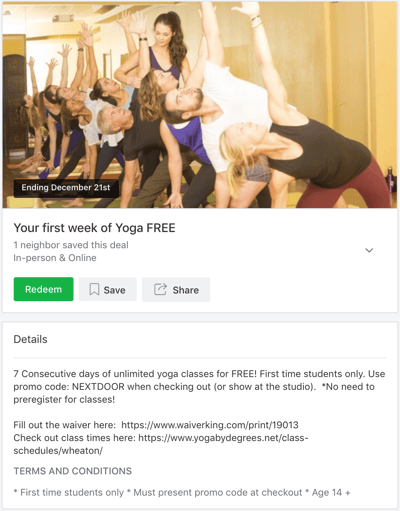 Why this works: Offering a free trial of your product or services is a great way to attract new clients to see what your business is all about. Once they give your business a try, you have an opportunity to convert them from one-time customers to regular customers.
OH Yoga & Massage of Orange, CA offered 15% off customers' next massage.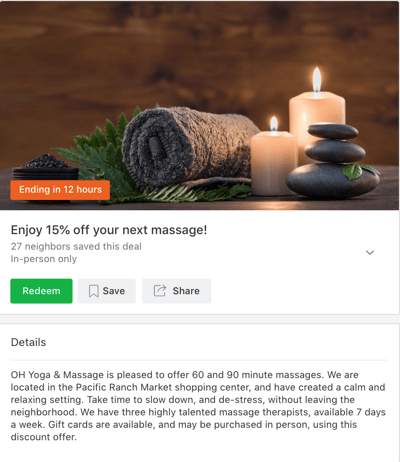 Why this works: It seems as though everyone could always use an excuse to slow down and relax, and if your business offers something that helps with self care, offering a discount on your services may be just what it takes to bring in new clients and delight loyal ones.
L.A. Hair Design of Westlake Village, CA offered 50% off all hair services.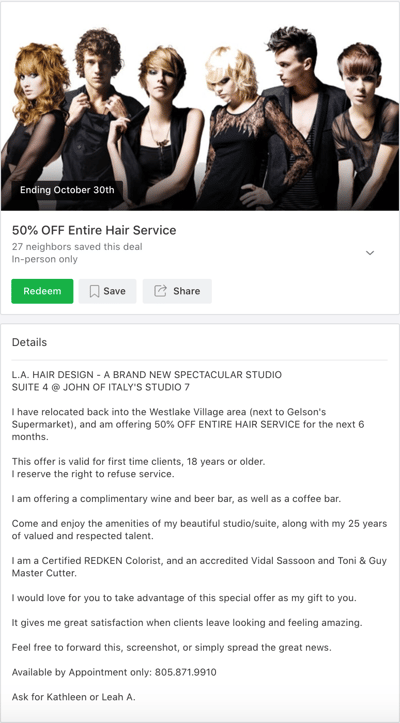 Why this works: While an established business, this hair stylist moved to a new location. In order to retain existing clients and attract new ones, the stylist offered a 50% discount on her services for six months.
Ana Shpilman Skin Care of Highland Park, IL offered a special offer for new customers.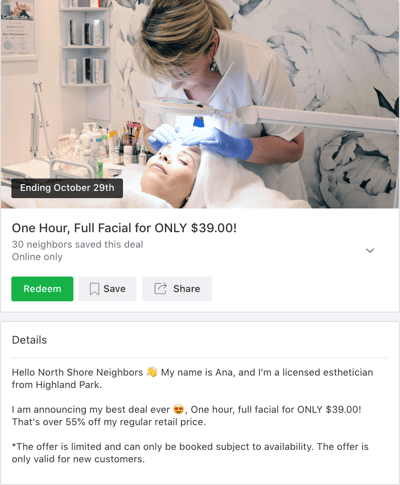 Why this works: Some beauty services are a novelty for some people but an essential part of one's self care routine for others. Offering an attractive first-time discount can be a simple way to bring customers through your doors instantly, who may then decide to come back and make the services part of their regular routine.