Valentine's Day is often a gift-giving holiday, and for local businesses, it represents an opportunity to help your customers find just the right gift for their special someone. With Valentine's Day right around the corner, local businesses everywhere are using Local Deals to reach their neighbors with their special offers and promotions in honor of the holiday.
Traditional gifts like flowers and chocolate will always be popular, but some local businesses are thinking outside the box this year with their offerings.
If you're hoping to stand out from the crowd this year, read on for some tips to help you promote out-of-the-ordinary gifts for Valentine's Day:
Nothing says love like the gift of help with household chores.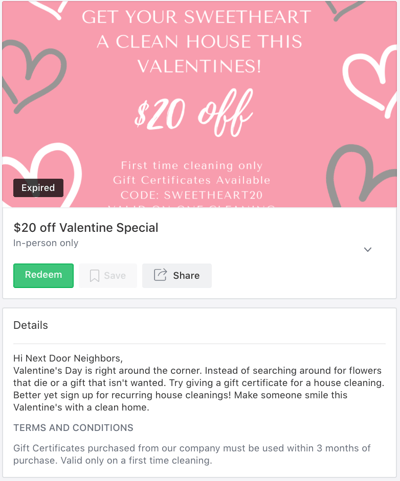 Does your business offer a service that can ease the burden of an everyday task? Offer a discount on your services, like this housecleaning business did, to help put a smile on a new customer's face.
Conjure up thoughts of spring and summer weather to warm customers' hearts.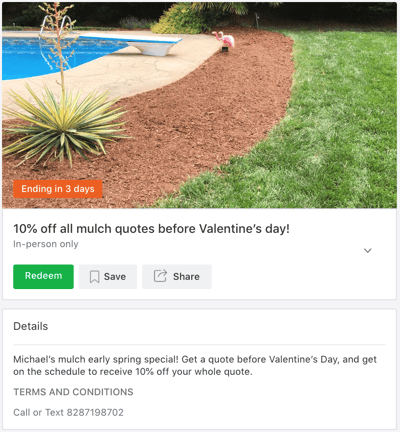 The groundhog did not see his shadow this year, and according to legend, this means we're due for an early spring. If your business offers something that is generally used or enjoyed in warmer months, like yard care, offer a discount that they can look forward to shortly after Valentine's Day – and get them on your schedule early.
Give the gift of free time by helping check items off a "honey-do" list.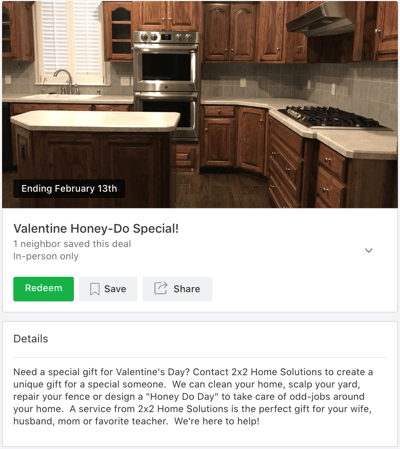 Service-based businesses, like gardeners or painters, or Neighbors for Hire, like handymen, can offer a deal to help with that list of projects that need to get done. With your help – and the resulting free time – your customers can plan a date night with their special someone.
Remember that a "special someone" is sometimes a dear friend.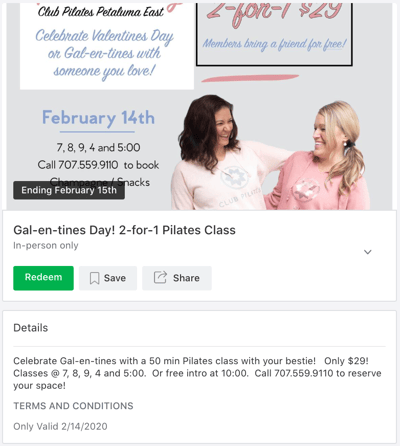 Valentine's Day isn't only for romance. Consider how your business can help customers honor their friendships like this business did by offering a 2-for-1 fitness class for customers and a friend.
Give your customers a gift this Valentine's Day by offering a deal that they can gift to their special someone. Get started by claiming your Nextdoor Business Page.