Real estate listings, open houses, and home services have always been one of the most common discussion topics on Nextdoor. Since real estate agents often have a tremendous amount of hyperlocal knowledge and expertise, we have received a steady stream of requests from real estate professionals over the years seeking a structured role in these discussions.

Nextdoor, just over a year ago, began offering real estate agents the opportunity to sponsor a ZIP code. Agents who typically spend their marketing budget on flyers, magnets, or billboards, were excited to take part in this targeted opportunity to display their name, picture, and contact details in front of verified residents – building their brand in precisely the place they want it built.

Take for instance Morgan Marley, an agent at a family brokerage that covers the northeast side of Houston, Texas. Prior to sponsoring a neighborhood, Morgan was a member of her own Nextdoor neighborhood. From connecting with her community as a neighbor, she knew Nextdoor would be a way for her to build her real estate brand and become the neighborhood expert. "Neighborhood Sponsorships are a great way to reach your community, to build rapport, and to gain the respect and trust from your community members. I can't think of any other place where I can lead a conversation with over a 1,000 neighbors about local real estate topics.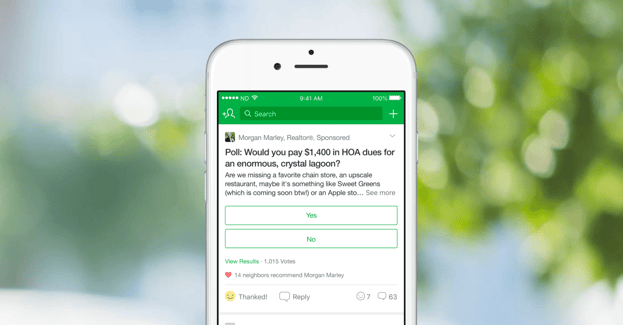 That's what's unique about Nextdoor. Our offering helps real estate agents serve as a resource to local neighborhoods, ultimately adding to their credibility and earning the trust of homeowners. This often leads to those homeowners asking them to be their listing agent to ensure they get the best outcome when selling their home.
Moreover, with the average true selling time frame being 14-17 months, it's important to get in front of homeowners earlier in the selling cycle. That's where Nextdoor comes in. Through Nextdoor, agents can build a relationship with the local community, and set themselves up to become top of mind earlier on along the home buying and selling decision process.
Cheryl Orlino, another Neighborhood Sponsor from Los Alamitos, California, echoed these sentiments. Cheryl has also seen Nextdoor as a more cost effective way to reach homeowners than mailing postcards and recommends using Nextdoor to the other agents she meets. "I like Nextdoor because it gives you immediate feedback on how many people have seen your sponsorship. The cost is cheaper than direct mail and I know they've seen it – they haven't thrown a postcard on the ground or in the trash."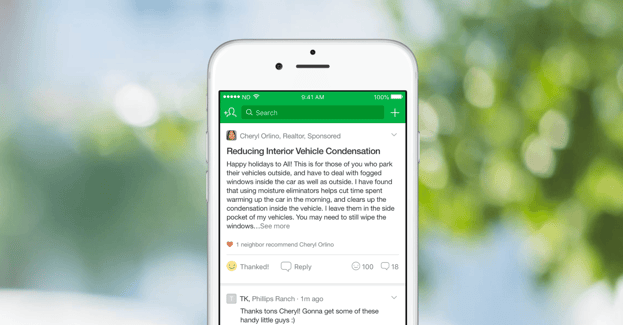 It's been exciting to see our members and real estate professionals connect using this feature and we're thrilled to play a part in this important process of community-building. We continue to make improvements to create a better agent experience and incorporate feedback from experts, focus groups, and members. Agents are welcome to contact our team today here to sponsor your favorite neighborhood, or add your name to the waiting list. Otherwise, our team is constantly receiving feedback and we'd love to hear from you here.