Nextdoor for your small business holiday marketing
A successful holiday season is essential for most small business owners. At least 68% of small businesses said the winter holiday season is a top sales opportunity for their business. With rising economic uncertainty, inflation, and labor shortages, a stellar holiday season is even more important this year. The good news is that with proper planning, it's possible to hit your sales goals and grow your local customer base.
Nextdoor's 7 Top Tips: How to Drive Holiday Sales can help you grow your business with hyper-local marketing and advertising by targeting Nextdoor neighbors who love to support small businesses. Our guide includes the following:
Why Nextdoor for your local holiday marketing and advertising
Nextdoor's business solutions are designed to help small businesses thrive by connecting them to neighbors, who are the ultimate holiday planners and hyper-local shoppers, at the peak of holiday shopping intent – and turn them into customers.
Neighbors turn to Nextdoor as a resource for holiday planning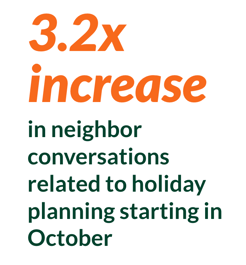 Beginning in October, neighbor conversations related to holiday planning pop 3.2X as they start thinking about the holiday season. That means neighbors are asking for and sharing recommendations about favorite local places to fulfill all of their holiday needs, from home decor, to party planning, to yard cleanup, to gift giving, and more.
In November, neighbors actively prepare their homes for the holidays. Search queries for "Christmas lights" increase 147%, "window washing" grows 44%, and "house cleaning" pops 36%. If you own a home services business, Nextdoor is the place to connect with neighbors looking for your services.
The first step to getting found locally on Nextdoor is to claim your Business Page, which is where neighbors turn to for your business contact information.
Neighbors are the ultimate holiday shoppers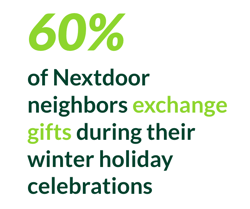 More than 60% of Nextdoor neighbors exchange gifts during their winter holiday celebrations. While some people choose to wait until the last minute to finish their holiday shopping, neighbors on Nextdoor are the opposite. Fifty percent of Nextdoor neighbors start their holiday shopping a month or more in advance of the season. They're also bargain shoppers. Neighbors are 30% more likely to wait for holiday sale events to make major purchases.
By running a promotion or deal with Nextdoor Ads, you can tap into the 43% of neighbors who actively look for discount codes and coupons during the holiday season. And, if you're thinking of differentiating your offerings this holiday season, Nextdoor is the first place you should let customers know. Neighbors are 71% more likely to be one of the first to try new products and services.
Nextdoor connects small businesses with neighbors to meet them in the holiday moment
Whether your holiday business goal is to be discovered locally, engage with neighbors about things that matter to them and to your business, or grow your bottom line, Nextdoor has a business solution for you.
The best part? Neighbors are more likely than the average American to enjoy holiday ads. Lean into their enthusiasm and the holiday spirit. Get started by claiming your Nextdoor Business Page. Then, meet neighbors in the moment, where they're already searching for what your business offers – and turn them into customers.
Sourced from internal Nextdoor data 2021, 2022