Everyday, we see neighbors consistently turning to Nextdoor with questions about topics related to their homes: When is the best season to sell? Which type of kitchen remodeling would have the greatest impact to my home selling value? What real estate agents do you recommend? In fact, one in four conversations on Nextdoor are from neighbors seeking advice about their homes.

That's why we announced Neighborhood Sponsorships in 2017, Nextdoor's real estate advertising solution for agents, to better connect homeowners with agents. Real estate agents have always been seen as the go-to resource to local neighborhoods, so it makes sense to have agents join in on the conversations happening on Nextdoor. Through Neighborhood Sponsorships, agents can build their brand, establish credibility as the local expert, and build relationships with the neighbors they serve.

We get questions from agents looking for the best ways they can engage with neighbors and positively contribute to conversations happening on Nextdoor, so we compiled a handful of posts from agents sponsoring neighborhoods to help spark inspiration. See below for how agents are creatively using their Neighborhood Sponsorship posts to better serve their communities.
Post 1 – Share the latest neighborhood news and developments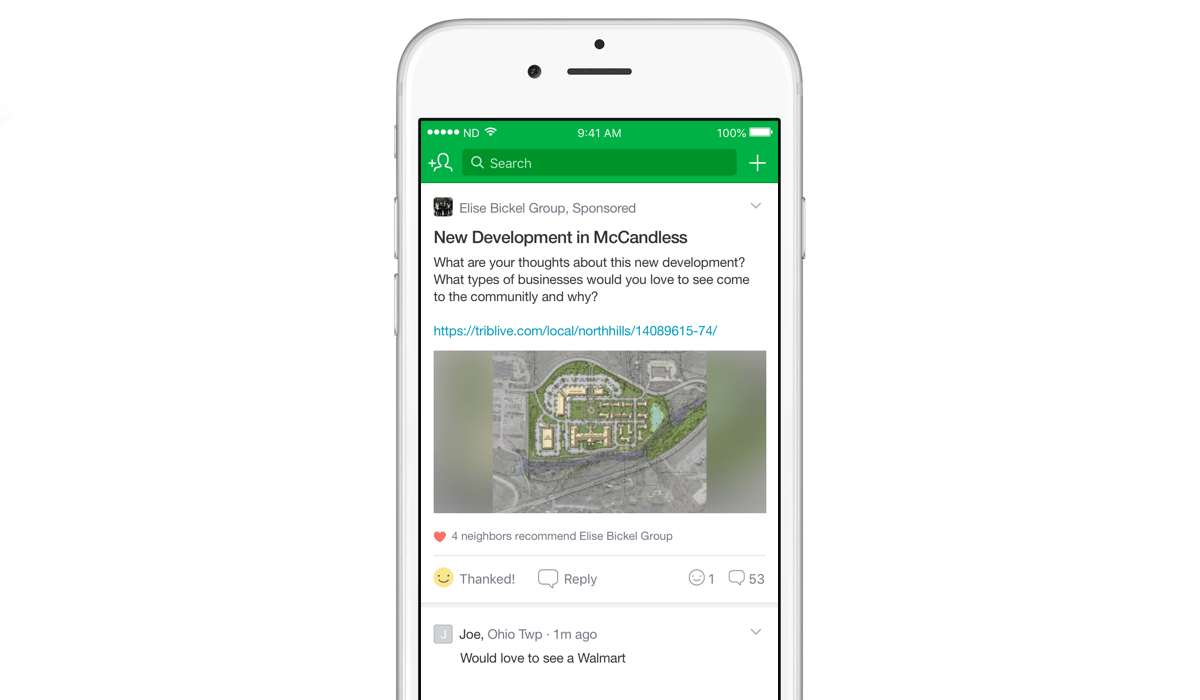 Why it works
Local news is relevant content that affects the community and sparks local dialogue
Real estate already makes up one in four conversations so neighbors are interested
Establishes agent as a trusted source for up-to-date information on all things real estate
Elise Bickel Group is proactively sharing local news about a new development, sparking a conversation and creating an avenue to connect with neighbors. Content that is hyperlocal is not only of high interest for neighbors but also an opportunity to showcase your local expertise. This real estate agent understands what types of content the community may value and shares relevant information in the form of news, inviting neighbors to weigh in, and not post overtly promotional messages that could alienate neighbors.
Post 2 – Share real estate content in a visual way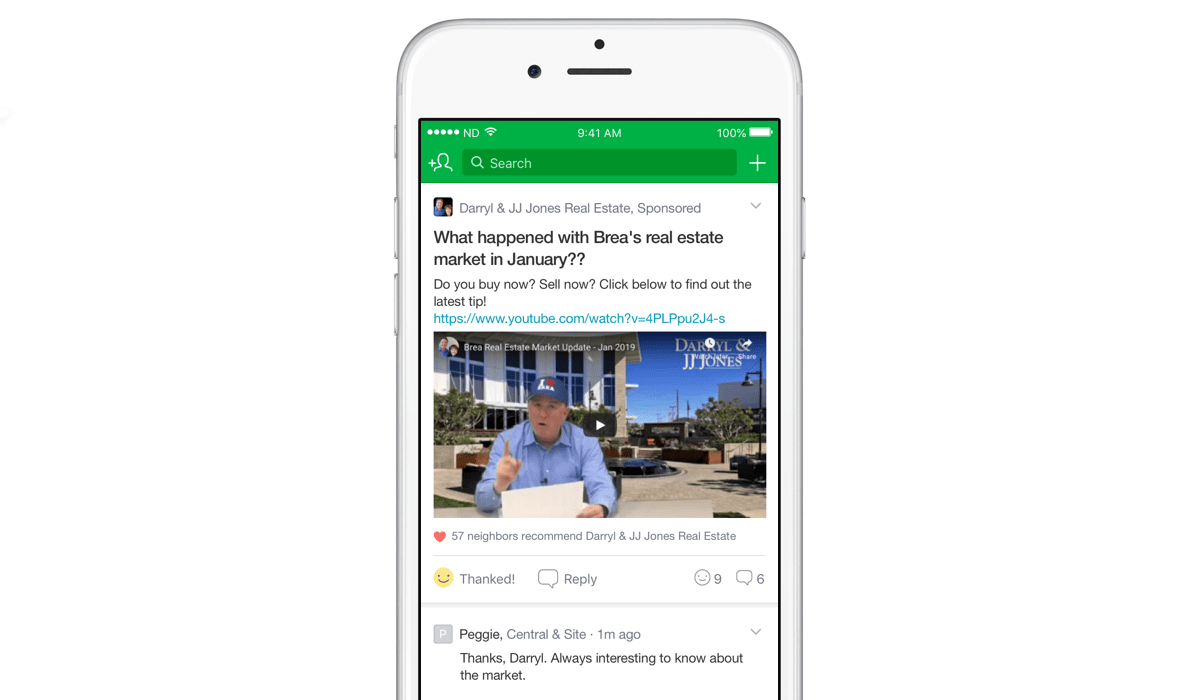 Why it works
Topic is relevant and useful to the community
Video is a creative and effective way to stand out among posts in Newsfeed
By incorporating video to tell his story, Darryl is able to build his brand and be seen as an approachable, go-to real estate industry expert. Not only do visual posts tend to get more engagement than a text post, but also 85% of home buyers and sellers want to work with an agent who uses video, according to Inman.

Good content will demonstrate that you are a local expert, connect you to future customers when they are ready to buy/sell, and retain interest from existing customers. This agent's report on market trends, is relevant, informative, and also entertaining.
Post 3 – Build community by way of the traditional in-person meeting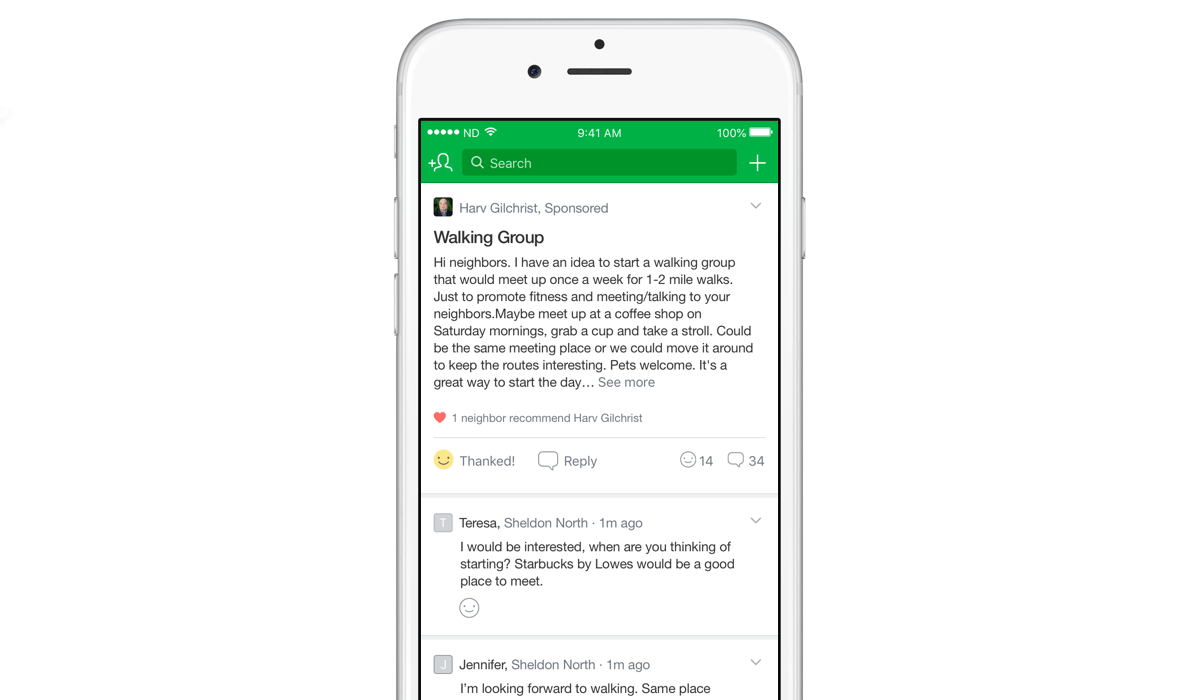 Why it works
Content naturally follows what Nextdoor is widely used for: building community and getting to know your neighbors
Bridges online connection to in-person meeting
Harv is making the most of his post by organizing a community-building activity and potential networking opportunity. He is offering an authentic way to meet other neighbors and build relationships through a regular local event. Real Estate is a relationship business, so we love that Harv is using Nextdoor to invest into his local community and bring his online connections offline.
Post 4 – Use Polls to create new content and engage with homeowners more than once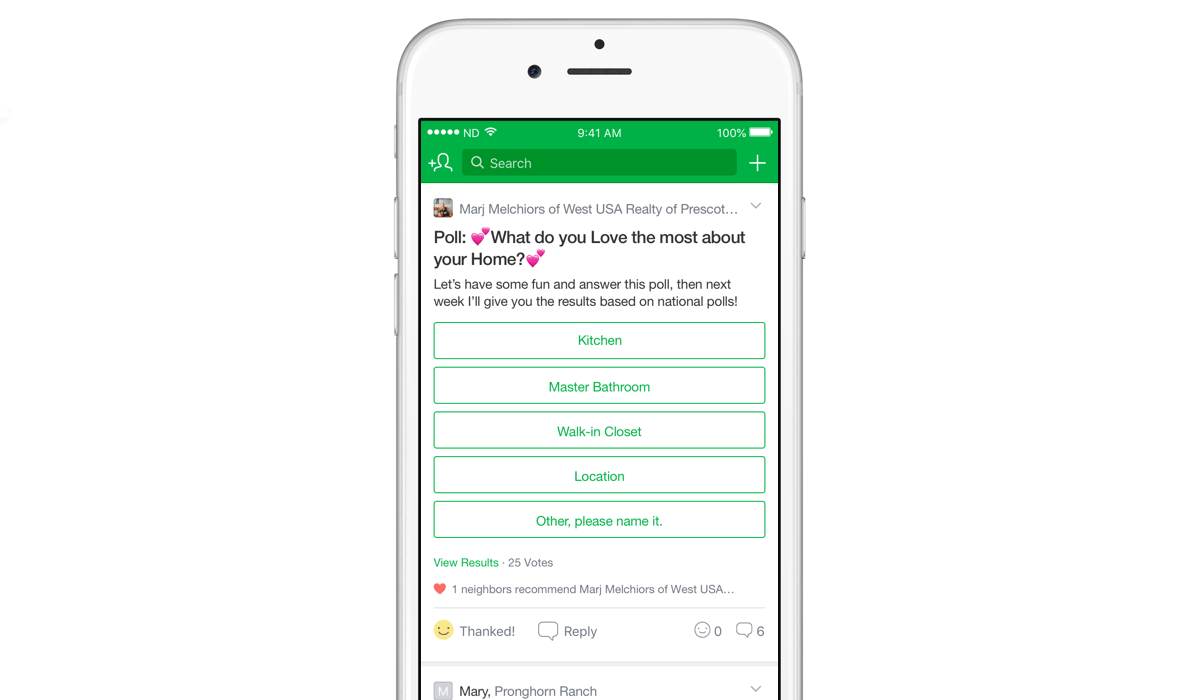 Why it works
Polls are a quick way to get responses and engagement
Polls are an opportunity to gather homeowner opinions and turn them into new content that sparks homeowner interest
By revealing fun facts about homeowners in the community, this agent is able to establish a connection with homeowners. Marj Melchiors of West USA Realty is intentional with her approach, helping the community see her for who she is – a real estate agent and specialist in all topics home related. Her post also creates new content to engage with neighbors again, giving them something to look forward to in her next post. With the home-selling process taking place across 14-17 months, it's crucial to engage homeowner audiences early on in the selling cycle with consistent content and spread your business presence as long as possible.
Post 5 - Elevate your real estate agent brand by showing your human side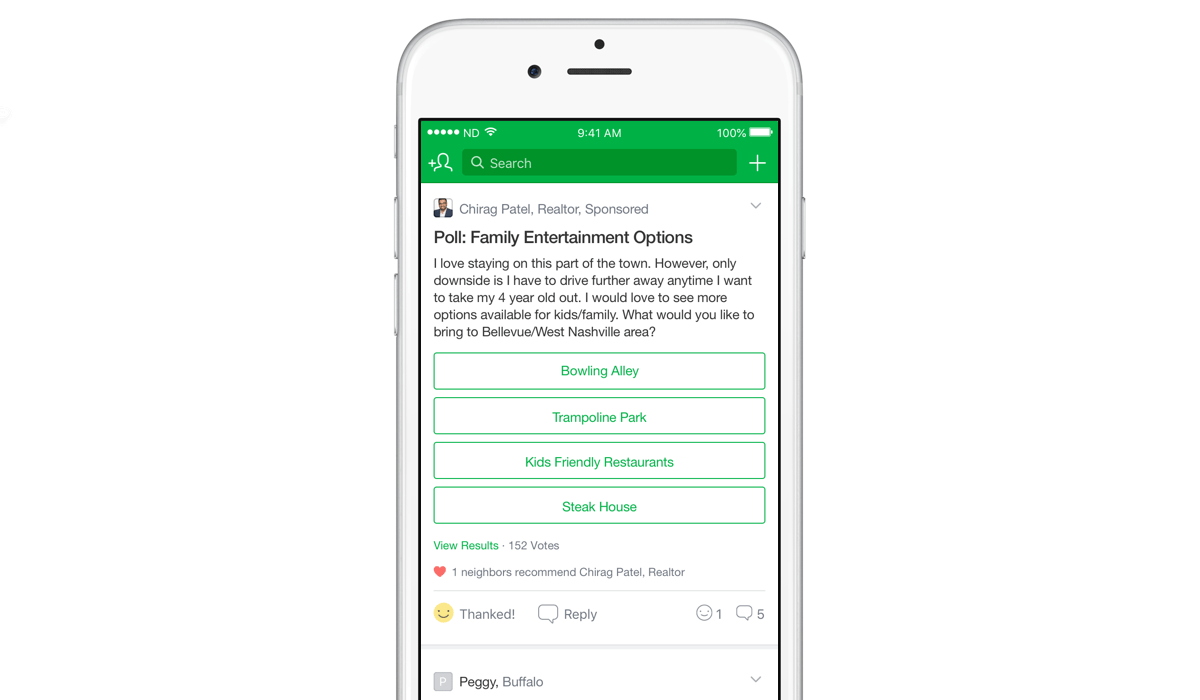 Why it works
Connects with neighbors on a personal level
Polls can be used to crowdsource and gather neighborhood insights
Chirag involves the community in a conversation by sharing his family-oriented experience that neighbors can relate to. What you post reflects your brand, and it's important to show your human side. On Nextdoor, neighbors recommend other local businesses based on reputation, which is based on past customer experiences. Instead of chasing after nameless leads, building a presence in a way that neighbors will later recognize, search for, and recommend is how agents will find success on Nextdoor.

Still not sure what to post? Whether you're creating your own content, sharing other content like local news, or starting a casual conversation, start by putting yourself in the shoes of the neighbors – what would you want posted in your own neighborhood newsfeed?
---
Neighborhood Sponsorship posts provide a dynamic opportunity to connect members with real estate agents based on real-time conversations. As part of Neighborhood Sponsorship, in addition to profile ads, every real estate agent gets two customizable posts per month per sponsored ZIP code. If you're a real estate agent new to Nextdoor, get started with your Neighborhood Sponsorship and check ZIP code availabilities here.