---
Every day, members use Nextdoor to ask for recommendations and advice on all kinds of businesses and services. In fact, neighbors have shared over 40 million recommendations for businesses on Nextdoor, showing how essential local businesses and business owners are to the communities they serve.
At Nextdoor, strengthening these local connections is at the heart of everything we do and today, we're thrilled to announce the national launch of Local Deals, our first advertising offering for local businesses. Businesses, service providers, and neighbors for hire that have set up their free Business Page on Nextdoor can now share special discounts and incentives in specific neighborhoods they want to target.
Introducing Local Deals for Businesses on Nextdoor
We spoke with businesses of all kinds across the United States to better understand their current frustrations with marketing and online advertising. An issue that came up again and again was the inability to advertise at a hyperlocal level. Businesses wanted an easier way to share deals and promotions with their most loyal and valuable customers – the ones that live closest to their business. 90% of consumers make the majority of their everyday purchases in walking or driving distance of their home, so the ability to reach the customers closest to them and in specific areas is a top priority for businesses. Based on their feedback and early testing, Local Deals now makes it possible for businesses like yours to:
Reach the customers who matter most: neighbors. You define "local." You can select exactly which neighborhoods and ZIP codes you want to reach with your Local Deal. Because every member has to verify their address before participating on Nextdoor, you can ensure your deals are reaching real neighbors within the specific neighborhoods where you choose to promote your deal. You can target as nearby as .01 miles — and at a price that works for your budget.
Get discovered in your neighborhood at the right time. Businesses want existing and potential customers to easily find them when they need them most. Local Deals will be promoted prominently where neighbors already go to discover new businesses and service providers: in their home Newsfeed, in search results for related topics, in the Business section, on Business Pages, and in the Local Deals section.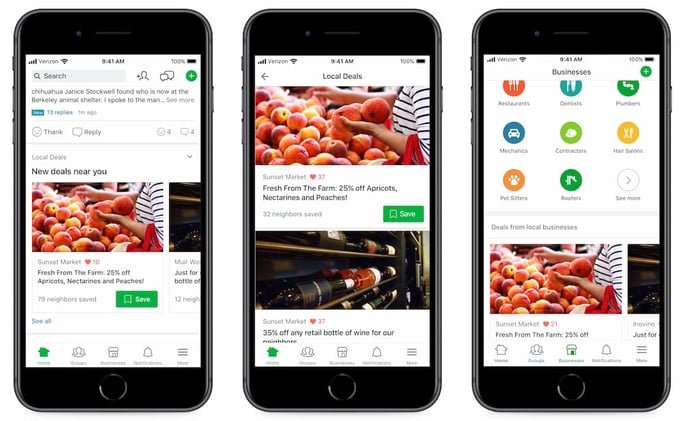 A Local Deal being promoted in neighbors' home Newsfeed, the Local Deals section, and the Business section.

Enter the online marketing world in an easy, cost-effective way. We know that business owners are busy juggling the management of their businesses, so marketing efforts need to be simple, fast, and effective. That's why we supply tools (even imagery!) to help build and manage Local Deals. On average, it takes a business just four minutes to set up and share their Local Deal. From there, we feature your deal to members in the neighborhood Newsfeed, and send helpful reminder emails to neighbors who saved the deal but haven't yet redeemed.
Restaurateur Sue Randall, manager of Punta Gorda, FL restaurant La Fiorentina Steakhouse Italiana, used Local Deals to promote their new breakfast menu with a buy one, get one promotion, and reported that breakfast sales increased 20% as a result. According to Sue, "We were able to promote this offer to all of the neighborhoods around us. This is targeted marketing at its best."
Local businesses in the U.S. – those with storefronts or are online-only, who provide a professional service, or neighbors for hire – can start using Local Deals by first claiming their free Business Page on Nextdoor.
Need help setting up? Here is a short video to get you started.