In times of need, neighbors continue to turn to Nextdoor for trusted information, local perspectives, and connections based on proximity. The power of local is unparalleled.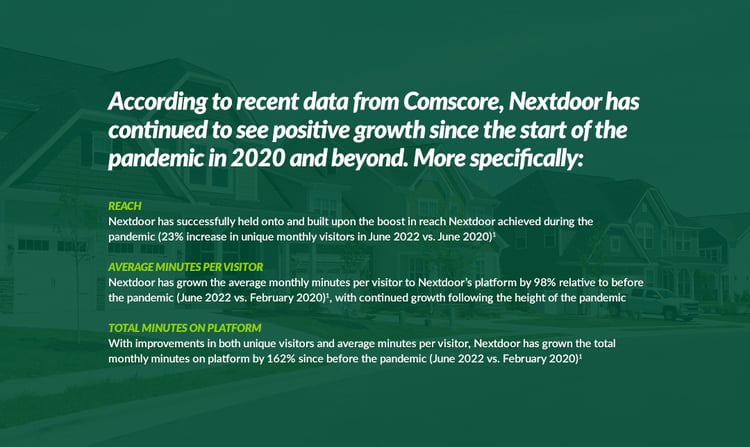 We saw the strength of community in 2020 as neighbors helped keep each other safe during the start of the COVID-19 pandemic. We also saw this in 2021 as neighbors gathered with their communities and supported their local businesses when the world started to reopen. We continue to see this now. In Q2 2022, Weekly Active Users (WAU) grew 26% year-over-year to approximately 37 million, reflecting ongoing momentum internationally and continued increases in session frequency among U.S. WAU.2

Nextdoor connects neighbors with each other and everything nearby. We help businesses and public agencies drive measurable outcomes by creating meaningful connections with a uniquely engaged local audience. Neighbors around the world turn to Nextdoor daily to:
Receive trusted information (trust),
Give and get help and get things done (local perspective), and
Build real-world connections with those nearby — neighbors, businesses, and public services (proximity)
To learn more about how your business can convert more neighbors into customers, visit us at business.nextdoor.com or contact us to get started.



Sources:


1Comscore Media Metrix® Multi-Platform, Feb 2020 - June 2022, U.S. Comscore measurements are independent of metrics measured by Nextdoor.
2Nextdoor Q2 2022 Shareholder Letter.