For Dawn Belisle of Atlanta, Georgia, 2020 was going to be her breakout year for her bakery, Delights by Dawn. She planned to fulfill her dreams of moving her licensed home bakery to a physical storefront and bringing on full time employees. She was looking forward to selling her gourmet, alcohol-infused baked goods at upcoming festivals, pop-ups, and events across Georgia, which have proven critical to her business success in past years.
And then, just days into March, the coronavirus pandemic hit, and most scheduled events for the spring were cancelled or postponed for at least six months, until the fall. Dawn immediately had to reset her goals and expectations for the year – and pivot solely to online sales.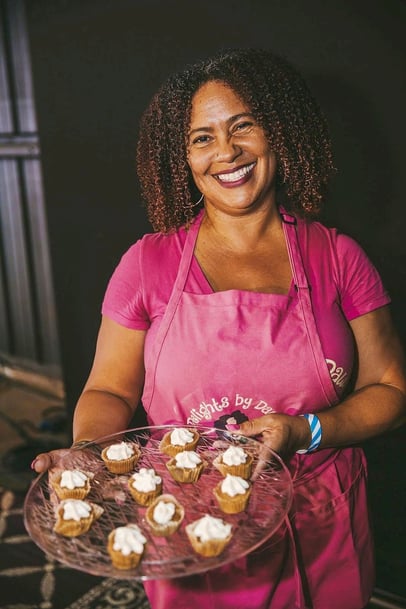 Dawn's primary sales channel prior to the pandemic was in-person events; she has since pivoted to online sales driven by her closest customers, her neighbors.
Festivals and events were impactful for her business because they put her brand directly in front of thousands of people who could purchase on the spot. In light of the canceled events, business closures, and social distancing, Dawn had to find new ways to reach customers.
She turned to Nextdoor to start spreading the word online and locally about her sweet treats.
Using Business Posts, she said, "I can target the neighborhoods around me to spread the word about my business. Since the people I can reach are all within a couple of miles of me, I can offer them free delivery."
Neighbors have seen her posts and then call or go to her website to place an order that Dawn will deliver, or they pick up the next day. In the absence of all of the events she'd planned for, Dawn has found it critical to be able to reach the people closest to her, her neighbors.
Says Dawn: "My posts let people know what they have access to right in their community. Communities support community businesses. I love getting to use Nextdoor to build surrounding communities of customers who may become my regular customers."
Dawn tries not to be too salesy in her customer communications, because she knows that people will feel better about doing business with her if they feel like they know her as opposed to just being aware of her products. She had these tips to share with other local businesses like hers whose normal marketing channels may not be effective due to the coronavirus:
"Get hyperlocal: People aren't venturing too far from home during this time and are looking for convenient ways to fill their needs. Make sure the people closest to you know about your business. My business presence on Nextdoor has helped me achieve this."
"Move online: Consider creating live, virtual pop ups where customers can connect with you to learn about your business, learn a new skill, and place an order. I've found Instagram Live to be an easy and effective way to host these live events."
"Offer new products or services that work well with this new 'at home' lifestyle: Again, people are generally staying home right now, so meet them where they're at. Create kits they can put together at home or a tutorial video that demonstrates how to make your most popular dish. For me, this meant creating cupcake decorating kits to help parents keep their kids entertained while the schools were closed."
While it's still too early to know if the postponed events and festivals will take place this fall and bring in the business that she'd anticipated, Dawn is glad to have an easy way to reach her local customers – in a very budget-friendly way. She also plans to continue to service her customers digitally while also maintaining regular communication to ensure they keep coming back to support her business.