---
As a real estate agent, you understand the importance of a good first impression. That's why you help your clients stage their home or improve its curb appeal when preparing to list it for sale – those enhancements can make or break the opinion of a potential buyer. Why wouldn't you take the same care for your own business?

As a Neighborhood Sponsor, your ads appear alongside real estate content on Nextdoor every day. Neighbors will see your name, your photo, and your phone number – and when they visit your Business Page, they can learn even more about you from your greeting message and get in touch with you using one of the contact methods you provide.
When creating your agent profile on Nextdoor, keep the following tips in mind:
DO include a high-resolution profile photo. Your photo appears alongside your ads in the real estate section, Newsfeed, and Digest emails. Including a photo of yourself allows neighbors to put a face to your name so they can become familiar with you as the go-to real estate agent in the community.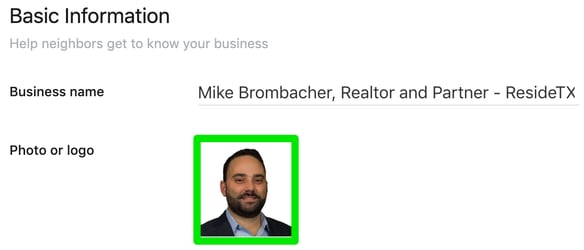 This agent included his professional headshot on his Business Page.
DON'T use a logo, group photo, or no photo at all. Your photo is one of the customizable pieces of your ads and helps raise awareness for your brand. Make sure to use this space by uploading your professional profile photo. Photos will help build trust and help neighbors get to know you. We recommend a business headshot against a white or solid color background so members see you as a professional.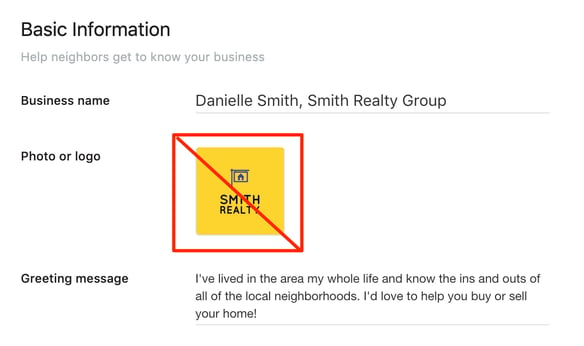 Using a logo doesn't allow neighbors to associate a face with your name. If neighbors recognize you, they may be more likely to say hi or ask you a question if you bump into them out in the community!
DO write a neighborly greeting message that highlights your professional qualifications and accomplishments. Tell neighbors why you're the go-to agent in the community. Have you lived or worked in the area for several years? Did you grow up there? Are you consistently a top performer? Neighbors will see your greeting message when they visit your Business Page to learn more about you.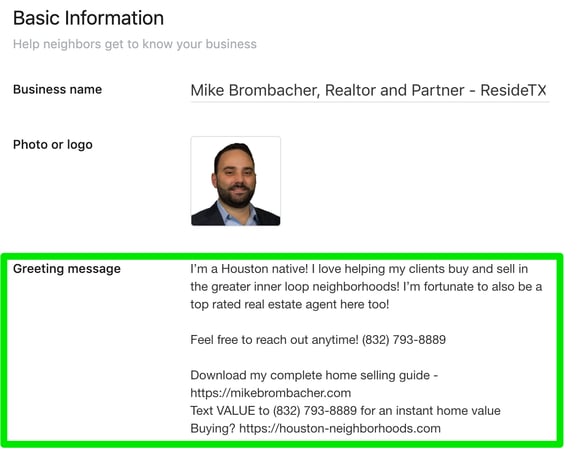 This agent used his greeting message to explain that he grew up in the area that he sponsors, and that he's a top performer.
DON'T leave your greeting message blank. Neighbors are visiting your Business Page because they're interested in learning more about you. Help educate your customers about the services you offer. Leaving your greeting message blank is a missed opportunity to promote your brand and your business services!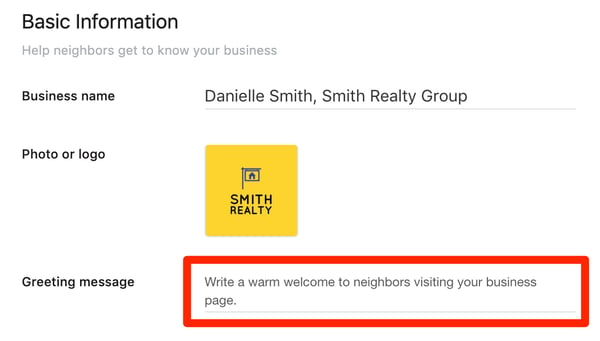 Don't leave your greeting message blank – this is an opportunity to tell neighbors more about yourself.
DO include all of your contact information – your email address, website, phone number, and physical address. Some people may prefer to text or email while others may want to meet in person. Or, they may want to check out your website to learn more about you. If you want to get discovered by potential customers who need your services, be sure to make it easy for them to reach out to you.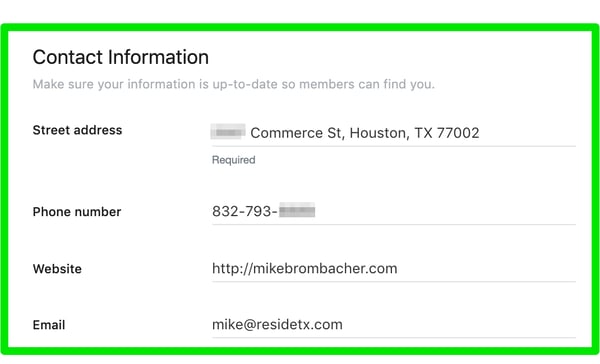 Complete contact information will enable customers to reach you at their convenience.

Building out a professional business profile is the first step to success as a Neighborhood Sponsor. Having accurate information can make you more discoverable and lead to more engagement and business. Fill out your entire profile and keep it up-to-date with your latest contact information so neighbors can get in touch with you.
---
Neighborhood Sponsorship provides a dynamic opportunity to connect members with real estate agents. If you're an agent or broker interested in real estate advertising on Nextdoor, claim your ZIP code(s) and get started with Neighborhood Sponsorships here or call our Sales team at (866) 844-0224.