---
This is a contributed article from Stacy Brown-Philpot, CEO of TaskRabbit.
In 2008, the U.S. economy was in a major recession, reeling from the subprime mortgage crisis. The unemployment rate shot to 9 percent. Housing prices plummeted more than 30 percent.
That's when TaskRabbit was founded.
Today, I'm the CEO of this two-sided marketplace and task service platform that connects independent contractors — whom we call Taskers — with clients who need help with everything from minor home repairs and yard work to furniture assembly and running errands. And while today's circumstances are different than the financial crisis more than a decade ago (the real unemployment rate is now at 20%), gig work is still offering people who've lost their jobs viable employment opportunities to make a meaningful income. In fact, in many ways, it's these workers who are keeping the wheels of our neighborhoods and local economies turning.
Gig work is often viewed as something temporary — a stop-gap. But that certainly isn't always the case. Independent workers have forever changed the nature of work as we know it. The pandemic has underscored that flexible work is a desirable option, and a way for people to earn income when they need it most.
As the National Review notes, "these are precisely the times that show how important it is to have good people in those jobs" — people who want to help their communities and continue working. With unemployment likely to continue rising, gig work will transition and grow, so it's important to find ways to do that work safely and effectively. At TaskRabbit, I've seen first-hand how Taskers and clients team up to ensure everyone's needs are met in the safest way possible.
As an organization, when COVID-19 began, we quickly focused our attention on how to keep our platform safe, and we clarified what essential tasks could still be performed while adhering to social distancing guidelines and safety measures. These are some of the initial steps we took:
Advising all workers to prioritize their health and safety in any transaction.
Quickly shifting to contactless or virtual tasks to comply with local public health regulations.
Providing free safety kits, including sanitizer spray, non-medical grade masks, and disposable gloves through a partnership with Bluemark while supplies last. We reimburse Taskers who have financial need but must purchase their own safety equipment.
It hasn't been easy. Providing contactless services has meant a dramatic shift for some Taskers who focused on jobs that can't be easily done under social distancing guidelines. But, like many other workers, they've risen to the challenge.
We found seven specific areas of work that can still be done in a safe way. If you're considering independent work yourself, you may want to look at these:
7 ways gig workers are earning safely during the pandemic
1. Pickup and delivery of essential goods such as meals, medications, etc.
For example, a Tasker in Boston was hired to pick up prescriptions for an immunocompromised woman who was self-isolating at home during the COVID-19. Deliveries and errands have greatly increased in demand during the pandemic.
2. Shopping or running errands
Clients are hiring workers to run contactless errands, including grocery shopping, mailing packages, and picking up prescriptions. We've seen an uptick in business in these categories as well as personal assistants.
3. Dropping off donations
A lot of people have spent self-isolation cleaning out closets and storage areas. But how do they get those items to a nonprofit who can use them? Taskers can fill the gap. For donation tasks, TaskRabbit gives a portion of the service fee to local nonprofits.
4. Delivering PPE to hospitals and other health care facilities
Talk about essential employment. The Taskers who run these errands are heroes to the heroes on the front lines of the pandemic. They typically are hired by a company or individual to deliver PPE and other equipment to medical facilities.
5. Helping health care workers who don't have time to shop or run errands
Some health care workers are in isolation when not caring for patients. They're completely separated from their families and are exhausted after long shifts.
6. Contactless moving help or minor home repairs
A New York-based Tasker went to a client's house to fix a ceiling leak at what she described as "the worst possible time during COVID." He wore a mask and gloves and respectfully kept six feet distance while quickly fixing the issue.
7. Shifting from indoor to outdoor tasks
Some Taskers have pivoted: House cleaners are running errands and washing windows, while handy persons are shifting to virtual furniture assemblies and yard work.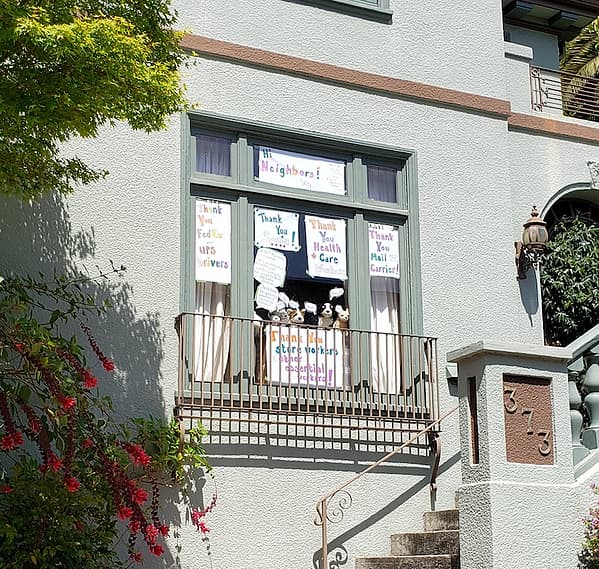 One thing I'm always struck by is the personal connections that gig work can create. It's not just about making money or getting things done, although those are certainly important. These services connect people – especially now, when the elderly, immunocompromised, and those who live alone may feel particularly isolated. Knowing there's someone who can assist can be a real boost to our clients' spirits, even if they can't engage directly. We've seen several of these connections turn into ongoing business and personal relationships. Equally important, independent workers who are providing essential services are helping to keep their local economies afloat, even if at a slower-than-normal pace.
Of course, you don't have to be a gig worker to help people out. If you have the time and the skills, and are in good health, you can sign up as a volunteer with our Tasks for Good program, offering your services to at-risk and vulnerable neighbors – including immunocompromised, elderly, disabled, unemployed, or healthcare workers – in your local community, free of charge. All of the tasks completed through Tasks for Good can also be booked in TaskRabbit's regular marketplace — so we kindly encourage those who are not at-risk to hire paid Taskers.
This is the future of work. This work at the intersection of necessity and flexibility is providing people with income — and providing stability for our communities. These are the essential workers and the everyday heroes in our economy, now more than ever.
---
For more resources to help your business during coronavirus, visit our Small Business Guide for Coronavirus Relief.