Random Acts of Kindness Week is February 14-20 this year and we want you to help neighbors celebrate. Kindness is core to Nextdoor's purpose: to cultivate a kinder world where everyone has a neighborhood they can rely on. When we say "kind," we mean being respectful, welcoming, empathetic, and willing to boldly act and support one another. At Nextdoor, we want to give neighbors ways to connect and be kind to each other, online and in real life. We believe a little kindness goes a long way towards making life easier, neighborhoods stronger, and the world a better place.
In fact, kindness from neighbors is the single best predictor of individual happiness and satisfaction with one's neighborhood. Moreover, Americans have a kindness quotient of 86%, which means that they care about their neighbors 86% as much as they care about themselves. To read more about how kindness is key to building stronger neighborhoods, read our joint research study with Kindness.org and Verizon here.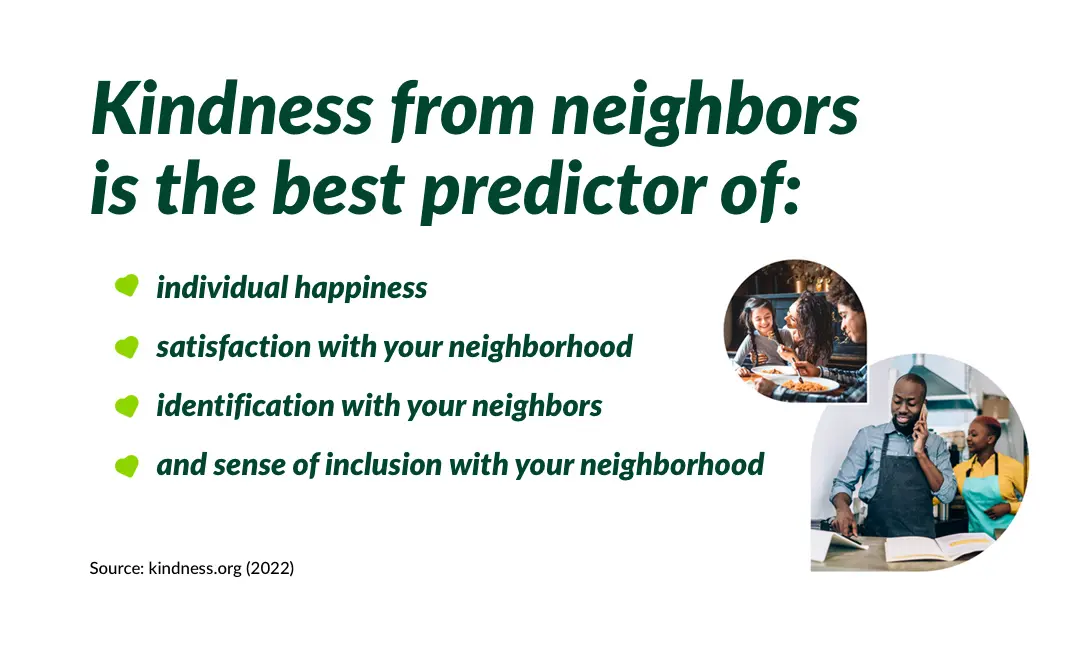 How can you and your brand get involved? Celebrate the week by encouraging neighbors to do a different kind act each day and share their participation on Nextdoor. No act is too small!
If you're looking for ideas to get started, look no further than our research report. According to our study, the most impactful kind acts people can do for their neighbors are:
Donating money, diapers, or other items
Organizing a local clean-up
Simply remind a neighbor that they matter
To learn more about Nextdoor's mission and purpose, visit: https://business.nextdoor.com/en-us/enterprise