---
Millions of members use Nextdoor daily to build connections with their neighbors, stay informed, and help one another in their daily lives. Real estate has long been a common discussion topic among neighbors, making up 1 in 4 conversations. Some of the most commonly discussed questions we see are around the best time to sell, how to increase property value, and which real estate agents are the local experts.
Now available nationwide, Your Home is Nextdoor's latest real estate feature that helps members connect with trusted agents and get the insights they need about their most valuable asset: their home.
With Your Home, each member gets private access to their home's data, home selling tools, insights about local real estate, and a trusted real estate expert to talk to – all in one place.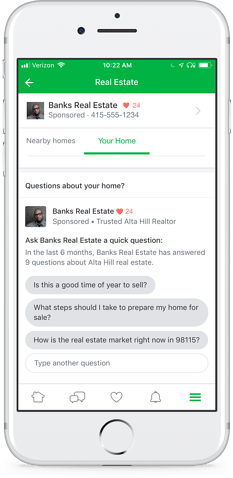 We launched Your Home by working with real estate agents and incorporating feedback from our homeowners across the country. We learned that members visited the Real Estate section because they were curious about local real estate and nearby homes for sale, but also wanted more accessible information to navigate the complexity of homeownership. With Your Home, members can now get insights in the context of their own home and access all of the critical information they need before making a decision to sell their home – and they'll have access to a trusted real estate expert to talk to.

We heard from agents that being able to step in as the local real estate expert and help community members in an authentic way was crucial to building successful relationships. Clinton Brown from Los Angeles, California, tells us, "Much of my interactions on Nextdoor so far have been in relation to homeowners asking for their home valuation. As a local agent, it's nice to be able to hear directly from someone in the neighborhood."

As a result, Your Home will feature Neighborhood Sponsor agents who are participating in Nextdoor's real estate offering.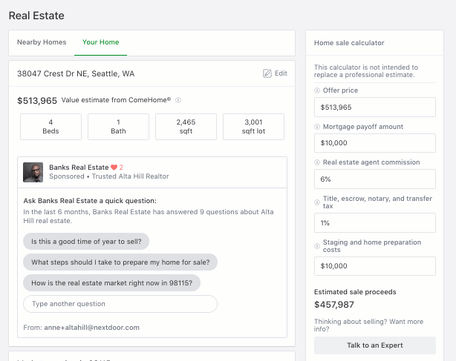 With Your Home, agents will be able to:
Increase brand exposure: Agent profile, recommendations, and contact information will now be featured alongside the content and insights homeowners value most – their home.
Connect with a premium audience at scale and showcase local expertise: Agents will reach members who are actively researching the local real estate market and the value of their home. Agents can engage with this community at scale and stand out as the neighborhood expert.
Build 1:1 interactions and relationships: Members interested in selling their homes can reach out to an agent on a 1:1 basis and share their contact information. Since the launch of Your Home, inbound interactions to Neighborhood Sponsors have increased 2X.
Neighborhood Sponsors will now be better positioned to put their name out there as the trusted local real estate expert and turn homeowners into valuable customers. Joe Kennedy, a Neighborhood Sponsor from Portland, Oregon, tells us,
"Your Home gives homeowners the opportunity to communicate with an expert in their neighborhood and allows agents to build relationships. This new feature will add great value to my Neighborhood Sponsorship by providing me opportunities for qualified leads. Nextdoor narrows in on a hyperlocal level, which makes these customer leads more qualified if I'm sponsoring that specific neighborhood."
Your Home is now available nationally. While this is a new and exciting feature for members, we're also thrilled to offer this for real estate agents to benefit as we continue expanding Nextdoor for Real Estate.
---
Are you a real estate agent or broker? Become a Neighborhood Sponsor and claim a ZIP code today. Still have questions about Your Home? Find your answer at our Help Center here.