---
This article was updated on April 7, 2022
Promote Listings on Nextdoor with Posts
As a real estate agent with a new listing, you want to feature it in as many places as possible to find a buyer quickly. But you also want to show up in front of relevant customers who may be interested in the home and neighborhood. Neighbors turn to Nextdoor to learn more about local homes for sale, about their own property value, and to interact with the local real estate expert for their home-related questions. For real estate agents who advertise on on Nextdoor, the opportunity is ripe for marketing your listings to local homeowners.
Once you claim and verify your business page, you'll be able to share Business Posts. Your posts will show up in the neighborhood newsfeed, which is what neighbors see first when they sign into Nextdoor – and where your posts will get the most visibility. The newsfeed is the best place to feature your upcoming or recently sold listing.


Real Estate Marketing Tips: How to Promote Your Listings on Nextdoor with Posts
Curious about how other real estate agents are promoting their listings? Below are examples of how agents are using Business Posts to highlight their listings. Try out these real estate marketing ideas on Nextdoor to attract more potential buyers.


Use the "Share an update" or "Share a local event" buttons to promote your real estate business and listings.
Spark interest for a listing that is coming soon
Highlight the best features of the house with clear photos and detailed descriptions to generate interest in a new listing.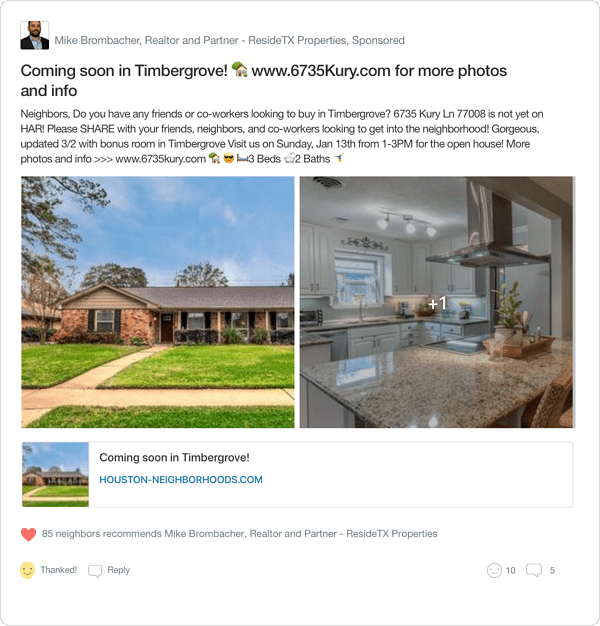 This real estate agent uses a clear post title and visually appealing house photos to share a preview of his upcoming listing with potential homebuyers.
Invite neighbors to attend an open house you're hosting
Share the address and location of your open house so prospective buyers can clear their schedules to attend.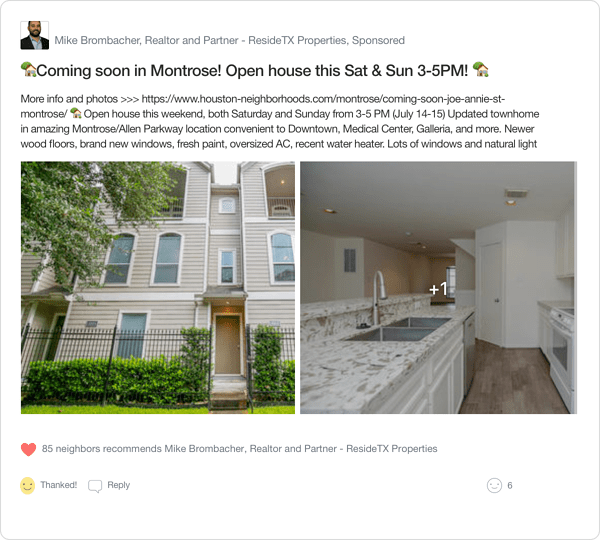 This real estate agent saves his best photos for the post to catch attention and then links out to his website so neighbors can see more.
Upload a video tour
You may also upload a video tour to host a virtual open house or link to a video hosting service like YouTube or Vimeo to show off all of the home's features.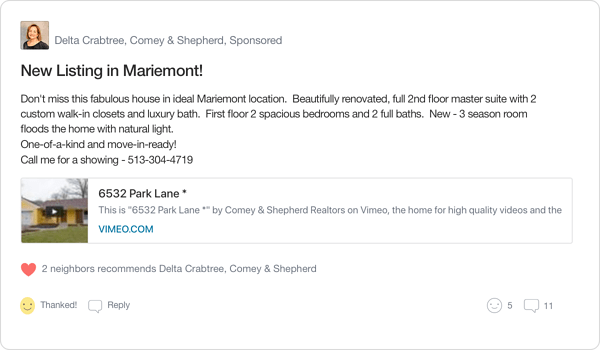 This agent shared all of the home's important details as well as a link to view a home tour.
Highlight listings that you recently closed
Sharing recently sold listing helps neighbors understand your successful track record of closing deals in their neighborhood. Help them reach out to you with confidence by including your contact information in the post.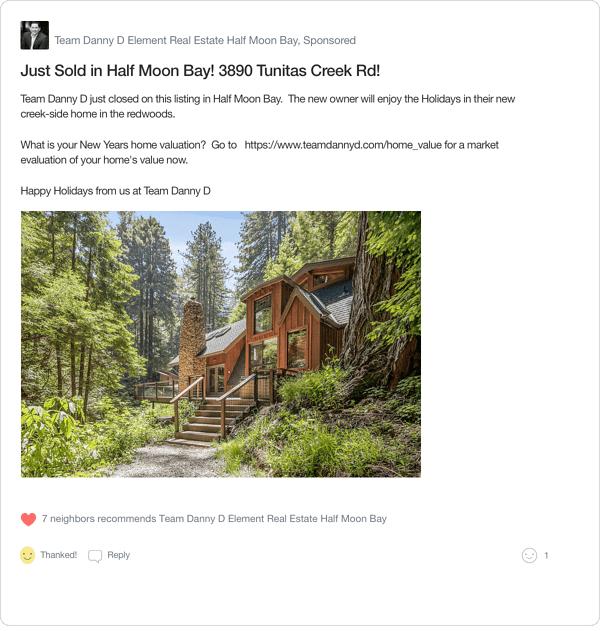 This agent featured a beautiful photo of his recently sold listing and encouraged neighbors to contact him for more information about their own home's valuation.
Advertise a price adjustment
Remind neighbors of the home's features and why it is such a great deal in the local market.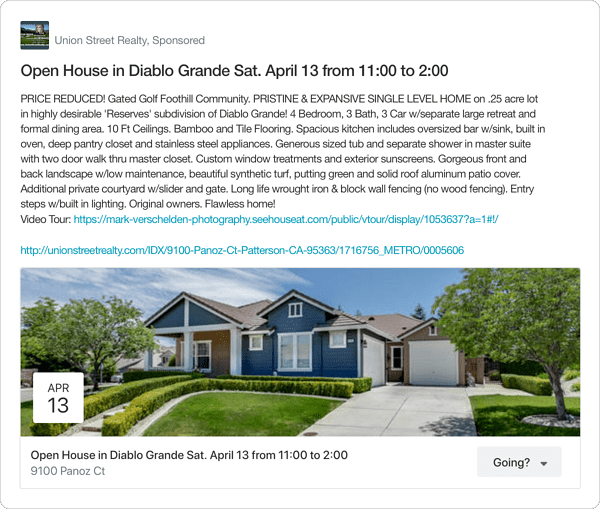 This agent included a beautiful photo of this house listing along with a strong callout "Price reduced!" to promote the price adjustment to any prospective buyer.
Utilize Social Media
Once you've figured out how to promote your listings on Nextdoor, try using your social media channels to further promote each post. Social media for realtors is great because it provides a platform for you to share your listings, post pictures or videos, and advertise any informational blog posts. By doing this, you're covering all your bases and finding ways to reach your target audience across multiple platforms.
Using Nextdoor to promote your real estate business on social media is an effective way to boost your presence in the real estate industry. Get started today to position yourself as a competitive real estate professional and begin discovering potential clients.