---
Do you periodically babysit or walk dogs? Do you casually tutor students, or consider yourself a handyman? If you occasionally provide a casual service to others and operate your business under your own name, you are a Neighbor for Hire.
Note: If you operate under a business name, have a physical storefront, or have one or more employees, you are a Professional Business.
Because Neighbors for Hire are more occasional service providers without a physical storefront, determining the best way to market your business can be a challenge.
All business owners should claim or create their free Nextdoor Business Page. As a Neighbor for Hire, you should populate your Business Page greeting message with information about the services you provide, your experience in your line of business, and why neighbors should choose you over a competitor. This allows neighbors to easily find you when they're searching for the services you offer, or something related.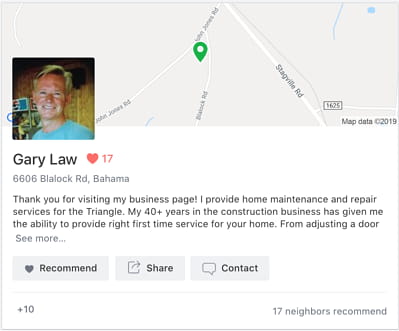 A Neighbor for Hire's Business Page.
Neighbors for Hire have the opportunity to build their local reputation on Nextdoor by sharing recommendations from neighbors, promoting their services through Local Deals, and interacting one-on-one with neighbors who send them private messages.
Need some help getting started? Follow these five easy steps, and you'll be on your way to getting more business through Nextdoor:
1. Claim or create your free Nextdoor Business Page
Click "Neighbor for Hire", and then select which category(ies) best describes your service.
2. Complete your profile
Ensure that your contact information is up-to-date, add a profile photo, and write a neighborly greeting message that describes the services you offer and why neighbors should choose you for their needs.
3. Gather recommendations from past customers or clients
Visit the "Your reputation" tab to find the unique link to your Business Page that you can share with past clients when asking for recommendations. The number of recommendations you have appears on your Business Page and alongside your Local Deals.
Maybe you're running a seasonal special or just want to get the word out that you're available for business. Local Deals helps you promote your services to exactly the neighborhoods in which you do business.
5. Interact with neighbors 1:1
Neighbors can send you private messages through your Business Page inquiring about your availability, pricing, and more. Make sure to respond promptly to any messages you receive.
As a Nextdoor Business Page owner, you may also share discounts, coupons, and promotions with your neighbors through Local Deals.
COVID-19 Tip: As you promote and provide your services to neighbors, be aware of new safety guidelines that apply for social interactions. Customers will expect you to practice social distancing and proper hygiene, for your safety and theirs. These CDC guidelines advise on how you can protect yourself and your customers.
Neighbors for Hire, like Rick Wenban of Grapevine, TX, use Nextdoor to spread the word about their business. According to Rick, "The most valuable clients for me are the local members of the community, and Nextdoor is the best at helping me target locally, specifically clients that are nearby." He continues, "Clients call on me to fix and replace things at their homes that don't require a licensed plumber or electrician. It's a win-win for me because most full-time businesses do not want to do these small jobs that I like to be hired for."
Do you occasionally provide a casual service to others? If so, claim or create your Nextdoor Business Page to start building your local business presence today!