---
How to Create Your Best Local Deal
At Nextdoor, we believe in the power of local. Ninety percent of consumers make most of their purchases within 15 minutes of their home, and Nextdoor is the only platform that allows businesses to target their advertising at the neighborhood level. Local Deals enable local businesses to tap into those consumers by sharing discounts and promotions with their local, targeted neighborhoods on Nextdoor.

Encourage your neighbors to stop by and discover your business with a deal, coupon, or discount. Here is a quick and easy guide to creating a compelling Local Deal that will help you get more customers.
Local Deals are best suited for:
Home and Garden Services (landscaping, window installation)
Food and Beverage (coffee shops, restaurants, bars, local diners)
Pet Services (grooming, dog walking)
Wellness (nail salons, hair salons, gym/fitness centers)
Retail (hardware stores, clothing stores)
Professional Services (accountants, doctors, lawyers, financial advisors)
Neighbor for Hire (babysitting, snow shoveling, tutoring, and odd jobs)
How to set up your Local Deal in 3 easy steps:
Get started
Sign in to your Nextdoor Business Page. Don't have one yet? Claim or create your Business Page here.
Click on the Content tab in the left column and select "Create a Local Deal."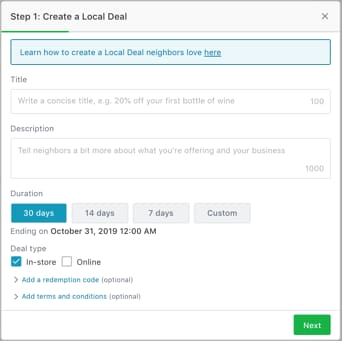 2. Think about what you want to share with your neighbors
Neighbors are interested in quality goods and services and unique local experiences. What makes your business or service unique? Are there any upcoming holidays or seasonal events that you can tap into? Neighbors also want to feel special. Can you offer something that is unique to Nextdoor neighbors? As you think about what deal to promote, remember that the best offers are memorable, shareable, and give customers a reason to choose you over another business.

Need some ideas? Neighbors have been excited by these kinds of deals:

Percent off: 30% off your first visit
Price reduction: $1 off drinks and appetizers
Fixed price special: $99 carpet cleaning
Free or buy-one-get-one: Buy 3, get one free
Spend to get a deal: Spend $50, get a free manicure
As a reminder, you may only post discounts, promotions, and deals. Other types of content, such as general advertising, may be removed.
3. Create your Local Deal
Add a catchy title
Entice neighbors to click on your deal – make them interested in learning more! Keep the title short and actionable, and save the bulk of the details for the main description. Make sure you include keywords that describe your unique value proposition. The title is the first thing customers will see, so make it compelling!
Describe your deal
In the description, add thorough details about your Local Deal, and insert related keywords. Let neighbors know what you are offering is a service or product, and highlight that the deal is only available for neighbors on Nextdoor. Don't forget to share some background about your business and its connection to the neighborhood. Your description can contain up to 1,000 characters.
Timing is everything
You can promote your deal for a minimum of seven days, and up to 30 days. Neighbors will be able to view the redemption code for your deal during your selected time period.
Keep it in-store or take it online
If you want to use the "Online" option, you must include a link that directs neighbors to the web page where they can redeem your deal. If you want neighbors to call you or visit the store to redeem your deal, select the "In-store" option, and make sure neighbors understand the best way to contact you.
Track it closely
Choose a unique redemption code that neighbors may present in-store, use online, or both.
The nitty gritty
You may add additional terms and conditions, such as "limit of one per customer."
Upload a photo
Select one of our stock photos for your deal's featured photo, or upload your own. Use images that clearly represent your product or service and avoid photos that contain text. (The minimum suggested resolution for photos is 578 x 300.)
Once you have added a photo, you may reposition it as desired.
Select the customers you want to reach
Nextdoor is the only platform that enables businesses to target their advertising at the neighborhood level. When deciding where to promote your deal, we initially show you all the neighborhoods within a two-mile radius of your business address. If you want to select different ZIP codes to target with your deal, use the 'nearby business' search to find those ZIP codes.

A map will help you visualize the surrounding areas. Clicking on the drop-down arrow will display a list of all of the neighborhoods located within your selected radius and will display how many Nextdoor members are active in each and its corresponding price. You may remove any neighborhoods in which you do not want to promote your deal. This way, you can target specific neighborhoods, or you may decide that your deal is applicable to all neighborhoods within a 10-mile radius. The number of ZIP codes and neighborhoods you choose to include will affect the price of your Local Deal.
Launch it!
Preview your Local Deal. Then, add and review your payment details and submit your order. Your Local Deal becomes available to your selected neighborhoods immediately.
Where can neighbors find my Local Deal?
Nextdoor does the marketing for you so that you can focus on your business. Neighbors will see your deal in their home Newsfeed, in our daily Digest emails, in the Local Deals section, on your Business Page, and in the Business section. We also send helpful reminder emails to members who saved your deal but haven't redeemed it yet. Once your deal is live, you may edit everything, except for which neighborhoods were targeted and the deal's duration.
Where can I understand the performance of my Local Deal?
Within the Local Deals section of your Business Page, you can see views, clicks, and saves on each of your Local Deals. But to receive more in depth insights, your Dashboard tab is your go-to resource. With your Insights Dashboard, you can see a high-level summary of your Local Deals performance and quickly compare to see which Deals are receiving the most engagement among neighbors. Dig deeper into your performance with 7 and 28-day overviews of total clicks, saves, redeems, and views. Click into any active or expired deal to learn more about its specific performance, including a list of its top-performing neighborhoods.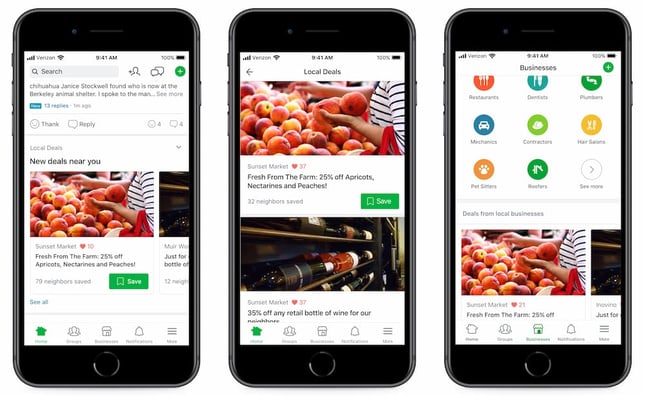 Local Deals are promoted prominently in several places, including within neighbors' home Newsfeed, in the Local Deals section, and in the Business section.
Want more tips? Read our Best Practices for Creating a Local Deal to see examples of deals from other businesses like yours.