---
As a business owner, you know the value of a referral. When a satisfied customer recommends you to someone they know, their favorable review often results in new business for you. Gathering recommendations is a critical step in your business processes.

Neighbors turn to Nextdoor to discover top local businesses nearby. In fact, recommendations account for nearly one third of the conversations that take place on Nextdoor. Recommendations on Nextdoor are different from recommendations on other platforms, though, because each one is made by a verified member. Every person who joins Nextdoor has to go through our verification process to ensure that they do indeed live at the address at which they have joined. As such, each recommendation given on Nextdoor is backed by a real person, living where they say they do – which means each recommendation carries more weight than it might on another site where reviews can be anonymous.

The recommendations that members leave on your Business Page will appear alongside any Local Deals you run, which shows that local neighbors are satisfied with your business and trust you – and makes other neighbors more likely to reach out to you or stop by your business. Recommendations will also enable your Business Page to appear in search results when a nearby neighbor searches for something related to your business, allowing more neighbors to discover you organically.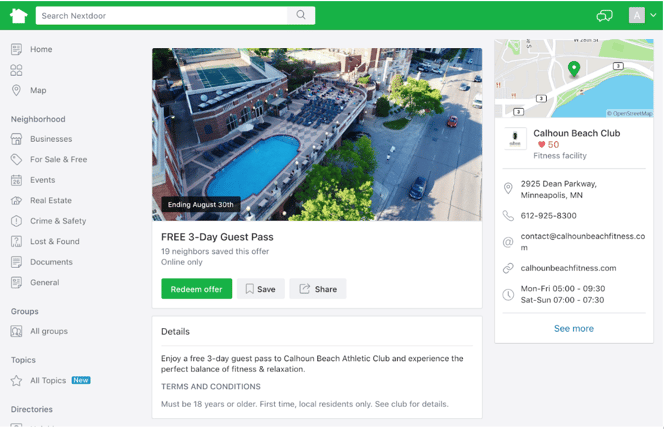 This business has 50 recommendations, as seen alongside their Local Deal with their business information.
So, how do you gather recommendations to make your Nextdoor Business Page and Local Deals stand out? We make it easy.
Click on the tab that says 'Your Reputation'.
Next, click the "Copy link" button. This option is the quickest and easiest, as it copies the unique link to your Business Page that you can share anywhere. For example, you can include this link in your email signature, or you could paste this link into the body of an email to send to all of your contacts along with a short, personal message.
Copy link: Sample email copy: Hi there, It was great to meet and do business with you! I'd appreciate if you could leave me a recommendation on my Nextdoor Business Page. Just click this link to visit my Business Page - if you have a Nextdoor account, you'll need to sign in, but if not, you can create one quick and easily - for free! Thank you so much for your support!
Recommendations can come from clients, customers, family, friends, or contacts you have from philanthropic or community groups – they don't need to only come from people that have completed a transaction with your business.
That's it! Once your contacts click the link to your Business Page, they'll be prompted to either sign in or create a free Nextdoor account. From there, they can choose to leave you a recommendation by clicking "Recommend" on your Business Page, or they can choose to write something to share their sentiment.
If someone leaves a written recommendation, it will appear within the 'Neighbor comments' tab on your Business Page. You should thank each neighbor who leaves you a written recommendation.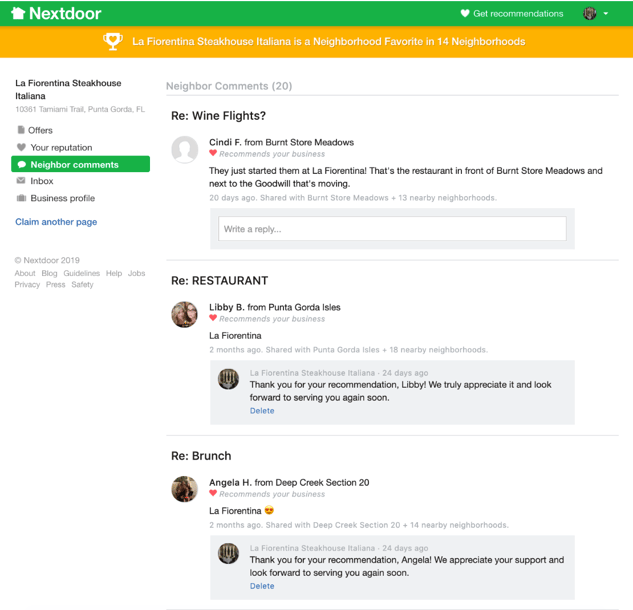 View and reply to written recommendations through the "Neighbor comments" tab on your Business Page.
You can also ask customers to tag your Business Page in their replies to neighbors on Nextdoor who seek recommendations for the goods or services you provide. If they tag your Business Page, not only will your Business Page be linked within the conversation, their comment will count towards your recommendations.
As a local business owner, make sure to ask satisfied customers to leave you a recommendation on your Nextdoor Business Page to maximize your opportunity and establish your reputation in the local community.