---
On Nextdoor, our members are constantly seeking recommendations and advice for local businesses and service providers. Local businesses are a key part of the community, and on Nextdoor they become neighbors by building their local reputation.
Business Pages on Nextdoor are ideal for businesses that are truly local. Whether you are selling goods or providing services – for example, a business in the food and entertainment space, a home and garden store, a pet service provider, a shop, a professional services consultant, a personal care enthusiast, or a wellness guru – you should claim your free Business Page. Having a presence on Nextdoor allows neighbors to easily find you when they're searching for recommendations – and also enables you to see recommendations written about your services by your neighbors.
Follow these steps to get started as a business on Nextdoor:
As an owner, employee, or other authorized representative of the business, go to https://nextdoor.com/create-business to create or claim your free Nextdoor Business Page.
If you provide a casual service like babysitting, dog walking, tutoring, or handyman services, for example, select "Neighbor for hire."
Your Business Page will be associated with your personal Nextdoor account. First, sign in to your account or create one. Then, select which of the following categories best describes the service you provide:

Babysitting
Handyman
Dog walking
Yard work
Pet sitting
Tutoring
Tech help
Snow shoveling
Odd jobs/Other

Confirm that your contact information is up-to-date so neighbors can find you and select your privacy level for your Nextdoor Business Page.
Click "Create Page."
Once your page is created, make sure to add a profile photo and neighborly greeting message that describes the services you offer and why neighbors should choose you for their needs.
If your business is a store or restaurant, is a local service-based business, or provides professional services like licensed child care or accounting, select "Professional services."
Search for your business by name and location. Your business may already have a Business Page on Nextdoor with recommendations.
Select the page associated with your business, or scroll to the bottom of the page and click "Create your business page".
Once your page is created, make sure to add a profile photo or logo as well as a welcoming greeting message that tells the unique story of your business. Fill in your phone number, address, business email address, and website, and your business hours, if applicable.
Note: If you don't want your personal and business profiles connected, click the 'Log out' button at the top of the page, and follow steps 1-2 again. Claiming with your personal email address is ideal for business owners who won't need to give access to other employees, as this option allows you to easily switch between your personal and business accounts without logging out. If your Business Page will be managed by multiple people, set up a separate business account with a different email address than your personal profile so that other employees can sign in.
Helpful tips for creating your Business Page:
Writing your greeting message
Your greeting message should be long enough to describe what your business does, highlight your professional qualifications, and share what sets you apart from other similar businesses, but not so long that neighbors either don't want to read it or lose interest. Here are some examples of well-written greeting messages: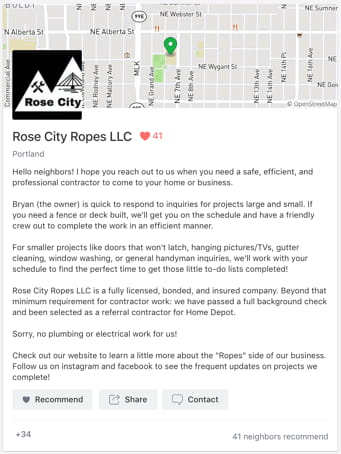 Rose City Ropes, LLC, a Portland-based handyman business, wrote a greeting message that is neighborly and personable. It describes the services they do and do not provide, and also highlights their professional qualifications - i.e. that they are licensed, bonded, and insured. These are important characteristics that can ultimately help a potential customer decide which provider to hire.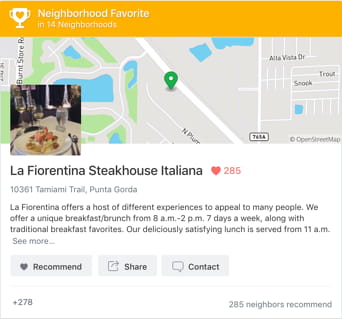 La Fiorentina Steakhouse Italiana, a steakhouse in Florida, used their greeting message to share the restaurant's different menu offerings, the hours that guests can visit, and shared about live jazz music that adds to the overall dining experience.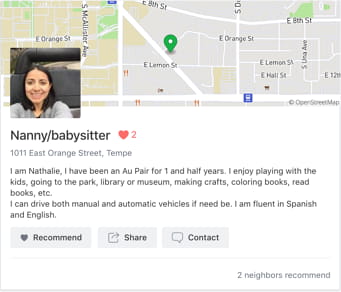 This neighbor for hire, a local nanny/babysitter, provides examples of the activities she performs with the children she cares for, and also describes her additional qualifications – that she can drive and speaks two languages.

Your profile photo

Your profile photo is one of the first things neighbors will notice about your Business Page, and will help them recognize you and your business. If you are a professional business, a company logo or photo of your storefront will help build brand recognition. If you are a neighbor for hire, include a clear photo of yourself to allow neighbors to put a face to your name.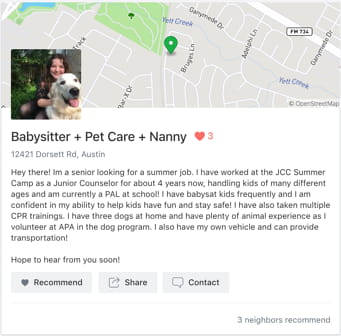 This neighbor for hire, a babysitter + pet care provider + nanny, included a friendly photo of herself that allows neighbors to become familiar with her.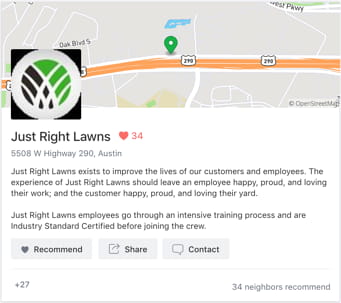 Just Right Lawns, a lawn care service provider in Austin and San Antonio, TX, included their company logo on their Business Page to build brand awareness in their local communities.

Have more questions about setting up your Business Page? Check out our FAQ.