---
This article was updated on April 6, 2022.
Nextdoor Business Pages, Business Posts and Ads provides real estate agents with a unique marketing opportunity to reach and grow their client base on a hyperlocal level. Real estate agents can showcase their local expertise, build brand reputation, and advertise to potential clients on local level. It's real estate marketing and relationship building in the neighborhoods you care about most.
Whether you're a new business that is farming or looking to build more connections with neighbors, Nextdoor business solutions can help you build brand awareness and trusted relationships with neighbors so they know who to turn to with their real estate needs. Here are our top tips for Real estate agents.
Here's our checklist to market and advertise successfully on Nextdoor.
#1 Claim your free Business Page and set up your agent profile
Begin the quick process to claim your free Business Page and select 'Professional business.' If you're a broker and want your agents to use Nextdoor, tell them to follow this checklist.
TIP: To link your Business Page with your existing member account, sign into your member account prior to claiming your Business Page. Doing so enables your accounts to share login credentials; all notification emails from both accounts will be sent to the same email address. To keep your accounts separate and/or receive Nextdoor notifications at separate email inboxes, sign out of your member account before creating your Business Page. Then, register with a different email address.
If you're setting up a Business Page for your broker, office, or team, make sure to note who the page represents in the 'Business name' and include either a logo or team photo for your profile or cover photo.
#2 Create a Nextdoor Ad to drive website visits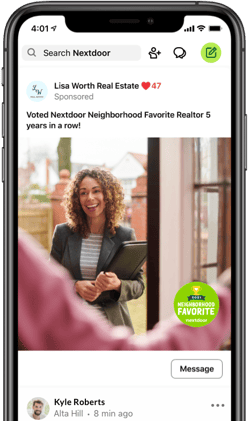 One of the best ways to build awareness of your real estate services is to create a Nextdoor Ad to drive leads to your website where prospects can learn about your personal story as an agent. With radius targeting, you can reach neighbors within 30 miles of where you do business. In 5 simple steps, you can build an ad that turns neighbors into customers. Learn more about Nextdoor Ads.
#3 Or create a Nextdoor Ad to get more messages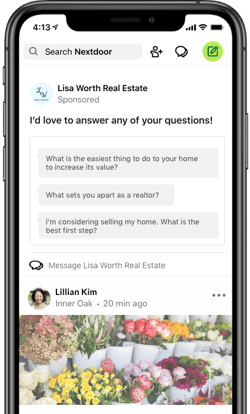 Start a conversation with neighbors. When you create an ad, you have an option to get more message that encourage neighbors to reach out to you with questions about your services. Give prospective clients a direct line, educate them about your business, and close the deal. Build trust by building rapport with potential customers looking for their next home. Learn more about Nextdoor Ads.

#4 Engage with the community using your two posts
Every business receives two Business Posts per month. This is another opportunity to demonstrate your value as the local real estate expert, and build relationships with neighbors by sharing useful or interesting content. Unused posts do not roll over to the following month, so make sure to use both of your posts each calendar month. As a best practice, share one post in the beginning of the month and another mid-month to help keep you top-of-mind with neighbors.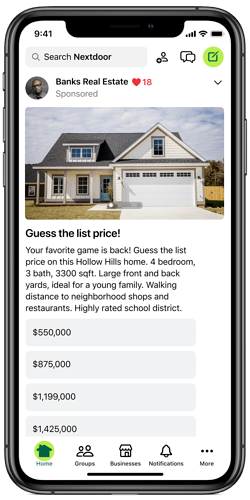 An example of a Business Post
Need some inspiration about what to post? Read our tips about the 'Create a Poll' option or how to promote your listings using posts. Now you're ready to make a post!
#5 Respond to private messages and replies to your posts
Over the course of the next several months, neighbors will continue to see your ads and your posts and become more familiar with you as the neighborhood expert. Neighbors may comment on your posts or send you private messages with specific questions. When they do, they are showing interest, and it's important to respond so you can build a relationship and foster trust. Make sure to thank members for interacting with your posts, and respond to their comments when appropriate. When you receive a private message, we recommend responding in two hours or less.
Once you have followed all of these tips, give it time. By building a relationship with neighbors, you establish your brand and reputation, making you the natural choice when homeowners need a real estate agent.