---
This is a contributed article from Dan Simons, the owner of Farmers Restaurant Group.
Thirty days ago I had 1,100 employees and seven large, full-service restaurants in Maryland, Virginia, Pennsylvania, and the District of Columbia. We were serving 50,000 guests every week.
Our restaurants, bakery, and distillery were all humming along, executing on our mission to make our family farmers and partners proud. We had completed our first decade, and we had our eyes on innovating, growing, and succeeding as we embarked on our second.
It is all different now. And it continues to change rapidly.
Twenty seven days ago I would have told you we were down to 80 people. We weren't sure what the future would hold, and we didn't know if we could stay open or if we would have to close all the restaurants. We had almost no money in the bank, and we weren't sure how we'd make our remaining payroll obligations, let alone chart a serious path forward.
But. Our. Team. Stepped Up.
Everyone agreed to work for less money (and in some cases no money). We decided we felt clear that restaurants were a part of the essential infrastructure to feed our communities and our laid off staff. We formulated and implemented our plan at what has felt, and still feels like, light speed. My business partner, Michael Vucurevich, continues to be an amazing, fearless visionary, so while I may use the pronoun "I", the reality is always "we" and includes far more than just the two of us.
We are still a group of restaurants, but now we are also a market and a grocery. We've spun up an e-commerce platform (thanks to GoTab) and we've added more than 500 items to our offerings.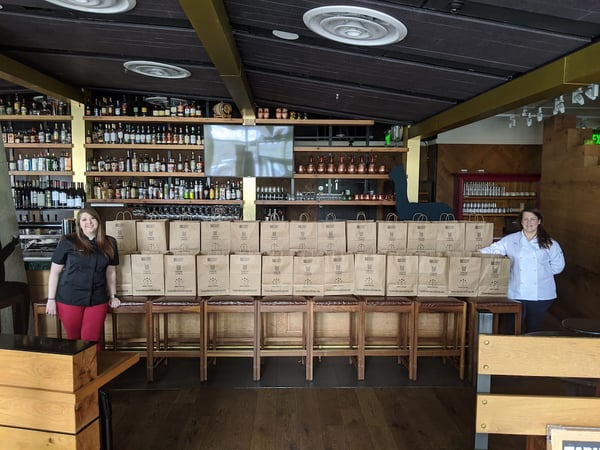 I've learned a lot. Every day is a firefight in which I continue to have my mistakes thrust in my face, while also celebrating the successes of our team to innovate, identify, adapt, and solve. All the while, we deliver hospitality that aligns with the core mission and principles we've had since we opened the first Founding Farmers in 2008.
While I can't recap or explain the millions of moving pieces, I can clearly convey three of the vital ingredients that are making this recipe work. I'm cautious about giving advice, so I'll write my thoughts as my team sees them. If our experience is a helpful guide, great.
1. We created a new paradigm of thinking.
We abandoned our usual diligence for intensive research, thorough vetting of ideas, and rigorous project planning. We shifted into "Yes. Now. Go." mode. We stopped spending any time talking about why something would not work and instead decided it had to work, could work, and thus we just DID IT. We shifted from our usual "talk about it, think about it, plan it, maybe do it" model. We replaced "no" with "now" and "I'm not sure" with "I'll figure it out. I got it. Let's roll."
2. We know what we know and we used the expertise that we have.
Meaning, we have a bakery, so we trust in our team, and we raise the expectations of the bakery team to do things that they haven't done before. It is sensible to believe that with their expertise they can push their limits and pave new ground. We looked at all the talent we still had in the company, and we told everyone that we'd all need to exceed our prior bests in our areas of expertise.
3. We asked our vendor partners to do things they don't normally do.
We believed they were capable of more — from different payment terms, to different delivery schedules, to lending us trucks for deliveries and for storage, to sourcing a wide range of new products. We told them we knew it would be difficult for them, but that we are in the fight together. We had the courage to ask for help and ask questions most people wouldn't even believe could be asked. The responses we got, sometimes after a pause, were, "Yes, we'll figure it out, we're in the fight with you".
These ingredients have worked for my team. We've rehired 175 people in the past two weeks. We've converted two restaurants to market and grocery storefronts (while still executing the a la carte menu), and we'll flip three more locations in the next 20 days. The team did all this while implementing new safety protocols for the staff using PPE and deploying a Sanitizing Fogging Protocol certified for food environments. (This keeps things safe for staff but kills the virus.)
All of this is working for us now because of the foundation of our company culture. If I'm to sum up our 9-page culture manifesto in a few words, it is that we believe in conscious capitalism and leading with a balance of head and heart. This ensures we take care of our people, and we understand that our planet, our employees (and their families), and our communities are all stakeholders in our business, along with our investors and the farmers who own the company with us.
---
For more resources to help your business during coronavirus, visit our Small Business Guide for Coronavirus Relief.