---
Roofers: How to Use Nextdoor to Market Your Business
As a roofing company, you know that a roof is more than just some shingles, tiles, or metal panels on top of a house. It's what protects a home and everything inside of it, including its residents. And when there's a breach in the roof, it's a repair (or replacement) that shouldn't be ignored. Your skill and expertise are important to communities everywhere.
67% of Nextdoor members have left a recommendation on Nextdoor, and the products and services they recommend are most often home-related. There's a good chance roofing companies are regularly discussed in the neighborhoods in which you most often do business.
You can become a Neighborhood Sponsor to promote your roofing business and interact with neighbors in your desired ZIP codes with two custom posts. But coming up with fresh ideas to stay relevant and engaging to your audience is tough when you have a business to run.
Read on for 3 ideas for roofers to post on Nextdoor:
1. Lean into local weather.
No one knows better than you, the roofing expert, that inclement weather – from high winds to torrential rain, hail, and snow – can cause damage and compromise the integrity of a roof. If the forecast shows that the community is in for some harsh weather, alert the community and take the opportunity to remind neighbors that you can repair any existing damage so as to avoid an even costlier repair or replacement after the storm.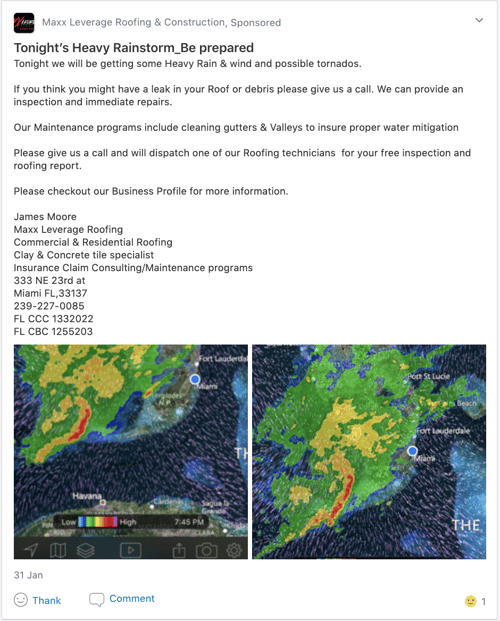 This roofing company alerted neighbors to an upcoming rainstorm and offered to provide an inspection and immediate repairs.
2. Offer a free roof inspection.
Everyone loves getting a freebie, and performing a free roof inspection gives you an opportunity to meet potential clients face-to-face and showcase your expertise. Share what sets you apart from competitors, and don't forget to include your business phone number so neighbors can reach out to schedule with you.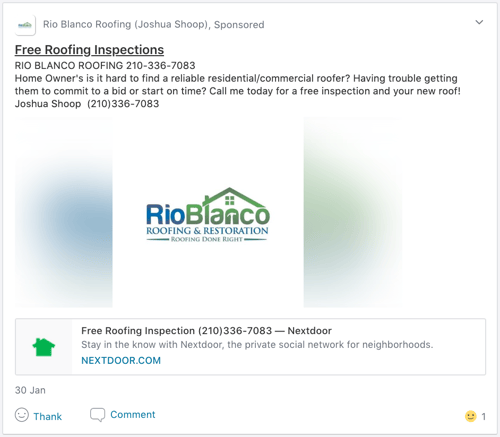 This business offered free inspections and touted their reliability and commitment to getting the job done. They also included their phone number and company logo, which helps build brand recognition.
3. Share industry tips that neighbors may not know.
Do you know some trade secrets that neighbors could benefit from? Are there trends or new techniques in the roofing business? Would neighbors benefit from knowing about different roofing materials and options for their homes? Sharing such information with neighbors will highlight your expertise, building your reputation as a knowledgeable roofer that they can trust.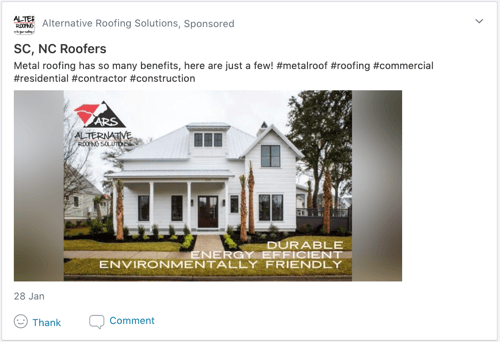 Providing information that can help your clients make a better informed decision for their home, like this business did by sharing the benefits of metal roofs in the form of a PDF, positions you as a trusted local expert who is also ahead of the curve with new ideas.
As a Neighborhood Sponsor, you can put these tactics to use with your next post. If your roofing company is not yet on Nextdoor, get started today by claiming your free Business Page.