---
This article was updated on October 27, 2020.
Nextdoor Neighborhood Sponsorships provides real estate agents with a unique marketing opportunity to reach and grow their client base on a hyperlocal level. With Neighborhood Sponsorships, real estate agents can showcase their local expertise, build brand reputation, and advertise to potential clients on a zip code level. It's real estate marketing and relationship building in the neighborhoods you care about most.
Whether you're a new business that is farming or looking to build more connections with residents, Neighborhood Sponsorships can help you build brand awareness and trusted relationships with neighbors so they know who to turn to with their real estate needs.
How can you become a successful Neighborhood Sponsor? Follow our checklist:
#1 Claim your free Business Page and set up your agent profile
Begin the quick process to claim your free Business Page and select 'Professional business.' If you're a broker and want your agents to use Nextdoor, tell them to follow this checklist.
TIP: To link your Business Page with your existing member account, sign into your member account prior to claiming your Business Page. Doing so enables your accounts to share login credentials; all notification emails from both accounts will be sent to the same email address. To keep your accounts separate and/or receive Nextdoor notifications at separate email inboxes, sign out of your member account before creating your Business Page. Then, register with a different email address.
If you're setting up a Business Page for your broker, office, or team, make sure to note who the page represents in the 'Business name' and include either a logo or team photo for your profile or cover photo.


#2 Select your desired ZIP codes
Now that your Business Page is set up, you'll be asked if you want to advertise on Nextdoor. From there, you'll be able to check on the availability and pricing of your desired ZIP codes. If you've already claimed your Business Page, head to the 'Sponsorship/Manage Plan' tab to select ZIP codes you're interested in. You do not have to live in the ZIP code(s) that you want to sponsor. Once you decide on available ZIP codes, enter your payment information to purchase and become a sponsor immediately.
NOTE: The more ZIP codes you sponsor, the more neighbors you can reach with your ads and news feed posts.
As soon as you've purchased your ZIP code(s), your ads will run automatically based on your business profile information including your business name, logo, and likes. Any changes you make to your business profile information will be reflected in these automated ads.
Automated ads appear in four places: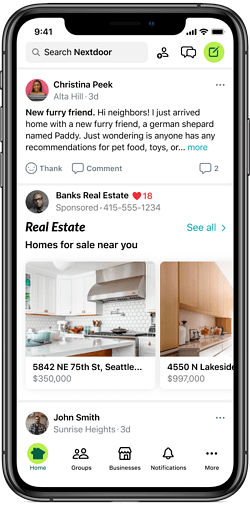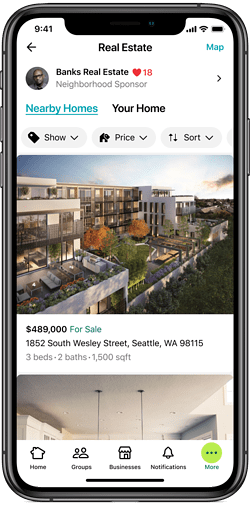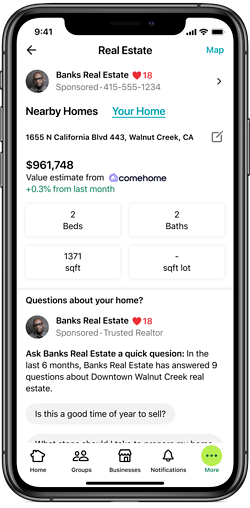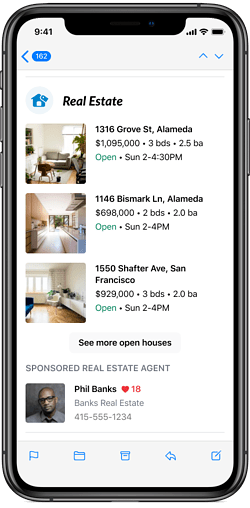 Automated ads appear in the Newsfeed, Real Estate section,
'Your Home' within the Real Estate section, and Digest Emails
Newsfeed: The news feed is what neighbors see when they sign into Nextdoor, and where they spend the most time.
Real Estate section: Neighbors visit this section to check out local market trends and nearby listings for sale.
'Your Home' within the Real Estate section: Neighbors can use this section to learn more about their home's value and local market trends. Alongside the Neighborhood Sponsor's ad, there is a contact form that encourages members to reach out for more information about the best time to sell, steps to prepare their home for sale, their home sale calculator, and more.
Digest emails: Digest emails are sent to Nextdoor members on Thursdays, Fridays, and Saturdays. They contain a summary of the previous day's activity as well as real estate news with upcoming open homes, local listings, and a Neighborhood Sponsor's ad.
NOTE: Neighborhood Sponsorship is not exclusive. You may see other agents' ads appear in rotation with your own ads. Each sponsor receives an equal share of voice over the course of the month.

#3 Set up your custom ads

In addition to your automated ads, you also have the opportunity to customize two other ads: Tips & Advice and Conversation Starters. These ads will be seen in the newsfeed of the neighborhoods you're sponsoring.
Tips & Advice Ads: These ads allow you to showcase your knowledge of the neighborhood you're sponsoring and position yourself as the local expert. There are several conversation prompts to choose from. Select which prompts you'd like to run, or add your own, and fill out your responses. Click 'Save' when you've finished.
An example of a Tips & Advice ad

TIP: Keep your content fresh by enabling 4-5 prompts. We also recommend your responses be anywhere from 30-100 characters.
Conversation Starters Ads: These ads make it easy to start a dialogue with neighbors and engage them at scale. Choose from several prompts or create your own. Click 'Save' when you're finished.
Neighbors will see up to 3 of these prompts at a time, so it's in your best interest to keep the ads looking fresh by selecting several prompt options. Neighbors can click on one of the prompts, which takes them directly to a chat window to begin a conversation with you.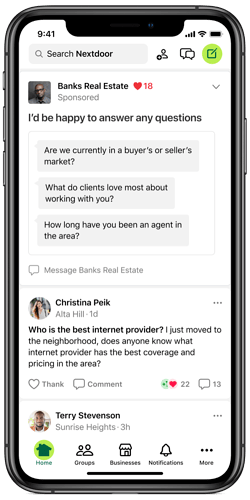 An example of a Conversations Starter ad
TIP: Conversation Starters automatically run once you become a Sponsor. We recommend customizing your ads so they are relevant and more personal to you.
Remember to keep your agent profile updated since this information is used in your ads and Business Posts. To update your page, go to the 'Business Profile" tab and add your contact information, your logo and/or headshot (which shows up in all of your Business Posts and ads), cover photo, and additional photos that represent you or your business. Confirm your categories and add any additional that accurately represent your business. Category tags help you show up in relevant search results.

#4 Engage with the community using your two posts
Every sponsor receives two custom Business Posts per month per sponsored ZIP code. This is another opportunity to demonstrate your value as the local real estate expert, and build relationships with neighbors by sharing useful or interesting content. Unused posts do not roll over to the following month, so make sure to use both of your posts each calendar month. As a best practice, share one post in the beginning of the month and another mid-month to help keep you top-of-mind with neighbors.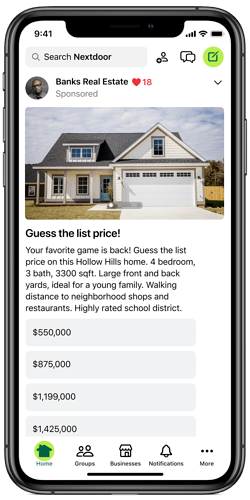 An example of a Business Post
Need some inspiration about what to post? Read our tips about the 'Create a Poll' option or how to promote your listings using posts. Now you're ready to make a post!


#5 Respond to private messages and replies to your posts
Over the course of the next several months, neighbors will continue to see your ads and your posts and gradually become more familiar with you as the neighborhood expert. Neighbors may comment on your posts or send you private messages with specific questions. When they do, they are showing interest and it's important to respond so you can build a relationship and foster trust. Make sure to 'Thank' members for interacting with your posts, and respond to their comments when appropriate. When you receive a private message, we recommend responding in two hours or less.
Once you have followed all of these tips, give it time. By building an affinity with members of the local community, you establish your brand and reputation, making you the natural choice when homeowners need a real estate agent.
---
Neighborhood Sponsorship provides a dynamic opportunity for agents to connect with members locally, build their reputation, and strengthen relationships so they can become the to-go agent that neighbors recommend. If you're an agent or broker interested in real estate advertising on Nextdoor, claim your ZIP code(s) and get started with Neighborhood Sponsorships.