School may still be in session, but with summer on its way, it's never too soon to gear up for the start of a new school year. Keep your brand top-of-mind during the back-to-school shopping season and connect with your target audience at the local level on a national scale.
Nextdoor is home to high-intent, high value audiences and can help your brand connect with prospective students, drive awareness of after-school programs, enroll new students and build awareness around education-based services to help neighbors have a successful school year.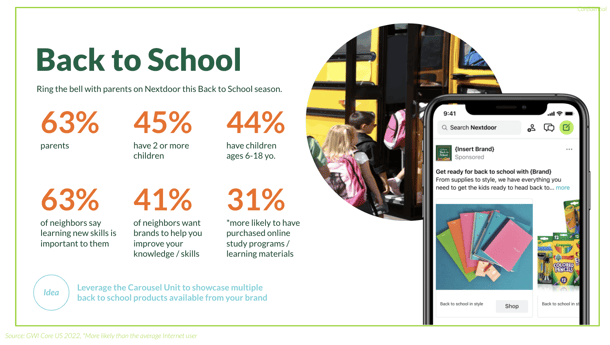 For brands looking to put their products in front of parents, there's no better place than Nextdoor. Nextdoor connects neighbors with each other and everything nearby so that your brand can make meaningful connections with neighbors to drive results and maximize advertising dollars.
About half of all parents expect to start their shopping more than a month before school starts
Nearly ⅔ of parents aim to purchase everything needed in one check out
Half of all parents anticipate spending more than $250
83% will wait until there is a sale to do the majority of their shopping
The bulk of back-to-school budgets will be spent on apparel
Drive excitement and support in the neighborhood and reach neighbors when they are in the mindset to start back-to-school shopping with these ideas below - plus get even more inspiration with our full suite of Back-to-School ideas.

Leverage the Carousel Unit to showcase multiple back-to-school products available from your brand

Incorporate your brand into For Sale & Free, a contextually relevant, brand-safe, and high-intent environment to reach members while they are thinking about and shopping for back to school

Sponsor the Seasonal Spot for Back-to-School - a one-stop resource providing neighbors relevant advice, inspiration and information for the coming school year

Pre-fill a shopping cart with back-to-school essentials and share with neighbors to drive conversions
Build custom content, like a back-to-school resource guide, that includes tips, ideas, must-have items and special discounts
Learn more about how Nextdoor helps businesses convert neighbors into customers here: business.nextdoor.com/enterprise
Source: GWI Core US 2022, *More likely than the average Internet user, Nextdoor survey (5/2023)