Given that Nextdoor neighbors are 46% more likely* to put their current home / apartment up for sale in the next six months and 34% more likely* to complete the sale of their current home / apartment in the next six months1, Verizon turned to Nextdoor to take advantage of our high-intent audience by driving awareness and sign ups for their high-speed internet service.

To that end, Verizon Home Internet + Nextdoor have teamed up to welcome neighbors to their new home with Nextdoor's quarterly Neighborhood Spot for New Movers. Neighborhood Spots help brands show up for communities across the country, taking on the role as the much-needed resource for everything from key life changes to joyous seasonal moments.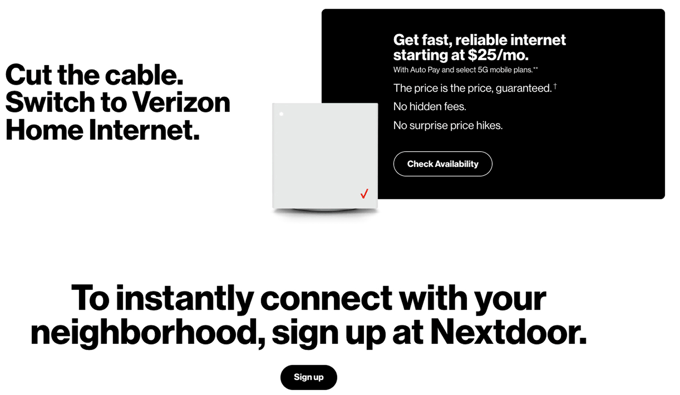 As the exclusive sponsor of the Nextdoor Neighborhood Spot for New Movers - a one-stop resource providing recent movers with relevant tips and resources to help with their move - Verizon is offering fast, reliable internet for $25/month to participating neighbors.** With easy self-setup, you can connect in minutes so you can be up and running the day you move in.

Together, Verizon and Nextdoor are also offering a handy to-do list and "I-wouldn't-have-thought-of-that" guide to moving in, along with neighborhood favorites and an easy way to connect with nearby neighbors through Nextdoor groups to help make moving a little easier.

To see the Neighborhood Spot for New Movers for yourself and get even more tips, visit: https://newmovers.neighborhoodspot.com/
**Verizon Home Internet includes 5G Home and LTE Home internet services. Availability varies. New 5G Home and LTE Home plans start at $25/mo when combined with an existing postpaid mobile unlimited plan that includes 5G Ultra Wideband. Auto Pay and paper-free billing req'd. Subject to credit approval.
†Price guarantee for 2-4 years, depending on internet plan. For new Verizon Home Internet ("VHI") households who have not subscribed to a VHI service within the last 90 days. Applies only to the then-current base monthly rate exclusive of any other charges, such as equipment charges, discounts or promotions, including the FCC's Affordable Connectivity Program (ACP) and the Verizon Forward Program.
Sources:
*more likely than the average Internet user
1GWI USA, Q2 2022-Q1 2023