Home internet services have always been top of mind among neighbors. Our latest survey takes a deeper look at the motives and factors that influence neighbors' decisions to switch home or mobile internet service providers.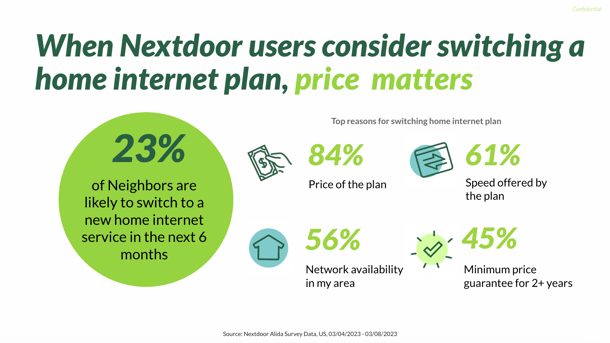 According to our survey of US neighbors:
Neighbors prefer Xfinity for home internet service
3 out 10 Neighbors preferred Xfinity (30%), followed by Spectrum (22%), and AT&T (9%) as their primary home internet service provider
When Nextdoor users consider switching a home internet plan, price matters
23% of Neighbors stated that they are likely to upgrade to a new home internet service in the next 6 months

When asked what factors most influenced their decision to switch home internet providers, 8 out of 10 Neighbors cited cost, while 6 out of 10 cited network speed, and 5 out of 10 cited availability in their Neighborhood
Neighbors prioritize high speed internet when choosing 5G home internet service
48% of Neighbors cited high speed internet as the top reason for choosing a particular 5G home internet service
Neighbors prefer bundling home internet services together
Bundling home internet services is popular among Neighbors, with 20% reporting that they bundle home internet and TV, and 16% reporting that they bundle home internet, TV, and home phone
Neighbors look to recommendations from other neighbors
Majority of the Neighbors reported seeing internet service provider recommendations on Nextdoor(70%), and 19% reported using Nextdoor to find internet service provider recommendations
Price is top of mind for Neighbors when switching to a new mobile plan
54% of neighbors say their current plan is too expensive
25% of neighbors mentioned unreliable service with their current provider
18% of neighbors say savings are offered on their home internet plan
There's no shortage to the number of ways you can help Nextdoor neighbors who are planning to upgrade their home internet service or find a new provider. Reach neighbors locally with services and support from your brand.
Sponsor the Neighborhood Spot for New Movers by reaching recent movers and providing them with relevant and useful information on how to get new services installed quickly and at great prices.
Use Nextdoor's dynamic local solutions to insert the nearest store location, storefront image, and phone number all tailored to the neighbor's zip code.
Add a Foursquare foot traffic study to better measure the online to offline impact of the campaign.
Learn more about how Nextdoor helps businesses convert neighbors into customers here: business.nextdoor.com/enterprise
Source: Nextdoor Alida Survey Data, US, 03/04/2023 - 03/08/2023