---
New Features Available for Small Businesses Challenged by Coronavirus
With small businesses facing unprecedented challenges during the COVID-19 pandemic, we at Nextdoor want to do everything we can to support the small business communities critical to our neighborhoods.
Early in the pandemic, conversations on Nextdoor about supporting small businesses increased 17X, with an outpouring of support for local favorites. We have seen neighbors posting to share which of their go-to restaurants are still open for takeout, rallying fellow patrons to buy local gift cards, and even organizing fundraising campaigns to help out-of-work employees and spare what they can to keep businesses afloat.
When in-person business is difficult, or even impossible, offering gift cards, takeout or delivery services, and fundraising can be powerful tools to help boost cash flow. If you're taking any of these actions, today, we're making it simple to update your Nextdoor Business Page to share with your most loyal customers, your neighbors.
Create Your Online Presence on Nextdoor
Join your neighborhood on Nextdoor and claim your free Business Page. With a Business Page, you will have access to a number of features that can help you remain connected to your community during the coronavirus and after. Learn more here.
3 New Fields to Update on Your Nextdoor Business Page:
With your Nextdoor Business Page, you now have access to the following features.
1. Gift Card: In the Business Profile section of your Business Page under Contact Information, you can now add your gift card URL so that neighbors know exactly where to purchase gift cards with you. Enter your URL in the field labeled URL for gift card purchases. Don't yet have gift cards set up for your business? Get started with Square.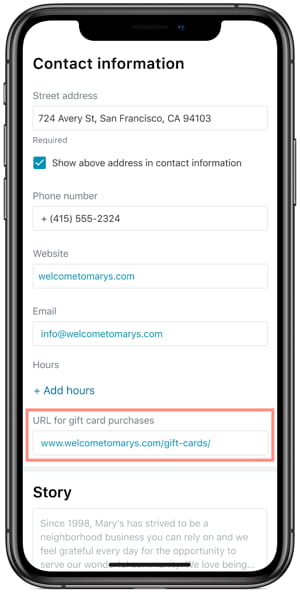 Businesses can add a URL to their Nextdoor Business Page that will direct members to where they can purchase gift cards.
Note: The Gift Card link will appear on your Business Page, where members can click to purchase a gift card through your website, or another. Please note that it is your responsibility to set up your business's gift card purchasing mechanism; the transaction takes place outside of Nextdoor. There is no cost or fee associated with adding a Gift Card link to your Business Page.
2. Takeout Options: Many neighborhood businesses are switching gears to offer takeout or delivery options. If that's you, share your available options on Nextdoor. You'll see two new check-boxes for Takeout available and Delivery available at the bottom of your business page.
If you check the box for Takeout available, members will be able to see that you offer a takeout option on your Business Page.
If you check the box for Delivery available, you'll see a new field where you can enter a URL through which members can order from your business for delivery. This link will be displayed on your Business Page.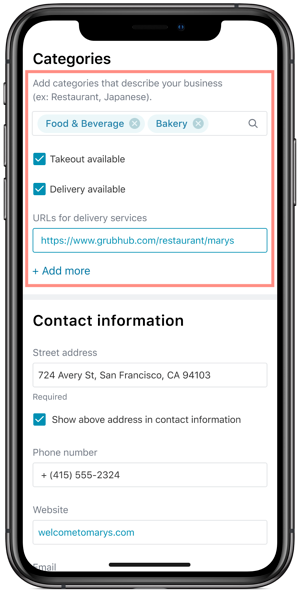 Businesses can now indicate if they provide takeout and delivery options.
3. Fundraising: Many businesses have started fundraising campaigns on platforms like GoFundMe to raise money for themselves or staff, and we want to help you get the word out on Nextdoor. If you have a campaign currently running, add the link to the Story section of your Nextdoor Business Page.
Not yet set up on GoFundMe? Start your campaign!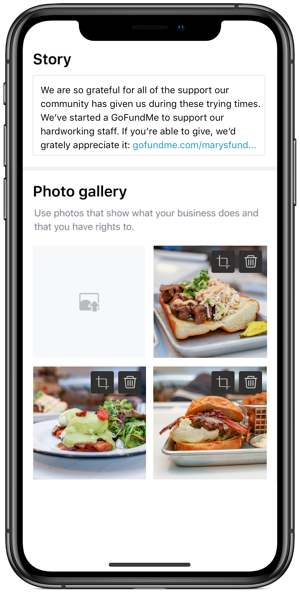 If your business is doing any fundraising, add your fundraising link to the "Story" section of your Business Page so neighbors can support you.
How Neighbors Will Discover These New Features
All you need to do is update the links in your Business Page dashboard and we handle marketing to neighbors for you.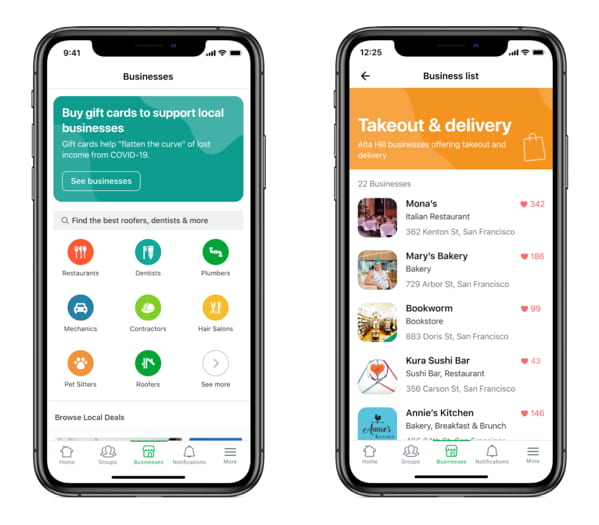 Devoted sections in the Businesses section on Nextdoor will show neighbors which businesses are offering gift cards or takeout/delivery options.
Spread the Word to Other Business Owners
Do you know a business owner who could benefit from these new features? Share this article to help them get started on Nextdoor.
Frequently Asked Questions
Does Nextdoor charge me to add a Gift Card link, or Takeout and Delivery options to my Business Page?
There is no cost or fee associated with adding a Gift Card link or Takeout and Delivery options to your Business Page.
Who facilitates the purchase of gift cards?
It is the business owner's responsibility to set up their business's gift card purchasing mechanism; the transaction takes place outside of Nextdoor.
I'm not yet set up to do delivery, but I want to. Can you share some resources?
You can sign up with a third-party service like Postmates, Doordash, Grubhub, UberEats, Caviar, or Instacart to begin offering delivery services to your customers.
How will neighbors discover these services I offer?
Neighbors will discover that your business supports the purchase of gift cards and/or the option of takeout/delivery through promotions that we place in the news feed and main Businesses section.
---
The Nextdoor team is always working to keep neighbors safe and informed — now more than ever. And that includes the local businesses that make our neighborhoods feel like home.
As the situation evolves, we'll be sharing more product updates here.
For additional resources about how to help your business navigate through these challenging times, read our Coronavirus Preparedness Tips for Local Businesses and How to Stay Connected with Local Customers During the Coronavirus Pandemic.
For up-to-date information on resources available to small business owners by state, see our State Guides:
You can also email us with additional business tips or stories to share for future blog content.