If you are from San Jose, California, there's a good chance you have crossed paths with David Giambruno, whether in person at his children's softball games, or indirectly through the local school sport teams his business sponsors. With 16+ years of experience in Bay Area real estate, and having grown up in the same area where he does business, David has grown a reputable local business while also maintaining personal ties to his community.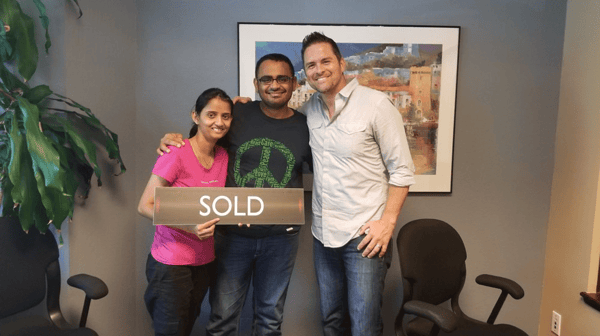 David with some of his happy clients.
As a local business that services home buyers and sellers in Silicon Valley, it was important for David to ensure his marketing spend was efficient and able to reach the relevant customers that made up his market. But he also wanted more: the ability to engage with these customers in an authentic way. When he joined Nextdoor, he saw it as a natural way to get in front of his customers in the community he serves. He tells us, "Nextdoor is hyperlocal in that you interact with other residents on a neighborhood level. I was drawn to Neighborhood Sponsorships because it gives me the ability to both zero in on and interact with the people I want to do business with."
In his first week as a sponsor, a neighbor reached out with a question, and later hired him to sell her home. David sat down with us to share his posting strategy to expand his brand in relevant markets, which eventually led to customer interactions and more business. Learn more about his four tips for a winning Nextdoor post.
Tip #1 - Leverage your neighborhood knowledge and expertise
Home buyers and sellers seek out expert insight into the ins and outs of their neighborhood and how the area is changing over time. David touched on a subject that was uniquely affecting the neighborhood and turned it into a spirited discussion.
Polls are an easy and non-intrusive way to spark dialogue in the neighborhood.
Tip #2 - Make the effort to listen and respond to comments
Be proactive and check Nextdoor regularly using your personal and/or business account for hints from neighbors that they might need your services. Not only was the content of his posts relevant and strategic, David also regularly engaged with the community, which then led him to proactively reach out to a member who was in need of an agent.
"I'm not a pushy sales guy. I try to respond using that person's name because people like to see their name. In my first week as a sponsor, a neighbor reached out with a question, which made me wonder if she was looking to sell. I asked if she needed help, and she hired me to sell her home. On Nextdoor, you get what you put into it."
Tip #3 - Show value to the neighborhood by providing solutions to problems
"I try to find things that my local community on Nextdoor are interested and involved in. One successful poll I posted generated over 300 votes. It was to gather ideas for a community event that I wanted to host.
"I asked my neighbors to vote for Dog Meetup Day or Spring Cleaning Dumpster Day. My neighborhood is very dog friendly, and it was also spring cleaning season, so I knew the content was relevant and beneficial. I want to host events that positively impact the neighborhood but also as a way to bring the community together in-person. I also saw an opportunity to talk to those who were more interested in the spring cleaning event because they may be thinking about moving in the future."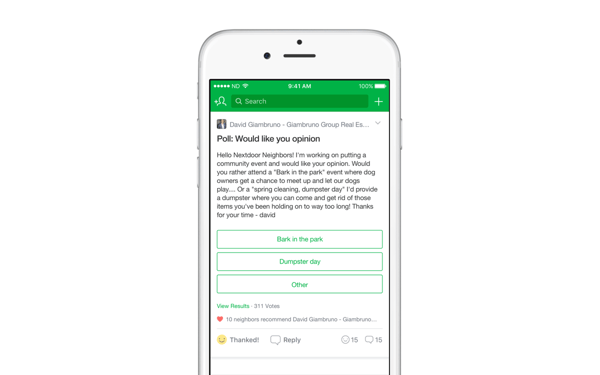 David's advice for other agents on Nextdoor? "Authenticity and great content is king. Be authentic and provide valuable content. Have a pulse on what is going on in your neighborhood.
"Provide solutions to problems in the neighborhood. This is more effective than advertising 'Choose me! Choose me as your realtor!"
Even though a post like this is not obvious for giving him business directly, David showed that he was both a supporter and deep expert of that neighborhood, which could then let him gain word of mouth reputation as the go-to agent.
Tip #4 – Be neighborly
Taking steps to get to know your neighbors better and to get involved with the community not only helps grow your brand reputation, but also helps build stronger neighborhoods.
David has been able to stay connected to his neighborhood as both a member and local business by hosting events like dog owner meetups, writing about local real estate issues, and sponsoring local schools.
"Nextdoor is the best place to add value to the community as neighborhood expert."
Agents can benefit from being a good neighbor and sharing their local expertise like David. By being proactive, positive, and learning his neighbor's names, David exemplifies someone who can successfully maintain both professional and personal connections to the neighborhood.