---
How Your Local Business Can Celebrate Women's History Month
This week kicks off the beginning of Women's History Month, a month dedicated to spotlighting the accomplishments of women. As a local business, women-owned or not, you can take part to spread the knowledge and celebrate.
Women today are not only a driving force in the US economy but are starting businesses at an incredible rate. There are 12.9 million women-owned small businesses nationwide, and 1,817 net new businesses started every day last year, according to the annual State of Women-Owned Businesses Report by American Express.
Here are 5 ways to recognize, support, and celebrate the amazing impact of women-led businesses in your local community.
1. Promote local networking opportunities for women
Seek out local organizations who make it their mission to create economic empowerment and opportunities for women in business. Whether it's a mentorship program, inspiring panels hosted by female leaders, or business workshops, your local organizations may already have specific programs planned. Start with your local SBA office, and then share relevant special events and resources with your employees and your professional network.
2. Amplify your message via social media
March 8 marks International Women's Day, a global day celebrating the social, economic, cultural, and political achievements of women – while also marking a call to action for accelerating gender equality. In 2020, the theme is #EachforEqual. According to the organization behind the day,
An equal world is an enabled world. Individually, we're all responsible for our own thoughts and actions - all day, every day.

We are all parts of a whole. Our individual actions, conversations, behaviors and mindsets can have an impact on our larger society. Collectively, we can make change happen. Collectively, we can each help to create a gender equal world.
Translate this into social media content about how your company collectively is taking action, whether it's participating in events that focus on women in business, celebrating your team's culture, or spotlighting trailblazing women in your specific industry or your local community.
Consider doing more than a one-time generic post that says "Happy International Women's Day" and leaving it at that. Ask yourself how your business can add value to the conversation with more tailored content unique to your social media audience to get you more than just a few likes and active engagement.
3. Donate time and money to women's programs
Partner with nonprofits or other special interest organizations supporting women and raise money for a good cause. Consider volunteering your business as a site of a local fundraiser or a charity drive drop-off spot.
Not in a position to give financially? You can always give back by donating your time.
Lauren Schieffer is a self-employed certified speaking professional and author who gives time to help women with public speaking, while also running her professional speaking business. She says, "Through my local chapter of the National Speakers Association here in Kansas City, I mentor emerging female speakers in how to grow their speaking business, both in their performance skills and on the business side - the basics of building and maintaining a successful speaking business."
4. Share your appreciation to fellow women-in-business in your community
Is your customer or client a ladyboss? Do you have a colleague or business partner that is an exemplary 'Wonder Woman' in her field? Consider sending her a simple but memorable thank-you note, or toast the women in your life with a breakfast or happy hour hosted at your business.
Female-founded puzzle company JIGGY shows appreciation for the emerging female artist community by not only featuring them on the product packaging, but also giving them a percentage of every sale. JIGGY CEO Kaylin Marcotte shares,
I wanted to support and help monetize the work of so many women artists I admire, and it's so gratifying to write them a check every quarter! When women succeed, families, communities, and economies succeed.
5. Host an event at your local business
Make an effort to bring the local community to celebrate in-person by hosting an event at your business or partnering with other female-led businesses. Some low cost ideas to drive locals to your establishment could be a women's history trivia night or a viewing party night celebrating women in film.
La Cocina, a local food business incubator for women and immigrant entrepreneurs in San Francisco, is hosting "A Week of Women", a week's worth of dining experiences where chefs in the incubator program will collaborate with acclaimed Bay Area chefs. The dinners are hosted at women-led local restaurants with the idea to celebrate women in the restaurant industry where they have traditionally been underrepresented.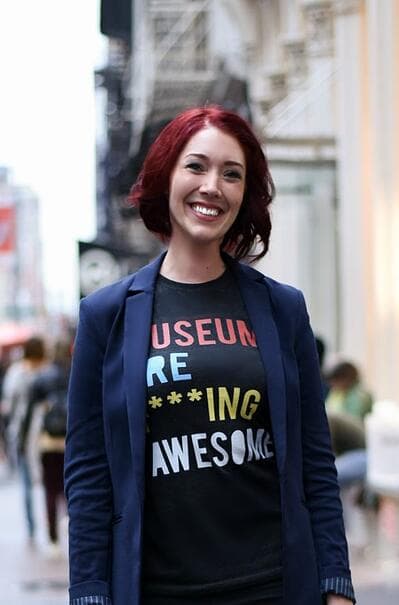 Tasia Duske, CEO and owner of Museum Hack in New York City, pays homage to trailblazing women who left a mark in history through curated museum tours held across the country. She told us,
One of our most popular tours is a female-centric tour called Badass Bitches (or BAB). BAB is a two hour feminist tour of the museum celebrating the fascinating tales of women in the museum. These include the stories and facts behind the female artists and subjects and a total celebration of feminism.
---
Women's History Month is an opportunity to celebrate the inspiring women who have contributed to our country, the world, and our very own neighborhoods. Know a boundary-pushing female leader or a 'Wonder Woman' in business who has shaped your local community? Share your local business story for a chance to partner with Nextdoor or be featured in a future blog post.