---
This is a contributed article from Sam O'Brien, Director of Digital and Growth for EMEA at RingCentral.
No matter the size or type of business, your customers should know you appreciate them. This appreciation drives loyalty, and loyalty drives business. According to Accenture, 57% of customers spend more money on brands they're loyal to.
Even beyond this tangible benefit, it's worth remembering that your customers are the reason for your success, and the holiday season is a great time to celebrate them.


Understand what your customers want
Before you sit down and plan out your strategy, you need to understand what your customers want that's relevant to your small business. Ask yourself the following questions:
Do I want to target all my customers or a subsection of them?
What budget do I have available?
If you're a B2B brand, what field are most of my customers in?
Can I offer something they might not have?
What are my competitors doing?
Do my customers expect me to be exceptionally eco-friendly?
Can this help me achieve my customer experience goals?
With the answers to those questions in mind, here are eight, cost-effective ways to show your appreciation.


#1 Free service or upgrades
Everyone loves free stuff. This is especially true if it's something they were planning on purchasing anyway. Depending on what your business offers, there are a few ways to implement this.
A free month in a subscription plan
If you provide a service with a subscription plan, offer a free month. Many customers will find January to be a financial squeeze, so why not ease that burden by giving them January for free?
Many businesses have a great range of incentives for new sign-ups but don't offer anything special for their loyal customers. Rather than offering a free month for new customers, make it exclusive for existing ones. This shows your appreciation for their ongoing business and makes it clear they matter just as much - if not more - than new customers.
Free upgrades or discounts
If you offer a service with multiple tiers, why not offer a free upgrade to the next tier for your most loyal customers? Make sure it's for a reasonable amount of time, otherwise it can come across as a bit of a sales tactic.
For instance, if you provide call recording in the US or call recording for business in the UK, why not increase the amount of storage space they have available to them?
If you can't quite commit to a free upgrade, it's worth considering if you can offer a loyalty discount. If a customer has been with you for a couple of years, can you offer upgraded service at a lower price than you might offer a new customer? You could combine this with a free month of the upgrade as a trial.
Free/upgraded delivery plans
Many businesses offer delivery plans like free delivery for a set cost per year. Providing free access to this plan for a set amount of time is an excellent way to show your appreciation. This gift has benefits for you. According to a global survey by BigCommerce, 84% of shoppers have specifically made a purchase because shipping was free.


Source: ShipBob


If you want to reward customers who have already opted into a delivery plan, you could upgrade it. Faster delivery is always desirable, so providing next day delivery for a set amount of time can be a great upgrade.

#2 Small gifts with purchases
If there's one thing people love about the holiday season, it's gifts. Remember the phrase: it's the thought that counts? These gifts don't need to be big or expensive to make an impact. The act of giving one is enough to show your customers your gratitude.
If you're an e-commerce business, it's easy to package a small bonus with anything shipped out during the holiday season. Some smaller businesses include things like a mini chocolate bar, stickers, or a sample of one of their more expensive products. Businesses who provide expensive, high-tier products might send along a bottle of wine or a gourmet basket hamper.
It's a little harder to do with brick-and-mortar stores, but that doesn't mean you shouldn't try! Popping a candy cane into a customer's bag can go a long way, and it's easy for staff to stay on top of.
Just remember, you shouldn't advertise this. When you do, it stops being a token of appreciation and starts to feel like a sales method - "free gift with every purchase". You don't want your social media team and chatbots swamped with requests! Keep it a surprise, and your customers will be delighted.

#3 Greetings cards
You don't need to spend a lot of money to make an impact. If gifts and upgrades are out of your budget, consider greetings cards. These are particularly well suited for businesses that have a lot of direct contact with customers like B2B companies or B2C companies with a particular client base.
Greeting cards are a great way of getting in touch and maintaining a pre-existing relationship. Consider getting custom printed cards - you don't want them to feel too 'businessy', but you should theme them around your brand if you can.
Source: Christmas Connections
Depending on your clientele, you may want to consider e-cards as an alternative. They're particularly useful for eco-friendly businesses, or those with contacts in other countries. E-cards are a good budget option too - they can express the same message but without the additional costs of postage.


#4 Branded products
You may think we've covered products with our section on small gifts, but there are other ways to use physical items to show appreciation. Rather than sending out presents with purchases, why not send out branded products to your top customers?
Try to think of products that have an actual use. Branded products have two purposes here - first, as a gift. Second, as a reminder that your brand exists. It's no good to send out dozens of branded pens when those pens will get lost or tossed in a stationery cupboard somewhere.
Some ideas of branded products you can send out are:
USB Sticks - especially if you're a technology firm
Umbrellas - after all, how often do people get caught without one?
Mugs - you can never have too many!
Tote bags - especially if you fill the bag with other gifts
Reusable water bottles
Face masks - because we are still in a pandemic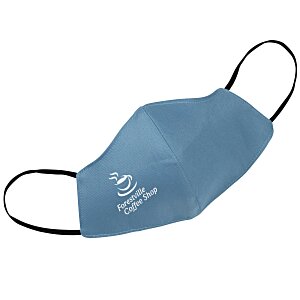 Source: 4imprint


Try to think of products that your customers might have forgotten to get themselves. For instance, if you know one client is setting up a call center, they're likely to appreciate technology-focused gifts.

#5 Personalized products
If branded products aren't your cup of tea, you can also send personalized products to your top customers. Unlike branded goods, you want the product itself to remind the customer of your brand. Ideally, you would be able to personalize a product you sell, but that's not always possible.
While we've listed this as a separate category, you can combine it with the option of free upgrades. For instance, if you sell notebooks or other stationery, you can't offer free personalization to your repeat customers.
Source: Papier
Personalized products are a great way of showing your appreciation of that particular customer, rather than customers in general. A person might receive a greeting card from a company and think it's nice, but assume they've been sent out in bulk. If they get a USB with their name and logo on? That shows that you thought about them as an individual.
This idea is especially well suited to B2B companies, where details on the company are easily accessible. For instance, let's say you (company A) provide them (company B) with an automated switchboard. You know that B have just moved offices. You could send some hampers along with personalized mugs featuring company B's logo, and USB sticks featuring your logo. This combination of branded and personalized products not only shows your appreciation, but keeps you at the forefront of their mind.

#6 Customer-focused countdown
Not every token of gratitude needs to be physical. Whether you're eco-conscious, short on budget, or simply rushed for time, there are digital ways to highlight how much you appreciate your customers.
One brilliant tactic is a customer-focused countdown. Instead of the 12 days of Christmas, why not do 12 days of giveaways? Roll-out a contest where customers can win a surprise gift for 12 days. These can be anything from newly released goodies or coupons for future use. If you've been building your email list, you can also send out an email at the beginning and end of the 12 days. This will capture customers who don't regularly check your site, without overwhelming their inbox.

#7 Coupons and offers
Another option that doesn't require a physical gift is coupons. Coupons are a great option if you have a lot of customers you want to contact, as they don't require postage or purchase of gifts. Some potential offers you could use are:
Buy one get one free
25% off any purchases
$10 off when you spend $30+
Free gift when you spend over $40
$20 gift card when you spend over $50
Free click-and-collect if you order before a certain date
You could send these offers out as part of an email marketing campaign. Alternatively, you could make them time-limited and integrate them into your website, perhaps in an advent calendar or similar format. This can be especially effective if they're added automatically to your website shopping cart.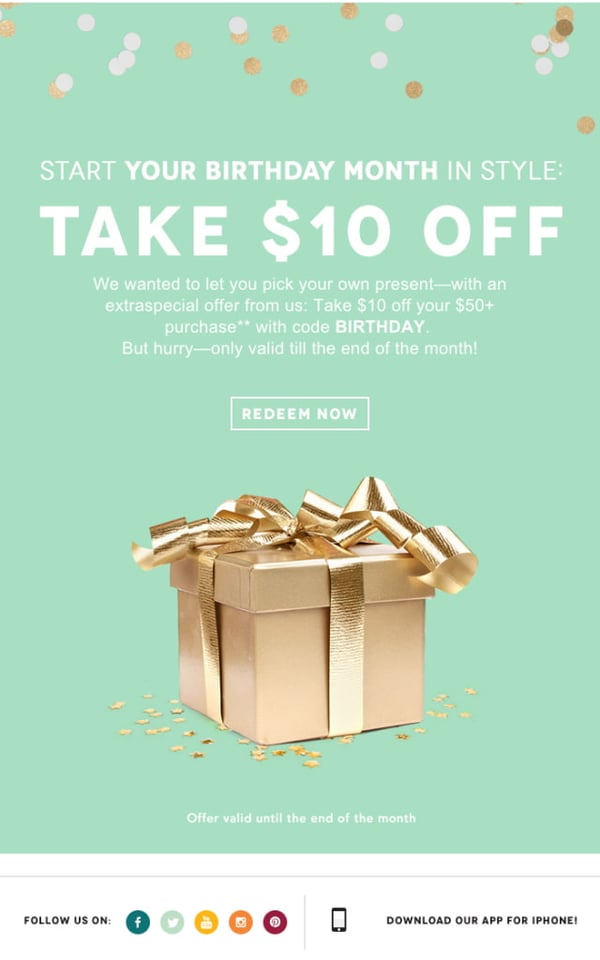 Source: MailUp
#8 Gift cards
If you want to send out something more tangible than a coupon code, but less specific than particular products, gift cards are the options for you. Depending on your intent, there are two ways you can use them.
Gift cards for other businesses
Firstly, you can provide gift cards to other businesses. If your main product is a productivity app for work from home jobs, why not send out gift cards for coffee, along with a thoughtful card? This allows you to provide a small gift but gives the recipient some choice over what the gift is.
Small, local businesses could look into working with other local businesses on an exchange of sorts. Rather than spending part of your budget on gift cards, see if you could trade equal value cards with a local business? For instance, if company A is a small greetings card shop, and company B is a local bakery, they might have a lot of crossover in clientele. Company A gifts its top customers gift cards to company B, while B provides gift cards to company A.
A solution like this allows you to provide interesting gifts, support other local businesses, and build relationships with customers.
Gift cards for your own business
Rather than sending out mass emails with a voucher code, you can send nicely packaged gift cards to your top customers. Not only does this act as a token of appreciation, but it's also a great marketing tool.
Customers will be more likely to remember your business for their next purchase if they know they have a set amount of money off. They're also likely to spend in excess of the amount on the coupon.
Get Creative
These eight ideas can be great starting points for your customer appreciation strategy, but don't be afraid to go beyond them. Why not have some fun at Halloween, or spread the love on Valentine's Day? There are tons of interesting, creative tactics you can use to promote customer loyalty, and the holiday season is a great time to test them out.
---

Claim your free Business Page to get started on Nextdoor. For resources on how to use Nextdoor to stay connected with your local customers, pertinent news affecting businesses, and more, follow us at @nextdoorbusiness on Facebook.