---
We've heard from local businesses that you need a way to reach and stay in touch with neighbors, especially as you get back to business. Today, we're announcing three improvements to your Nextdoor business experience, all for free, with your feedback in mind.
Get the word out locally through Business Posts
As local restrictions around reopening are changing, one thing remains: you need to keep customers informed. Business Posts let you start a conversation with the neighborhood, making it easy for you to engage and answer questions from your local customers. Each business can post twice per month, for free. Business Posts instantly reach all neighbors within two miles of your business, and show up in the most visible section on Nextdoor, the neighborhood newsfeed.
Consider these ideas for your first post, and find more best practice tips here:
Share an update on the status of your business (e.g. "We've reopened" or "We're offering curbside pickup")
Let neighbors know what safety precautions you're taking
Share a story about your staff
Let your community know how you're helping first responders, essential workers, or a fellow business
Engage neighbors with a question
Share expert advice or helpful articles
Grow awareness for a job opening
Neighbors can react to your posts with a Thanks or a Like and comment to begin a conversation with you. Watch this video to see Business Posts in action.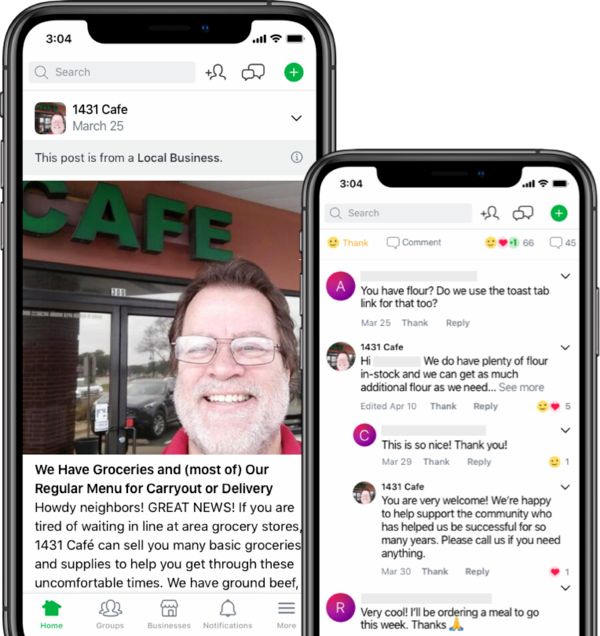 1431 Cafe in Cedar Park, Texas, successfully used Business Posts to let the community know they were offering groceries in addition to their full menu. Their post received dozens of replies.
"Our experience with Posts on Nextdoor has been very beneficial," shared owner Earl. "It has raised our stature in the community, but it's also been great for our customers or even just the people who needed stuff who have never been into the restaurant. I've sold hundreds of pounds of yeast, I've sold many hundreds of pounds of flour, and I'd say 95% of that is because of our Nextdoor presence."
Manage your performance with your new Dashboard
When it comes to marketing, understanding how your page, posts, and Local Deals are performing is important. With the new Dashboard, you can instantly assess your business insights on Nextdoor, including total views and actions of your Business Posts and Local Deals. Dashboard helps you learn about the people interacting with your business on Nextdoor. Receive a quick snapshot, or dig in deeper with 7 and 28-day overviews of your posts or Local Deals. Dashboard will be available to businesses nationwide in June.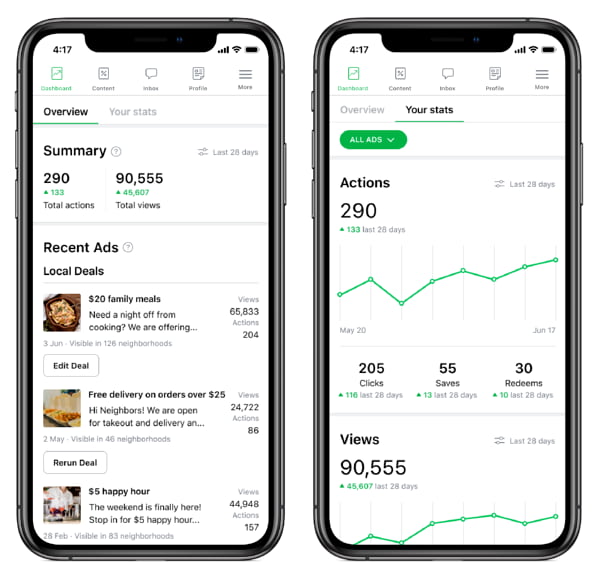 Dashboard enables you to understand the performance of your efforts on Nextdoor.
Take your Nextdoor Business account on the go with the app
People are spending even more time online, making a strong digital presence essential. With Nextdoor's new app experience for businesses, you can now manage your entire account from your mobile device. Upload photos and more to bring your business story to life. Update your hours of operation and promote links for gift cards, pickup, or delivery. Share a post or Local Deal with the neighborhood in a matter of minutes.
The app is now available to all businesses in the US. Update your existing app or download it from your device's app store.
--------
In addition to these new features, we're also working with technology partners including PayPal, Indeed, and GoDaddy to support local businesses with helpful digital tools to stay open.
We look forward to continuing to help you get back to business. To stay up to date on new products and tutorials from the Nextdoor team, follow us on Facebook @NextdoorBusiness.
FAQ:
How much does it cost to make a Business Post?

Currently, all businesses receive two free posts per month.

How much does it cost to receive insights on my performance?

Insights are free to all businesses on Nextdoor and discoverable within the Dashboard tab.

How much does it cost to download the Nextdoor app?

The Nextdoor app is free.

Is the app for businesses different from the app for neighbors?

No. We are simply making the Nextdoor app available to businesses. If you already use the Nextdoor app for your personal Nextdoor member account, you can choose to connect your business profile to your member profile to easily toggle between the two. Or you can simply sign into the app with your business account login credentials.

Can I see general insights about my Business Page?

Insights on Business Page performance including page views and recommendations will be coming soon. At this time, your Dashboard includes information on the performance of Business Posts and Local Deals.

I cannot access my business profile from the app. What do I need to do to access it?

The new app experience is now available to all businesses. If you already have the Nextdoor app, continue to check your app store for updates. If you do not yet have the app, download it from your device's app store.
---
Claim your free Business Page to get started on Nextdoor. For resources on how to use Nextdoor to stay connected with your local customers, pertinent news affecting businesses, and more, follow us at
@nextdoorbusiness
on Facebook.