---
This is a contributed article from Kerry Corcoran, co-owner of The Dailey Method Berkeley and The Dailey Method Lamorinda in California.
We've been sheltering in place for more than a month, and I finally feel like I can breathe long enough to reflect on all of the changes we've made to keep our Dailey Method business running — despite our physical locations being closed.
We opened our first of three locations in the San Francisco Bay Area (Berkeley and Lamorinda) fifteen years ago. We've watched the landscape of gyms and fitness studios evolve in many ways over the years, and the one thing we know has allowed us to remain successful in a crowded market is our community.
With the imminent closure of our physical studios we needed to pivot quickly and fearlessly, throwing perfection out the door in favor of quick action to let our community know that we are here for them, just as we always have been. We needed to assure our customers we will continue to provide a high quality experience.
The fear of losing the communities we've built was and is very real. There is a lot of virtual fitness available, some of it at very low cost. Pivoting quickly was essential to making sure there was no gap in services.
We taught our first virtual class via Zoom on the same day we closed our physical doors. We created a private Facebook group for our members so we could begin to build a library of classes for them, giving our members maximum flexibility in how and when they take classes.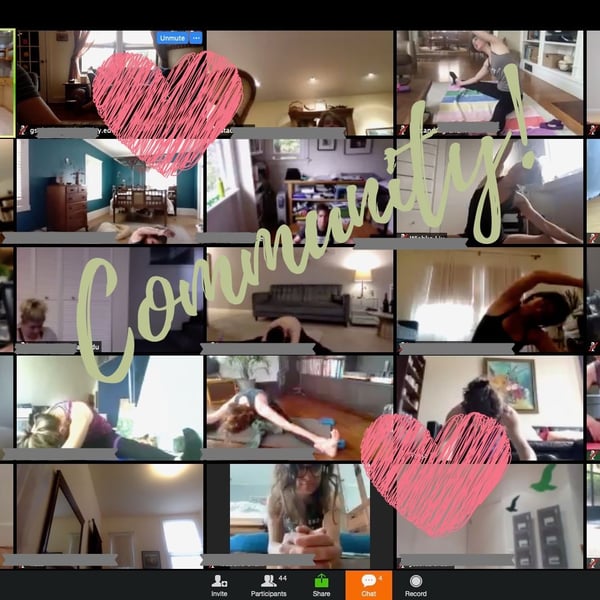 Dailey Method pivoted to offer their fitness classes via Zoom during the shelter in place.
We are fortunate that three of our classes – Dailey Barre, Dailey Interval, and Dailey Fusion – can all be done with few to no props at all. Our students have gotten creative, improvising with water or wine bottles for weights, and using their walls, sofas, chairs, and countertops in place of ballet barres. We've loved getting a sneak peek into their home life, with pets, children, and other family members making cameos on our screens.
For our Dailey Cycle students, some of whom have bikes at home, we've chosen to offer a recorded class each week to give them the best musical experience and the flexibility to take the class as many times as they'd like on their at-home bike.
The response from our communities has been incredible. Despite imperfect technology and lots of hiccups along the way, our community is more bonded than ever. By maintaining a robust and consistent class schedule, we're able to offer our students a sense of routine and normalcy that is incredibly important at this time.
Now more than ever, we appreciate the value of people. Familiar faces, voices, and routine are comforts that we are all craving during this time. A sweet note from one of our students sums it up:
"I was thinking to myself how much your Zoom classes are saving my life. You are truly providing an "essential service." Hearing your super familiar teaching voice just makes me feel blissfully normal and lifts my mood exponentially, even when I feel about at my wit's end with everything — I am beyond grateful."
We are looking forward to what the future and our "new normal" will look like when we are able to reopen our brick and mortar studios. This experience has given us the confidence that we can make whatever changes we need to make for the health of society while still keeping our community — the heart of our business — intact.
Until then, we'll show up every day, cameras on, music playing, moving, and laughing together. It's medicine for the body and mind.
---
For more resources to help your business during coronavirus, visit our Small Business Guide for Coronavirus Relief.