Get Social with Inspiration from Fellow Real Estate Agents
Whether you've been a Neighborhood Sponsor on Nextdoor for months or just weeks, you want to make sure you're using your two posts to increase awareness for your business and build relationships with neighbors.
It can be challenging to come up with fresh content each month that your neighbors find interesting, relevant, and engaging. Fortunately, we have you covered with ideas straight from fellow real estate professionals around the country.
Read on for 5 post ideas that you can share with neighbors:
Poll neighbors about their favorite neighborhood spots.
Everyone has a favorite restaurant, coffee shop, salon, fitness center, auto mechanic, and more, and when folks have a favorite, they usually like to tell others about it, too. Each month, consider running a Nextdoor poll that asks neighbors to vote on their favorite local spot, like a restaurant, and add the top voted places to a neighborhood guide that you can share with the community as a resource once they have helped identify several favorite local spots.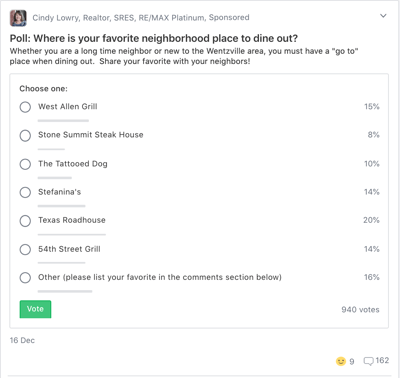 Realtor Cindy Lowry of Wentzville, Missouri received over 900 votes and another 162 comments on her poll regarding favorite neighborhood restaurants.
Re-introduce yourself to the community.
If it has been a while since you last introduced yourself to the community, refresh their memories by sharing a little bit about yourself and what sets you apart from your competitors. What do you do differently and what value can you add to your potential customers? Maybe it's your local expertise or your ability to deliver excellent customer service. Concisely share the important details about yourself that neighbors need to know when selecting a real estate agent.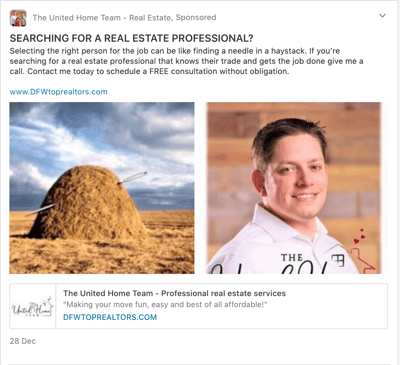 The United Home Team of Mansfield, Texas re-introduced themselves to the community and offered a free, no obligation consultation to new clients.
Provide useful information about something going on in the community.
Is there something that you have additional expertise about that could benefit the greater community? Offering yourself as a resource in your area of expertise – or even providing physical materials to anyone who needs them – is a great way to add value and build rapport within the community.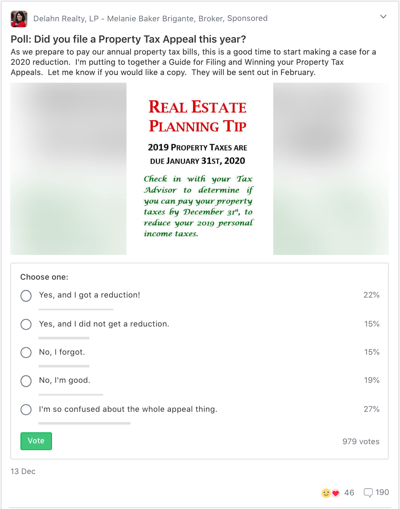 Delahn Realty of Allen, Texas ran a poll, asking neighbors if they have any questions about filing a property tax appeal. She followed up to the initial poll by offering to send her self-penned guide to anyone who would like it.
Promote a recently sold listing and welcome new neighbors to the community.
Neighbors certainly expect you to be helping others buy and sell homes, so periodically take the opportunity to celebrate a closing by letting them know the details of a recently sold property – and welcoming their new neighbors to the community. It can be helpful for neighbors to know what kinds of upgrades the home had, as well as anything special you did to market the home. If they decide to list their own home in the future, you may be top of mind since they'll know the kind of service they can receive with you as their agent.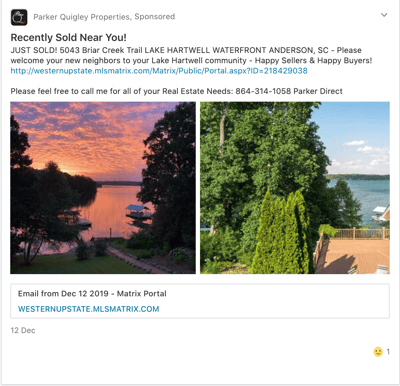 Parker Quigley Properties of Townville, South Carolina welcomed new neighbors to the community by sharing some details about a home he recently helped sell.
Tell neighbors something fun or interesting about the community.
Do you know something fun or interesting about the community that most neighbors may not know? Will your town be included in an upcoming TV show? Is there a local student who is doing big things is academia, athletics, or otherwise? Neighbors love to hear about positive things with ties to their community.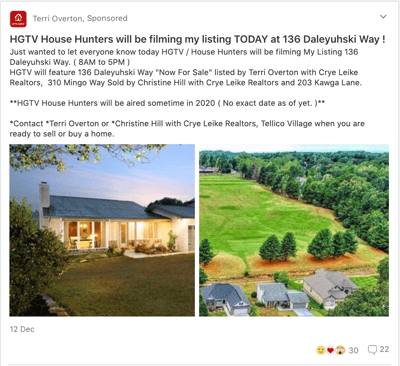 Agent Terri Overton of Loudon, Tennessee let neighbors know that a national television series will be featuring a home from their community on an upcoming show.
If you're a Neighborhood Sponsor on Nextdoor, give one of these ideas a try for your next post. Not yet a sponsor? Get started today by claiming your free Business Page.