How Insurance Agents Can Use Nextdoor
For the last seven years, independent insurance agent Adam Mirkes has been helping his fellow Texans with their personal and commercial insurance needs. Two years ago, he branched out on his own and started his own insurance agency, Mirkes Insurance Solutions. Believing that hard work pays off, Adam spent a good portion of his first year as a business owner pounding the pavement – going door-to-door to introduce himself to neighbors and those closest to him to get his name out there.
As a regular contributor to his Nextdoor community, Adam noticed other local experts advertising as Neighborhood Sponsors. While he has been able to grow his business on referrals and through his rounds of knocking on doors, he decided to try Neighborhood Sponsorship because, compared to door-knocking, he thought it would be a better, non-intrusive way to reach the same audience.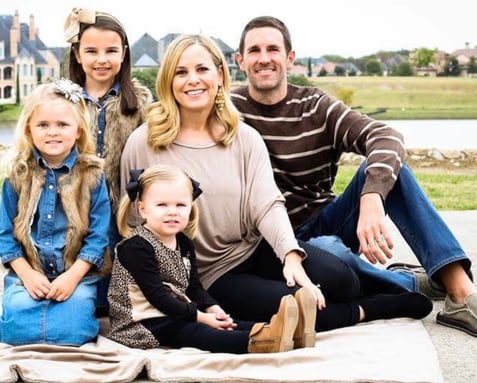 Insurance agent Adam Mirkes uses Neighborhood Sponsorship to build connections.
And that's exactly what it has been. In the 6 weeks since becoming a Neighborhood Sponsor, Adam has seen a return on his investment of at least 3-4 times in profits. According to Adam, about being a Neighborhood Sponsor: "It has been absolutely worthwhile. I've received a lot of leads that have turned into a good amount of business. Really, it's been great."
So, how has Adam generated business through his Neighborhood Sponsorship? He shared some tips:
1. Gather recommendations to gain more visibility.
"I'm all about getting people to leave me reviews. That way, if anyone on Nextdoor in our ZIP code searches for 'insurance,' I show up at the top of the list. I can guarantee that's why people call me. They see me and they know other people have been happy with me, so they give me a call."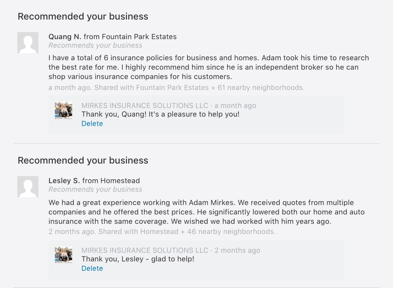 Just two of the many recommendations that Adam has gathered on his Nextdoor Business Page.
2. Make sure to use your monthly posts to build name recognition among local customers.
"I use the two posts per month, and I've been using both of them each month since I became a sponsor. The whole idea is to get people to engage and see my name. Then at some point, when they think about insurance, they'll think, 'Oh yea, that Adam guy that I've seen on Nextdoor. Let's give him a try.' I've posted polls for the last 3-4 times and have had pretty good engagement. It's led to far more business than what I'm spending on the sponsorship."
3. Post something fun and engaging, even if it's not related to your business.
"Especially early on, I didn't want to post about insurance because that's boring and people fly right by it. My mentality is to post – whether it has anything to do with insurance or not – something fun and engaging. For example, 'Which college football team will you be rooting for this year?' We're all passionate about our college teams! Even though it has NOTHING to do with insurance, it has my name up there. The idea is that with repetition, and by being a little different than other agents, I can show my personality and stand out. That may lead neighbors to give me a shot at their business."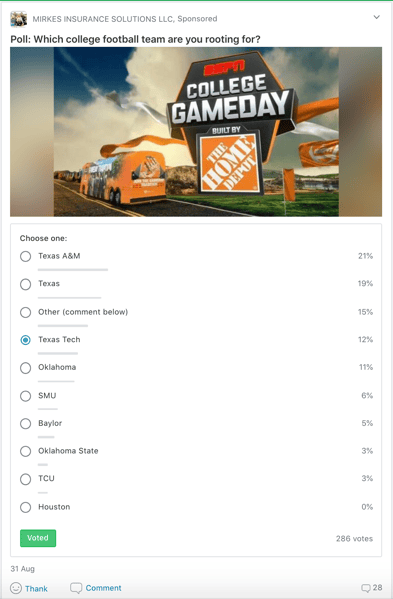 Adam found something that he knew would resonate in his community: college football.
In summary from Adam, make sure to maintain an active presence as a Neighborhood Sponsor through new recommendations and regular, engaging content. When neighbors contact you, make sure to respond promptly to earn their trust and to showcase your expertise in your services. For insurance agents, it's critical to position yourself as a helpful resource and nurture these connections because they may turn into valuable business leads when the time is right.