---
This article was updated on January 20, 2021
With a new year comes a fresh opportunity to attract more customers to your business. From first-time customer discounts to seasonal promotions, Nextdoor's Local Deals helps your business reach nearby customers by targeting specific neighborhoods.
Whether you're looking for new ways to advertise or need a refresher on how Local Deals can drive traffic to your business, this guide has all you need to know.


Creating a Local Deal
If it's your first time creating a Local Deal, you first need to claim your free Business Page. Once you are logged into your business account, creating a deal is easy.
Getting set up
Follow the steps below to get your Local Deal set up.
Click on "Content" on the left-hand navigation if you are using a desktop or at the top of your screen if you are on mobile, then click "Post Local Deal."
Select what type of offer you want to run. You can choose from a certain percentage off, a fixed discount, buy one, get one free, or customize your own.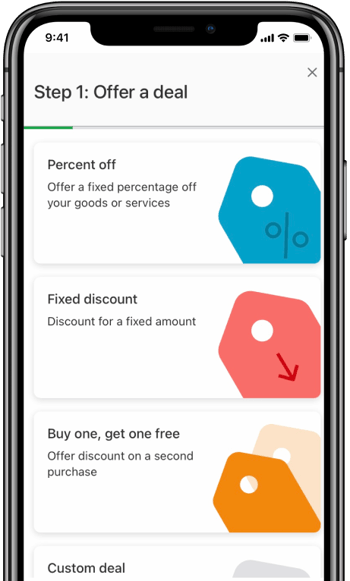 Once you've selected your deal type, navigate through the steps to fill in all the prompts including the deal description, whether you want to make it a one time deal or have it be recurring (more on this later), whether the deal is for in-person, online visits, or both, and if you want to include a specific redemption code.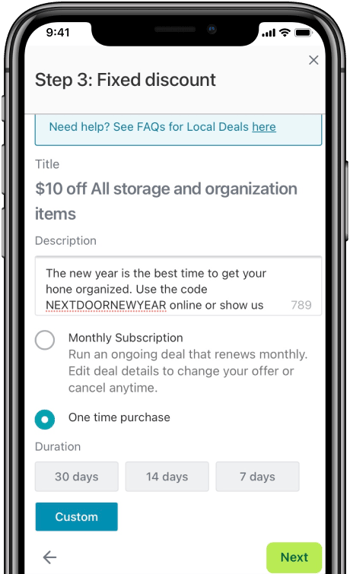 When you've filled in all the prompts, click "Next" and you'll be given the option to upload your own image or select one based on what type of business you have. Once you've selected your image, click "Next" and you'll see a preview of your deal.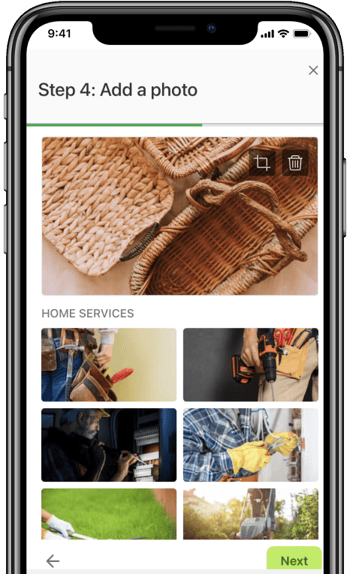 NOTE: Local Deals are displayed where neighbors go to find businesses within the Nextdoor app. Those places include your Business Page, the Local Deals section, the Businesses section, Daily Digest emails sent to neighbors, and on their newsfeed.
The final step is selecting who you want to see your Local Deal. The default setting is neighborhoods within a 2-mile radius of your business or selected location. You can choose to reduce or expand the target radius by adjusting the green slider up to 10 miles. If you want to customize your reach even more, you can select and deselect specific neighborhoods within the target radius.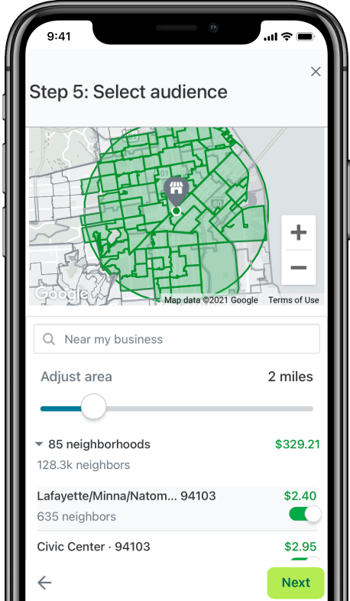 Once your target audience is set, click "Next" review your order summary, and add your payment details. Click "Submit order" and you'll be all set. Your Local Deal will start running immediately and will be shown to neighbors living in the neighborhoods you selected.


When to run a one-time or recurring deal
You now have two options when deciding how long you want your Local Deal to run - one time or recurring.
One-time Local Deals
When creating your Local Deal, select "One-time purchase" if you want your deal to only run for a limited time. These can be special offerings tied to holidays, seasons, or special events. You can select a duration of 7, 14, or 30 days or customize your own within a 30-day time frame.
Here are a few examples you can use for inspiration.
Lean into the new year with a fresh start approach - The beginning of the year is often treated as a fresh start. For some, it's a chance to refresh and clean up. For others, it's a time to kick-start new year resolutions. If you offer products or services that help customers reach these types of goals, now is a good time to start promoting them.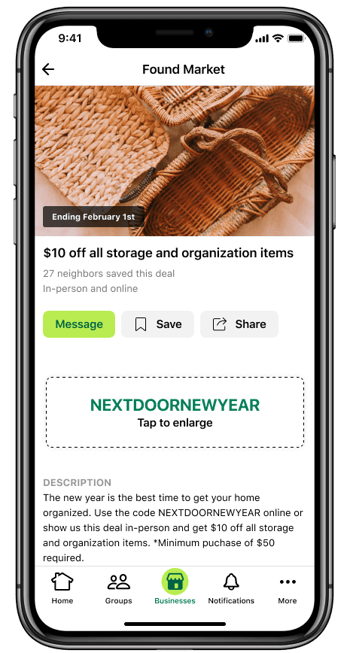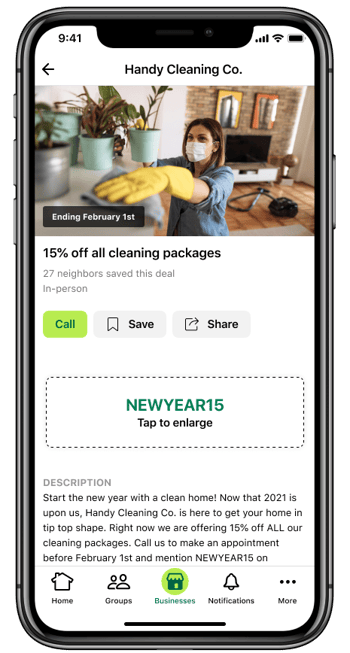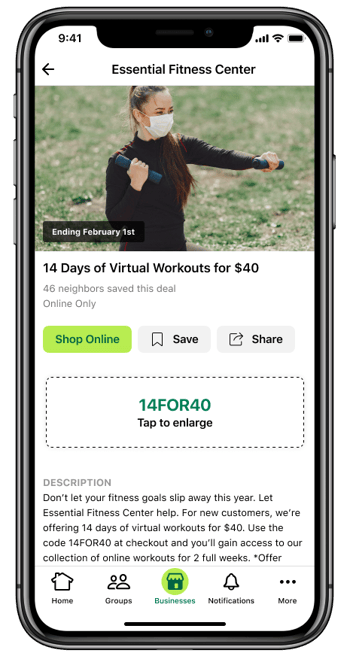 Recurring Local Deals
If you have a promotion that you frequently or always offer, you can now choose to make it run automatically for as long as you like. When creating your Local Deal, select "Monthly Subscription." This option will allow you to run an ongoing deal that renews every month. You can edit your Deal or cancel at any time.
NOTE: Once your deal is running, you still will be able to edit and update the details of your deal. However, if you want to change the targeting of your deal or change deal type (for example, switch from a percentage off to a fixed amount) you will need to create a new Local Deal.
One example of a recurring deal you can run is for first-time customers. If you have a special discount for new customers, make your Local Deal recurring so it's always available.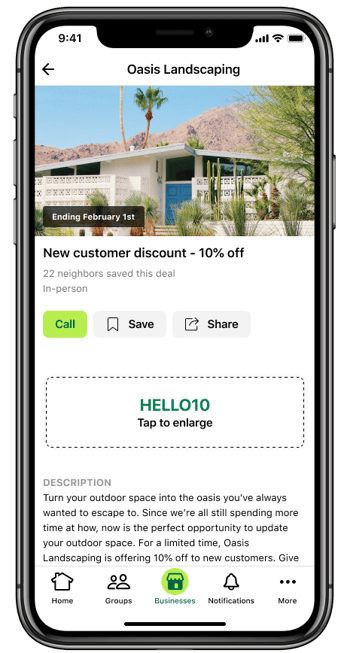 How to Make the Most of Your Local Deals
As with all marketing, it's important to understand the performance of your Local Deals. Whether they're one-time deals or recurring, performance insights give you valuable information you need to test and refine your marketing. Your Insights Dashboard will guide you with high-level and in-depth insights including 7 and 28-day overviews of your total views, clicks, saves, and redeems. It will also help you identify which neighborhoods are engaging with your Local Deals the most so that you can refine and perfect your targeting. Below, you'll find 5 tips to help you make the most of your Local Deals.
1. Reach a different audience.
If your initial deal only targeted a limited set of neighborhoods, expand the breadth of your deal to include more areas. More neighborhoods mean that more neighbors – and potential customers – will be able to view and take advantage of your deal. This is a great strategy when trying to increase brand awareness and reach even more local customers with your special promotion. If your goal is to expand your reach, try 4-5 neighborhoods as a starting point. Conversely, if there are specific neighborhoods that you know would be most interested in your Local Deal, or that showed the most interest in your previous deals, focus just on those neighborhoods.
2. Create a theme-based series.
A series of special promotions can be just what it takes to drum up customer loyalty, and thus, repeat customers. Consider creating a week or month-long sale – for example, "14 Days of Beauty" or "Wellness Week" – where each day offers a discount on a different item or service. The discounts could be on new offerings from your business, regular favorites, or on items for which you'd like to clear out inventory. By offering a different deal each day, you are encouraging neighbors to check in daily during this limited time.
3. Test the duration of your deal.
You can run your Local Deal anywhere from seven to thirty days, so extend or narrow the length of your offering to add urgency. Month-long deals, for example, give neighbors more time to take advantage of your special offer as their schedule permits, while week-long deals are more urgent and encourage neighbors to stop by your store or schedule your service quickly.
4. Test different types of deals.
There are many different deals you can offer: free shipping; buy-one-get-one; buy-one-get-one half off; free gift with minimum purchase; a fixed dollar amount off after a minimum purchase; a percentage off of total purchase; purchase 10 drinks/pastries/manicures and get your 11th free, and more. Experiment with what makes the most sense for your business strategy and goals.
5. Test for different types of audiences.
Think about what you hope to accomplish with your Local Deal. Depending on your goals, different deals will be more relevant to different audience segments. For example, do you want your deal to reach new or existing customers? New customers may be attracted to a special discount that ends up being the nudge they need to become regular customers. Do you want to reward existing, loyal customers? Deals targeted to existing customers are a great way to show your gratitude for their loyalty.
We save all of the information from your past Local Deals – your subject line, description, sharing preferences, and more – and you can edit them to save time when creating your next deal.
By incorporating these marketing strategies, Local Deals can help your business flourish by attracting more local customers and bringing in more business. Claim your Business Page and start sharing your special discount and promotions in minutes.