---
Using Business Posts, you have the ability to engage with your local community via the news feed. But, as a small or local business employee, manager, or owner, finding time to create content can be challenging.
Not sure what to post, or feeling uncertain about what your neighbours want to hear from you? Gather some inspiration from other businesses like yours who have seen high engagement on their posts. More engagement on your posts can lead to new or deepened customer relationships – and more business for you.
1. Share about changes you've made to your business – especially if you made the changes in response to customer feedback.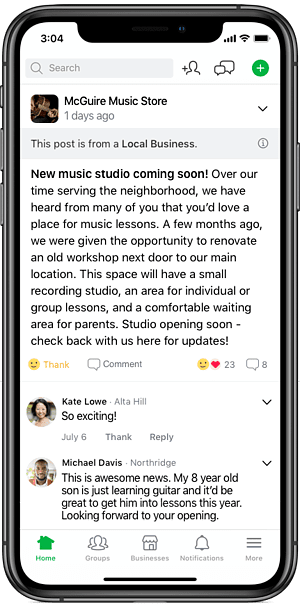 Have your customers asked for takeaway/delivery options, new products or menu items, or a dedicated space to make use of your products or services? Share updates that show you've acted upon their feedback.
2. Highlight one of your
employees
or loyal customers.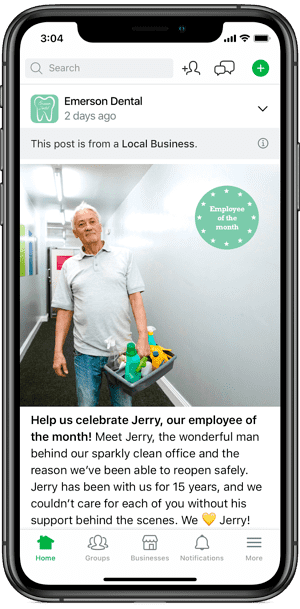 Your employees are critical to keeping your business running – and so are your loyal customers. Share a photo and some information about one of your stellar employees or longtime customers that allows the community to get to know them better.
3. Engage your neighbours in a community challenge.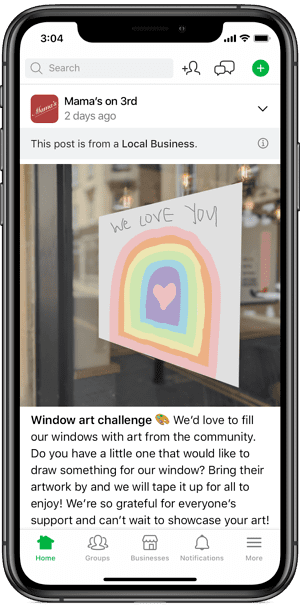 Whether it's sharing art, photos, fitness routines, or recipes, invite neighbours to participate in a community challenge that gets them connected to your business and other neighbours, too!
4. Remind neighbours of how you're giving back to the community.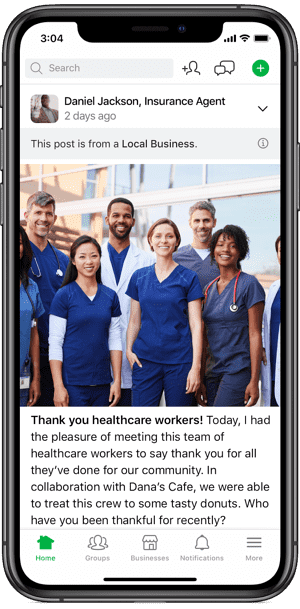 Your community supports you by buying your goods or services. Let your community know what you're doing to show your gratitude. Do you donate excess items or your time to a local charity? Have you pledged a percentage of your proceeds to a good cause? Neighbours will be happy to hear about your efforts – and you may just inspire others to give back, too.
5.
Just say hello.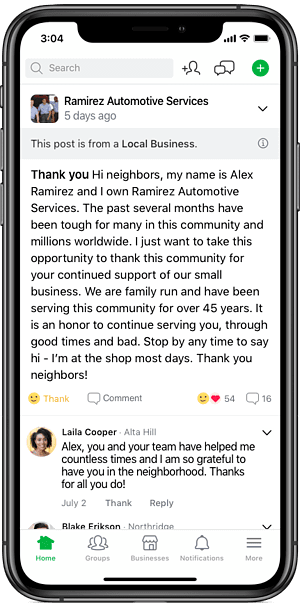 Your Business Posts don't need to be complicated. Sometimes all it takes to reconnect with your local community is a note that says hello and thanks to the community for their continued support. Share your greetings and encourage neighbours to pop in to say hi.
Business Posts help you connect directly to your closest customers, your neighbours. Check out our Business Post Best Practices for more tips. Get started by claiming your free Nextdoor Business Page. Already have a page? Start posting today.
---
Claim your free Business Page to get started on Nextdoor. For resources on how to use Nextdoor to stay connected with your local customers, pertinent news affecting businesses, and more, take a look at our SMB blog.