---
As a small local business, your neighbors are your closest customers, and they're critical to your success. Using Nextdoor is the first step to building both your local reputation as well as relationships with your neighbors in a place where they're already talking about the things that matter within the community – including your business. And, according to Nextdoor data, ⅓ of the conversations on Nextdoor are local recommendations, so you want to make sure you're part of the discussion.
Read on to learn how to use Nextdoor as a local business and tap into the support of your community.
1. Claim your free Nextdoor Business Page to have an online presence.
Local businesses like yours have the opportunity to claim a free Business Page on Nextdoor in order to have a presence in your local community. With your Business Page, you can share your contact information, business hours, photos, add links to your online store, reply to direct messages that neighbors send, and more. And, since neighbors are likely already talking about your business, you may find that you have existing recommendations that you can reply to and thank your customers for!
You can also invite customers, friends, and family to leave recommendations that bolster your local reputation. Once you receive a single recommendation, you'll begin to appear in neighborhood search results, making your business even more discoverable.
Recommendations on Nextdoor from verified, trusted neighbors, carry more weight than those from anonymous reviewers on other sites. In fact, according to an internal survey, 76% of Nextdoor members report being influenced by a neighbor's recommendation. These recommendations have been important to the success of many local businesses, like this handyman.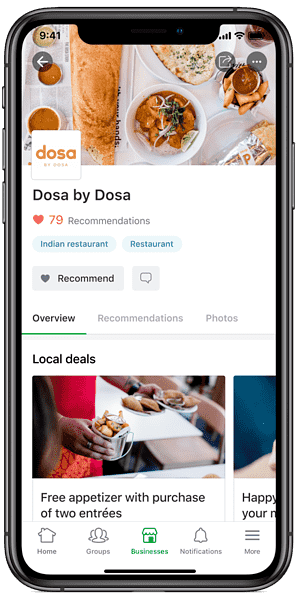 2. Create a
free Business Post
to engage with the community.
Share updates, ask a question, or highlight a standout employee or loyal customer with a Business Post. Businesses have the ability to post into the news feed twice each month, for free. Neighbors up to two miles away can immediately see and reply to your posts, which allows you to deepen or create new relationships that can lead to more business.
During the coronavirus crisis, some businesses like this local restaurant found that posting and sharing updates with the community were critical to their survival.
Watch this video to see Business Posts in action, and don't forget to take these best practices into account when making your posts.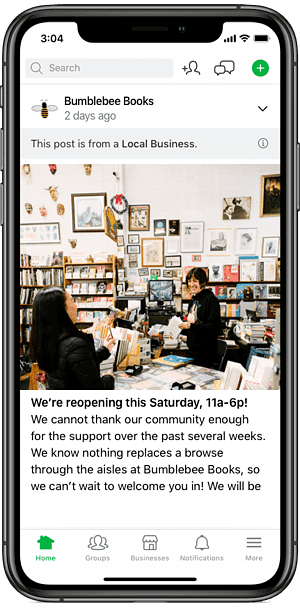 3. Target local neighbors with a promotion or special offer using Nextdoor Ads
.
With radius targeting within 30 miles, you can control both the reach and budget of your advertising with Nextdoor Ads. Whether your goal is to increase website visits, promote a sale or discount, or get more messages, you have the ability to choose your goal to fit your needs. And the best part? Nextdoor helps market your deal in the right place in the right time.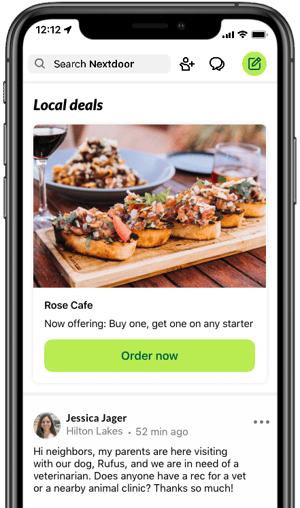 If your business isn't yet using Nextdoor, you're missing out on an opportunity to connect with your neighbors, your closest customers. Claim your free business page and start reaching nearby neighbors today.
---
Claim your free Business Page to get started on Nextdoor. For resources on how to use Nextdoor to stay connected with your local customers, pertinent news affecting businesses, and more, follow us at @nextdoorbusiness on Facebook.