---
This article was updated on August 17, 2022
If you're a local business owner, it's crucial to have an online presence to get discovered by potential customers nearby. Even if you're trying to turn your side hustle into a business, you'll need to build a website.
For those of you who are looking to start an eCommerce business, your website should be your main priority. But you don't want to spend your whole marketing budget on website building either.
Luckily, there are many options to help you create professional small business websites at a low cost, or even completely free. You don't have to be a tech guru or web designer to make your own website.


Before creating your small business website, consider the following:
Naming and Hosting: First, you need to secure a domain name like www.yoursmallbusiness.com. Domain names are not free, but they're affordable. You also need to host your small business website somewhere, which is where all your site data lives so visitors can actually see it. You can secure a domain and web hosting through a company like GoDaddy, HostGator, Bluehost, and many others-or you can purchase a domain name directly through a website builder.
Difficulty

:

If you're web-savvy, you can create your own layout from scratch. If the sight of website code makes you cringe, opt for a free website builder with templates and drag-and-drop tools.
Features: Are you just looking for a place to put basic information or social media links? Do you need an eCommerce feature to sell products involving transaction fees? Do you need to accept credit card payments or integrate with PayPal? Make a list of your must-haves before building your professional website.
Cost: "Free" websites aren't totally free. Many builders have free options with limited functionality, don't allow you to use your own domain name, and usually, are full of ads. There are free website builders, but you still have to subscribe to a paid plan for web hosting, domain name, and other add-ons. That said, it's really affordable to create a business site.


Here are some of the best free website builders for small businesses:

1. WordPress
WordPress is one of the most popular and trusted website builders, powering 34% of the internet. It's great for blog post websites, editorial websites, eCommerce websites, you name it. It offers a lot of free, easy-to-use templates, but it's a more advanced option requiring some website-building knowledge. WordPress allows you to create fully custom websites, input your own HTML, add thousands of widgets and plugins, add social media, link YouTube videos, optimize for mobile devices, and use other add-ons. WordPress makes it easy to create your desired website design through the use of customizable WordPress theme plugin options. Plus, its site builder is easy to use and practical, allowing you to create a small business website design in no time at all.
The free WordPress plan allows you to create a website and customize dozens of free templates to create your perfect website design for your target audience. However, you won't get a custom domain name and you'll have limited storage space. If your business needs a place to park basic information and you're a little tech-savvy, this is a good route for you.
WordPress has several paid plans starting at just $8/month with a variety of features and tools. These plans all allow for a bit more customization and include a custom domain name, hosting, premium themes, email marketing, Shopify integration, and more. WordPress even offers features to help you optimize your online store, allowing you to reach new site visitors.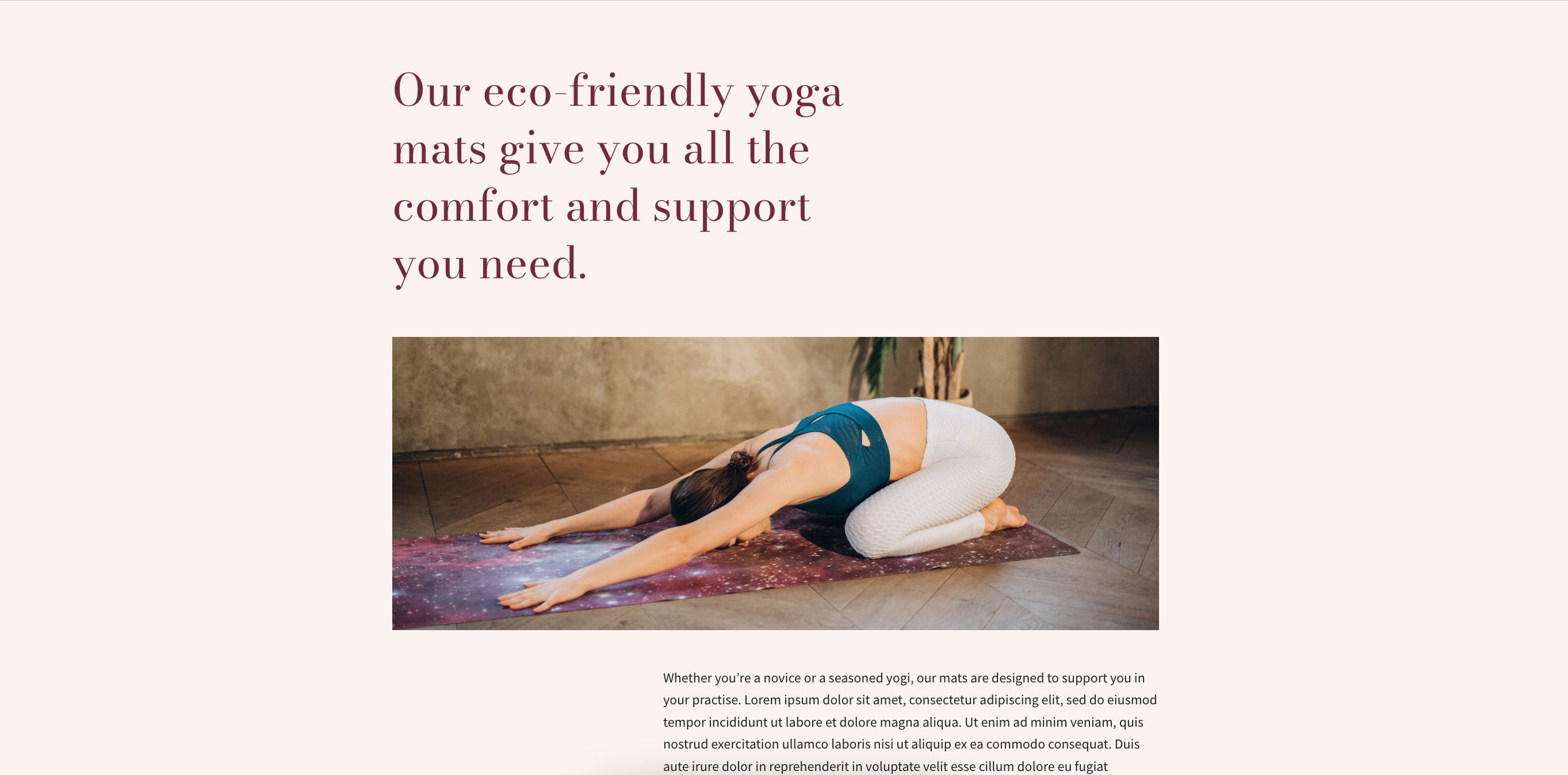 Example of a Wordpress template
2. Squarespace
If you're looking for a user-friendly website builder, Squarespace is one of the best website builders combined with hosting services for small business owners. Squarespace includes hundreds of templates, along with features like eCommerce stores, Shopify integration, analytics, digital marketing tools, and more. Unlike WordPress, Squarespace does not offer a free version, however, it does offer a free 14-day trial if you are a new customer. If you're looking for a small business website builder that allows for easy web design, Squarespace can be a great option.
Squarespace is great for people who aren't technologically advanced or who just don't want to make their own site. They offer several plans ranging from $12/month to $40/month, all with a variety of extras.
The builder itself is easy to use with drag-and-drop tools and tons of integrations so you can get your website running in just a few hours. Squarespace leads in ease of use and allows for social media integration to create simple websites.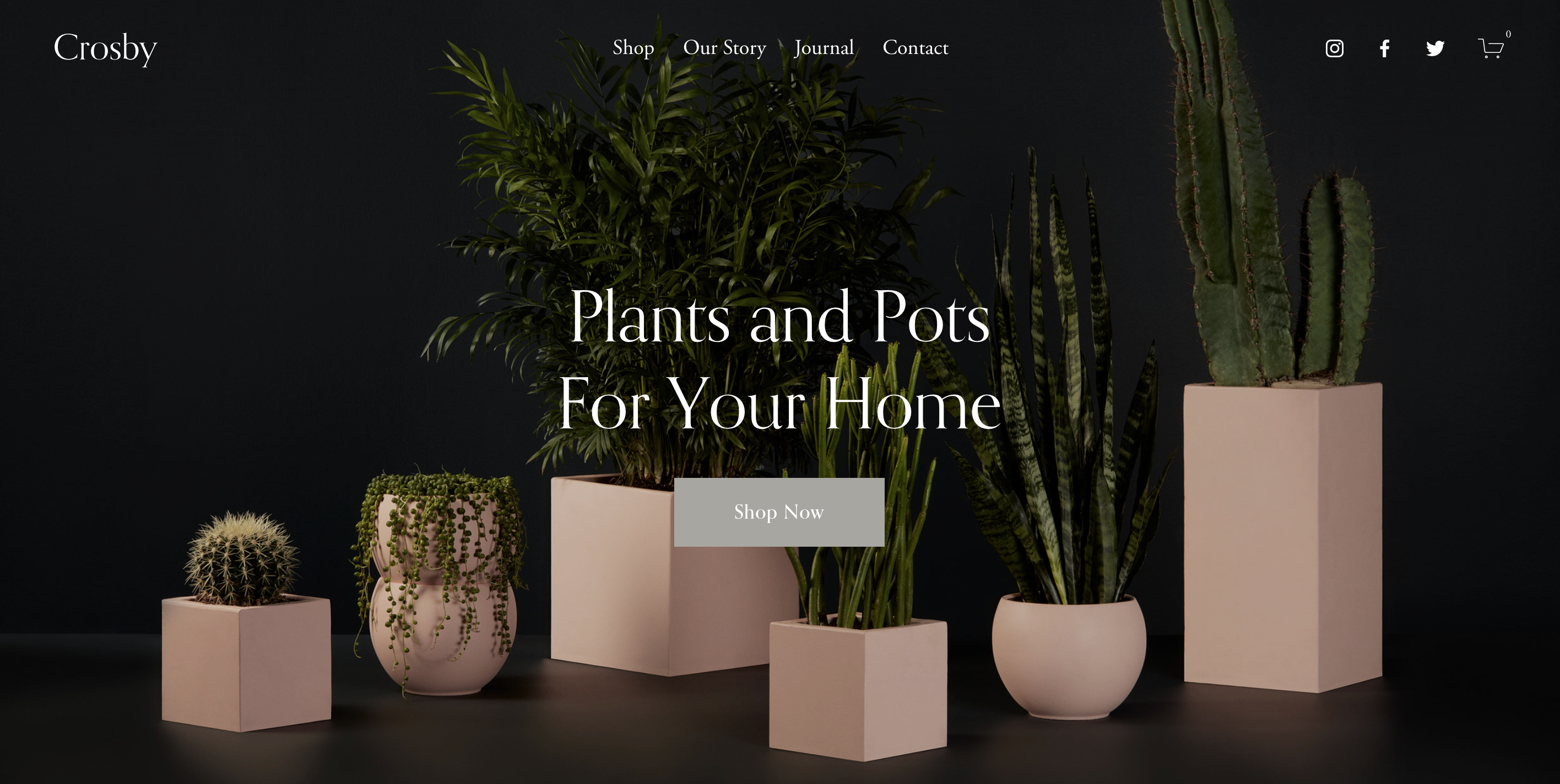 Example of a Squarespace template

3. Wix
Wix is a website builder and hosting company that has a truly free option. Yes, Wix is really free, but with some limitations.
Wix has two plans: Free and Premium. The free plan includes free website hosting, up to 500MB of bandwidth and storage, and a user-friendly web builder. But the free plan doesn't allow you to have a domain name and Wix ads will appear on every page. There are a variety of premium packages for websites and eCommerce.
Wix has hundreds of website templates that are customizable with its drag-and-drop Wix editor. There's even an artificial intelligence tool that can help you create a more customized site after answering a few questions. Sugar and Cream shown below is an example customizable Wix template that showcases products on a clean menu page.


Example of a Squarespace template


4. Weebly
Weebly is owned by Square, which makes it great for eCommerce stores. If you're looking to set up an online store and already use Square, Weebly might be a good option for you. This is another all-in-one website builder and hosting platform with an easy-to-use interface and drag-and-drop functionality.
It does have a free option, but like Wix, it's free with branding. The free plan gives you free SSL security, 500 MB storage, and a domain with Weebly branding-you can also connect a domain you already own through the Square platform. Weebly also includes search engine optimization features (SEO tools), lead capture and contact forms, a community forum, and chat and email support.
Weebly offers three different tiers of premium plans for websites.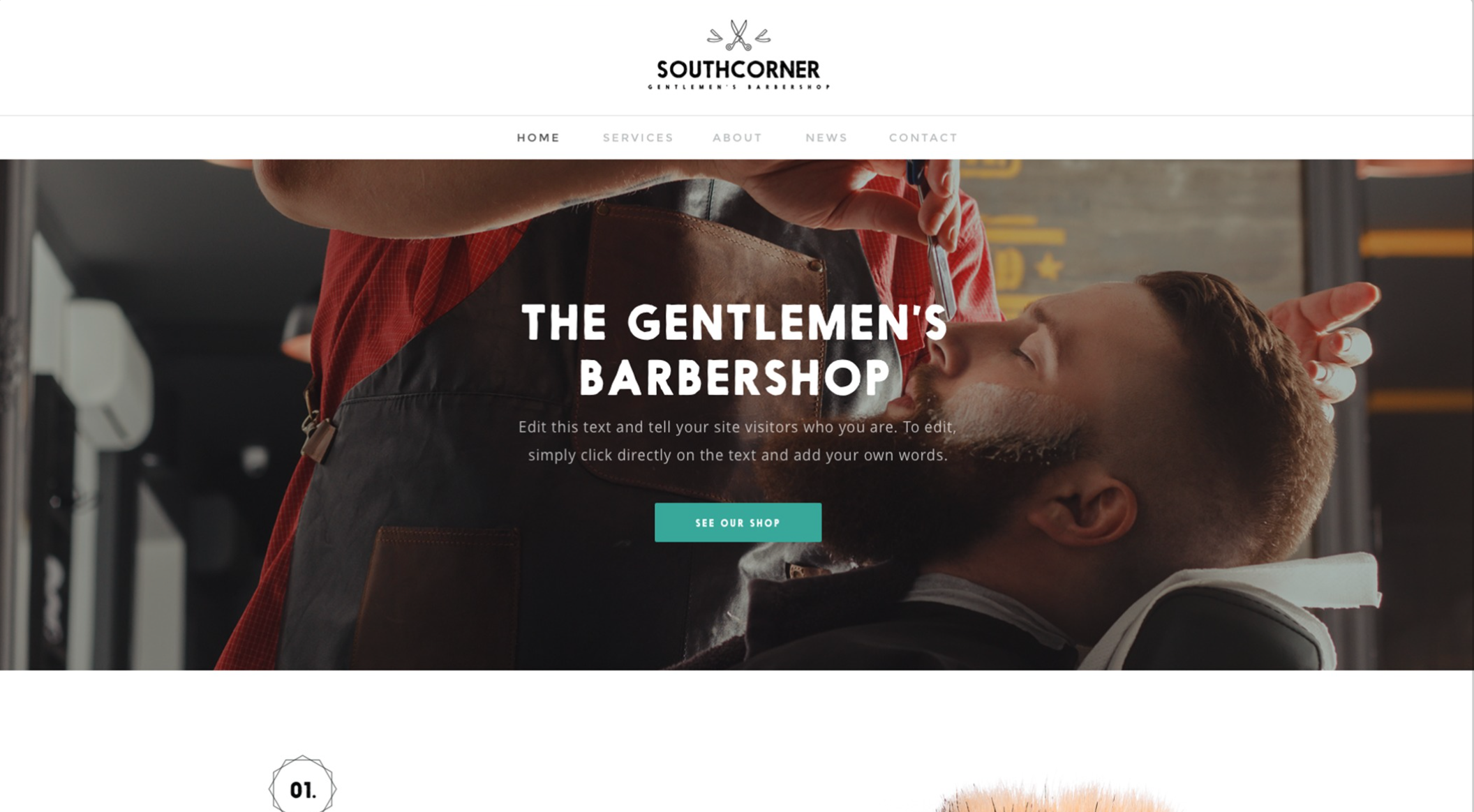 Example of a Weebly template

5. GoDaddy
The GoDaddy website builder is relatively new to the all-in-one builder scene. Now offering a free mobile-friendly platform for your business, you can choose from hundreds of templates to quickly get started.
Pick a website template, add content and products, link to email and social media accounts, then launch and be found. GoDaddy's builder is very user-friendly making it easy for new businesses to get going.
The free account has on-site advertisements such as a GoDaddy banner in the footer of your page. It doesn't allow a custom URL and has a limited marketing tool selection, however, there are 4 paid plans to upgrade to which gives great ability to set recurring appointments, structure payments, and modify SEO elements.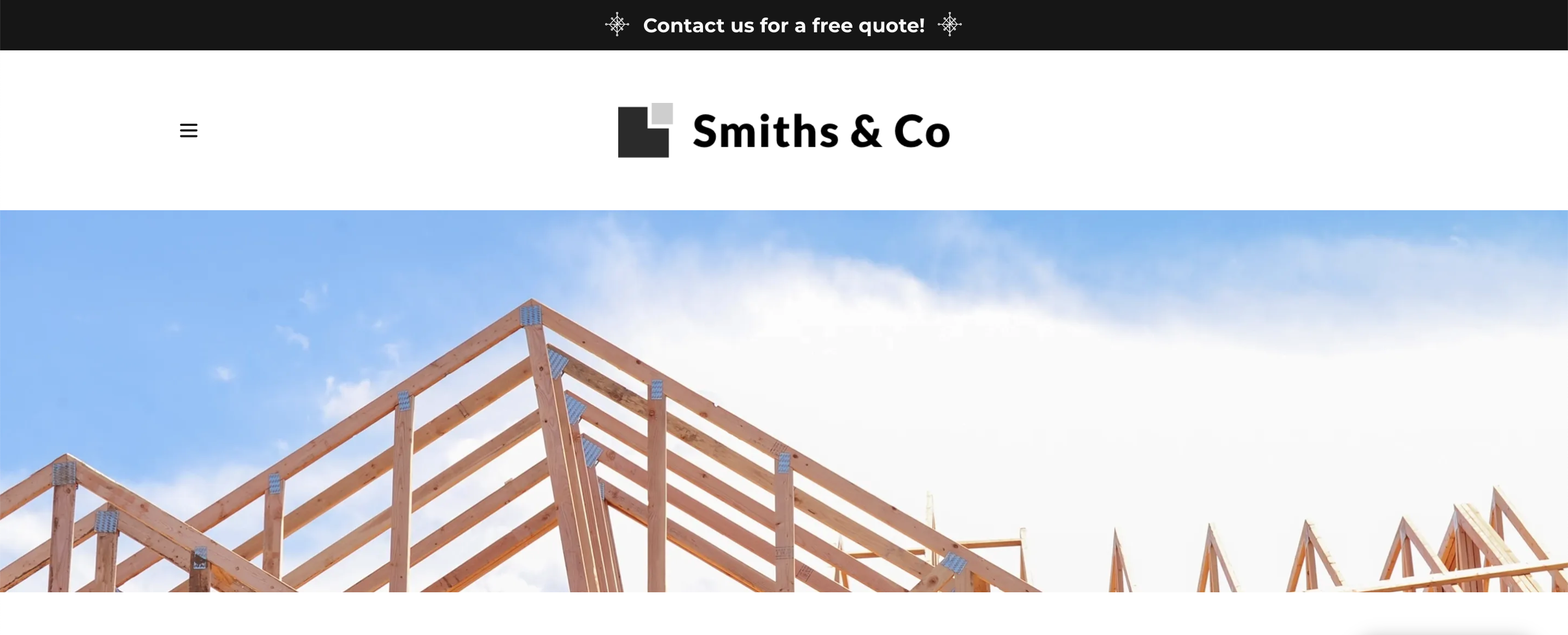 Example of a GoDaddy template
Additional website builders to consider
There are dozens of website builders; these 5 are well used, easy to get started, and have strong support networks to help you along the way. A few honorable mentions worth considering include:
Gator Website Builder
Hubspot Website Builder
Shopify Website Builder
While you may feel overwhelmed by creating your business site, we hope this guide on some of the most user-friendly website builder options today can help you ease some of the stress.
Read on for more of our local business tips on how to market your small business online, and how to ask customers for online reviews.