---
Nextdoor Ads is a simple advertising solution that makes it easy for your business to reach new, potential customers. Whether you're looking for new ways to advertise or need a refresher on how ads can help you promote a sale or discount, this guide has all you need to know.


Why choose this ad format
Do you want to drive sales with an upcoming sale or special offer? Use Nextdoor Ads to get the word out.
Choose the "promote a sale or discount" ad format if you're looking to:
Share a special offer like a holiday discount
Advertise a sale to clear out inventory
Promote an ongoing discount like a first-time customer offer
There are many creative ways to approach this ad format. If your goal is to drive sales by promoting a sale or discount, read on for tips on how to create a Nextdoor Ad.


Creating an ad to promote a sale or discount
If it's your first time creating an ad on Nextdoor, you first need to claim your free Business Page. Once you are logged into your business account, creating an ad is easy. You'll first click on "Ads" on the left-hand navigation if you are using a desktop or at the bottom of your screen if you are on mobile. From there, click "Manage ads."
#1 Select the goal of your ad
The first step to creating an ad is to select your goal. If you want to let neighbors know about a sale or discount you're offering, select "Promote a sale or discount" from the list.
Get started with Nextdoor Ads by first setting a goal

#2 Build your ad
Next, build your ad. Add a headline describing your offer, whether it's a percentage off, dollar off, or buy one get one deal.
NOTE: Keep your headline to no more than 70 characters and avoid using all caps, as this can come off as overly commercial to neighbors.
Next, add a high-quality, relevant photo that relates to your offer. Avoid images with text if possible. If you don't have quality photography of your own, check out sites like iStock.com or Pexels.com for stock photos.
Finally, choose the call-to-action for your ad (ex. Shop now, Call, Message, Email). Depending on your selection, include a link or your contact information. When everything is filled in, click Preview to see how your ad will appear to neighbors in the newsfeed.
Step 2: Build your Nextdoor Ad


#3 Choose your audience
The third step is choosing your target audience. Simply slide the radius dial to the right to expand your radius up to 30 miles from your business. As you slide the dial, you'll see the estimated reach numbers change.
Step 3: Choose your audience

#4 Select your budget
Next, select your budget. With Nextdoor Ads, you have full control over how much you want to spend. For ease, we've recommended three starting plans of:
$3 per day
$5 per day
$10 per day
If you select one of these plans, your ad will run continuously. You'll be charged upfront your daily budget times 31 days, and will be billed that same amount every 31 days thereon-after.
NOTE: You can pause your ad at any time. This is great when running an evergreen ad (for example, a first-time customer discount ).
Alternatively, you can customize your ad duration and budget. Tap "custom budget" and select the daily budget of your choice and the number of days you'd like your ad to run. You'll be charged upfront for the daily budget times the smaller of your ad duration or 31 days.
NOTE: A custom ad duration and budget are good for short-term sales or seasonal promotions.
Step 4: Select a recommended budget or customize your own

#5 Add payment and publish your ad
After your budget is selected, the next step is to see the total charge based on your selection. If you'd like to edit your selection, click on the back arrow in the upper left corner to return to the budget step. If you're ready to proceed with publishing your ad, enter your payment information and click "Publish." Your ad will go into a quick approval process, and you'll be notified via email when it's live.
Step 5: Review your ad summary and add payment details then publish your ad
Once your ads are live, you can pause and restart them at any time. Upon every charge, you'll receive an email receipt. You can also find receipts in the "Settings" tab on your desktop computer.
NOTE: Your ad will display in the most visited part of Nextdoor, the newsfeed. When neighbors see your ad, they'll be encouraged to take the primary call-to-action displayed on your ad, whether that's to "Shop now" by clicking through to your website, call, send you a direct message, or email you.
When to run a one-time or recurring ad
The amount of time you'd like to run your sale or promotion ad is entirely up to you. If you have an evergreen offer like a new customer discount, you can set this as a monthly recurring ad. Alternatively, if you have a short-term seasonal offer, like a Mother's Day discount, you can set an end date of your choosing.


Short-term sale or promotion ads
When creating your ad, you'll choose your ad duration in step 4 as part of your budget selection. To run a one-time ad, click "custom budget", and use the dials to select your daily budget and the number of days you'd like to run your ad. You can choose between 7 and 90 days.
If the number of days you selected is less than 31 days, you will be charged upfront your daily budget times the number of days you selected. For example, if you select a daily budget of $5 and choose to run your ad for 14 days, you will be charged upfront $5 x 14 days = $70.
If the number of days you select is more than 31 days, you will be charged upfront your daily budget times 31 days. Once the first 31 days pass, you will be charged the amount of your billing threshold. Any funds left over after your ad ends will remain in your account balance ready for use. You can change how much you want to be charged once your account balance reaches zero, at any time.


Recurring sale or promotion ads
If you have a promotion that you frequently or always offer, you can now choose to make it run continuously for as long as you like. When creating your ad, select one of the recommended plans of $3, $5, or $10 per day. These plans will set your ad to run continuously. At the time your ad is published, you will be charged upfront your daily budget times 31 days. Every 31 days thereafter, you will be charged the same amount.
If you have a different daily budget in mind, you can click "Custom budget" and use the dial to select your desired daily budget. Under Duration, ensure the toggle is switched on to run your ad continuously.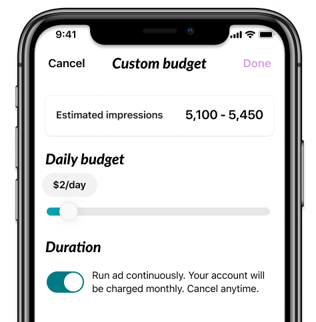 NOTE: Once your ad is running, you can edit and pause the ad at any time.


How to make the most of your Nextdoor Ad
As with all marketing, it's important to understand the performance of your ads. Whether they're short-term deals or continuous, performance insights give you valuable information you need to test and refine your marketing. Your dashboard will guide you with high-level and in-depth insights like total views and clicks. Below, you'll find three tips to help you make the most of your Nextdoor Ad.


1. Reach a different audience.
If your initial ad only targeted a small radius, expand your reach by increasing your target radius. A wider radius means more neighbors – and potential customers – will be able to view and take advantage of your offer. This is a great strategy when trying to increase brand awareness and reach even more local customers with your special promotion.


2. Test the duration of your ad
Test different durations for your ad. Extend the duration to give more neighbors a chance to take advantage of your offer or narrow the length of your offering if you want to create more urgency.
TIP: Consider incorporating wording such as "last chance" or "offer extended" to further create urgency and grab neighbors's attention.
3. Test different types of ads
There are many different types of sales or discounts you can offer:
Free shipping
Buy-one-get-one; buy-one-get-one half off
Free gift with minimum purchase
A fixed dollar amount off after a minimum purchase
A percentage off the total purchase
Purchase 10 items and get your 11th free
Experiment with what makes the most sense for your business strategy and goals.
By incorporating these marketing strategies, Nextdoor Ads can help your business flourish by attracting more local customers and bringing in more business. Claim your Business Page or sign in to start sharing your special discount and promotions in minutes.