---
As states begin to reopen following the coronavirus crisis, "business as usual" is not the case for medical professionals. There are new health and safety guidelines to follow and overdue appointments to reschedule, all while still trying to maintain social distancing practices in your waiting room.
It's important to communicate these changes and stay in touch with your clients who may be waiting to hear from you. With Nextdoor Business Posts, you can post directly into the newsfeed of your neighborhood and engage with the customers closest to you, your neighbors.
Not sure what to post to your community? Check out what other medical and dental professionals have shared to get some inspiration for your own posts:
1. Let neighbors know what health and safety measures you've adopted.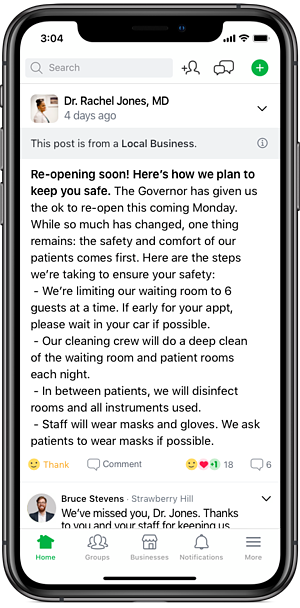 You want patients to feel comfortable utilizing your services. Share the details of any new health and safety measures or new procedures that were put in place to help keep your patients and staff healthy.
2. Spread some cheer across the community.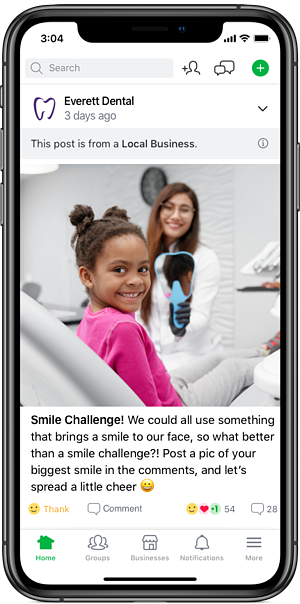 Help neighbors remember your business as the one that made them smile during a difficult time by asking them to share a funny picture of themselves.
3. Tell patients how you can still provide care to them in the absence of in-person appointments.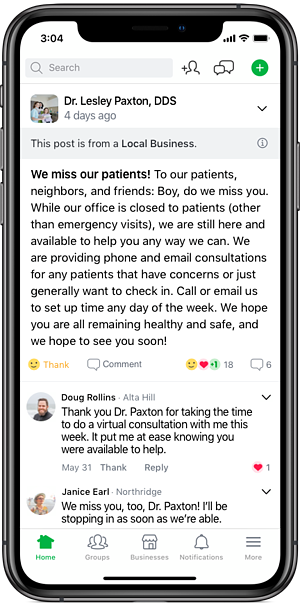 If your office is limited to appointments for emergency procedures, or you're having to limit in-person appointments for social distancing purposes, put your patients at ease by letting them know how you can give them the care they need.
Even in a time of uncertainty, one thing remains clear: Your patients will need your services in the future. Use Business Posts to keep in touch and top of mind.
Want more tips? Review our Business Post Best Practices.
---
Claim your free Business Page to get started on Nextdoor. For resources on how to use Nextdoor to stay connected with your local customers, pertinent news affecting businesses, and more, follow us at @nextdoorbusiness on Facebook.