---
In the restaurant and bar industry, your customers may come from great distances to try your famous dish or drink, but your primary customer base probably lives much closer. According to a survey of Nextdoor members, 88% said they make purchases locally at least once a week, and 77% said they're willing to pay more for something at a local sit-down restaurant versus a big chain.
How do you make sure that you're reaching the loyal customer base who lives closest to you? Read on for 4 easy steps to achieve your local marketing goals on Nextdoor:
By claiming your Business Page, you're creating a place for neighbors to learn more about you, to contact you, and tag you in conversations.
Add photos of your menu, the interior of your restaurant or bar, any outdoor areas, and of course, photos of your most popular food and drinks. Business Pages with photos see 61% more engagement, so give neighbors a reason to stick around and check out your page.
2. Seek recommendations from happy patrons to build your reputation.
Neighbors turn to Nextdoor to ask for recommendations for local services, businesses, and experiences – and they receive responses! ⅓ of the conversations on Nextdoor are recommendations, and 76% of members report that they've been influenced by a neighbor's recommendation. At the end of a transaction, don't hesitate to ask happy patrons to leave you a recommendation on Nextdoor so that other neighbors can see. Include a link to your Business Page on your website so customers can easily find and recommend you.
3.

Run a Local Deal to entice new customers to check out your business.
Everyone loves getting a good deal, and there are a variety of options to try. Put yourself in the shoes of your customer: what kind of deal would get you to visit a bar or restaurant that you've never tried before? A buy-one-get-one? A free appetizer or dessert with purchase? Drink specials? Next, think about which neighborhoods to target with your deal. Do you want to cast a wide net and reach all of the neighborhoods within a 10-mile radius, or do you prefer to reach the neighborhoods in walking distance?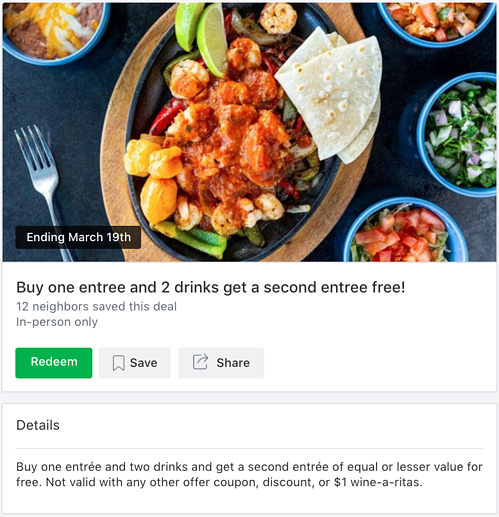 This restaurant offered a BOGO deal to encourage guests to visit for a meal.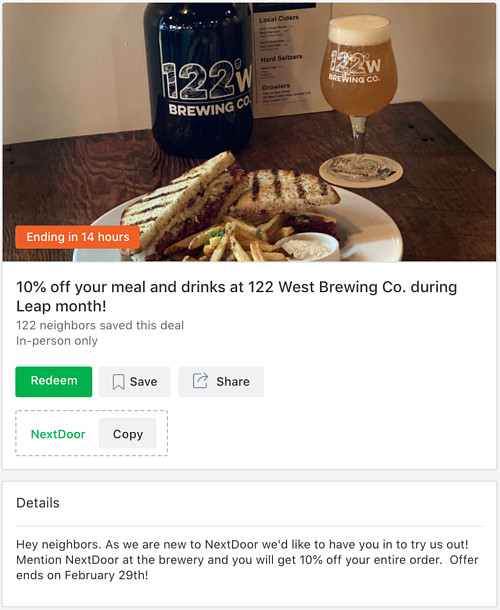 This brewery offered a 10% discount on the purchase of food and drinks as an incentive to give them a try.
4. Consider a customer loyalty program or special discount for locals.
A loyalty program or special discount can be just what it takes to create a loyal customer base. Consider asking guests to register for a birthday club where they receive a free dessert with the purchase of their birthday dinner, or offer, for example, a 10% discount to folks who live locally. With special incentives, you can entice customers to frequent your business.
This business offered a discount exclusive to locals who show proof of residency.