---
Nextdoor Ads is a simple advertising tool that helps your small business attract new customers and grow in the areas that matter most. When you advertise with Nextdoor Ads, how much you spend is completely in your control. But if you've never set up a Nextdoor Ad before, it may be hard to know how much you should spend each day, or even how to get set up in the first place.
This guide will walk you through it. Keep reading to learn our tips for selecting a budget for your ad on Nextdoor.


Choosing a recommended budget
Your budget will determine your reach — the number of people who will see your ad on any given day. With Nextdoor Ads, you can choose to select one of our recommended monthly plans or customize your own. If you choose a recommended monthly plan, your ad will run continuously until you cancel it.
You'll be charged upfront your daily budget times 31 days, and will be billed that same amount every 31 days after. Our recommended budgets are:
This option is perfect for driving ongoing awareness and new leads, as well as for running always-on promotions. You can edit and refresh the ad at anytime. Evergreen ad examples include:
Ads that drive potential customers/clients to your website so they can learn more about your business
Ads that drive potential customers/clients to message you about your offerings
Ads that offer a discount to first-time customers/clients
NOTE: If you select a recommended monthly budget, remember that you can cancel future charges at any time.
Customizing your budget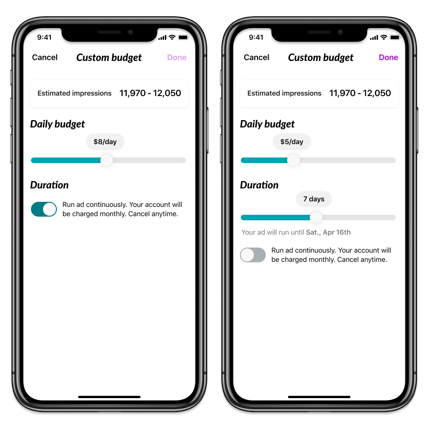 You also have the option to customize your own budget and ad duration. Select "customize duration and budget" and use the top slider to choose the daily budget of your choice. Then deselect the option to run your ad continuously and use the bottom slider to choose the number of days you'd like your ad to run.
You'll be charged upfront for your chosen daily budget times your ad duration or 31 days, whichever is smaller. For example, if you choose a daily budget of $8 per day for 7 days, you'll be charged upfront $56. But if you choose a duration of 45 days, you'll be charged upfront $8x31 days, a total of $248. You'll be charged for the remaining days on day 32.
Customizing your budget is ideal for when you have a short-term sale or seasonal promotion. Examples include:
Seasonal offers like a new menu
Promoting a job application form
Driving traffic to blog content
Remember to incorporate phrases such as "limited-time-only" to create urgency.
NOTE: You can only cancel a custom duration ad if it's scheduled to run beyond a 31-day period. You can still edit the ad at any time.
Finalizing your budget
Once you've selected your budget, you can advance to the next step to see the total charge based on your selection. If you'd like to edit your selection, select the back arrow in the upper left corner to return to the budget step.
Once your ads are live, you can cancel future charges anytime.
Upon every charge, you'll receive an email receipt. You can also find receipts in the "Settings" tab on your computer.

Ready to start growing your small business by reaching nearby customers? Claim your Business Page and create a Nextdoor Ad today.