---
Everyday neighbors turn to Nextdoor to ask questions and share recommendations about topics related to their homes. Whether it's sudden, COVID-19 prompted relocations that require neighbors to quickly list their homes or finally getting around to that overdue home improvement project, home-related conversations make up, on average, 1 out of 4 conversations in Nextdoor neighborhoods. As social distancing and spending more time at home have become the norm, neighbors on Nextdoor are more active than ever to stay informed and connected to one another..
We've received questions from real estate agents and home service providers looking for best ways to incorporate home-related conversations into their Nextdoor strategy. To help spark ideas for your next business post included in your Neighborhood Sponsorship, we've compiled four examples from fellow Sponsors that are effectively communicating with their local customers and positively contributing to neighborhood conversations.

#1 Spark a conversation by crowdsourcing neighbor's recommendations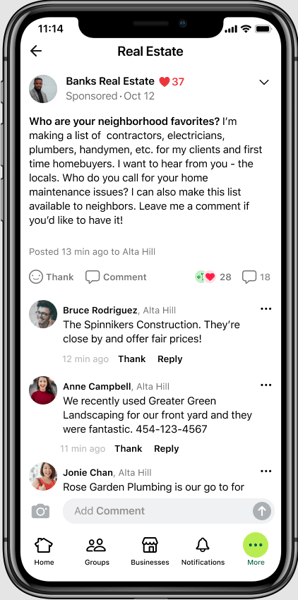 Why it works: While it is common for real estate agents to proactively share neighborhood news like new transport facilities or commercial developments that may impact neighbors' daily lives, this post by Banks Real Estate goes the extra mile to help fellow local businesses. Not only is this a way to crowdsource the most reputable businesses that neighbors recommend, it's also a way to build relationships with local business owners and generate future referrals. Furthermore, Nextdoor neighbors are more likely to come together to show their support for local businesses, and therefore likely be more willing to respond to your post. In fact, 88% of Nextdoor members shop at a local business at least once a week and 72% have reported they will frequent local businesses more often after the pandemic crises.
Bonus: There are many other businesses that can earn business from real estate transactions – from construction, home insurance, and home security companies. Forging healthy business relationships is a rising tide that lifts all boats.


#2 Show, don't tell with "Before" and "After" photos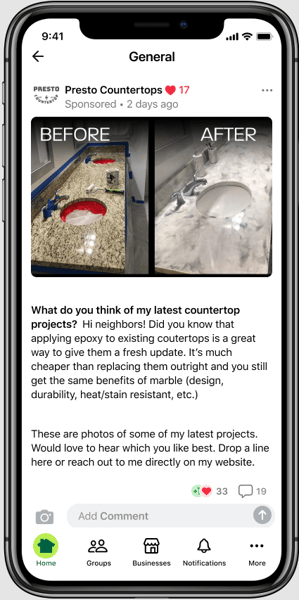 Why it works: Turn your post into a powerful marketing tool for your business. An effective way to communicate your services to potential clients is through 'show don't tell.' In this example, "Before" and "After" transformation photos showcase the quality and care put into Presto Countertop's work, as well as their expertise for this home improvement project. This post may not only prompt neighbors to start imagining the possibilities for an overdue home improvement project, but may also be the proof they need to see that this business has the skills for the challenge.


#3 Share educational content to showcase expertise and customer empathy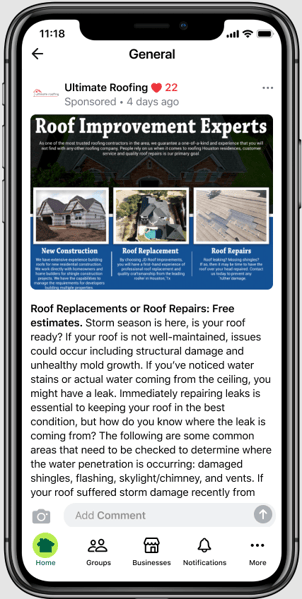 Why it works: Working in the home improvement business does not come without weather considerations. If you provide services in a neighborhood where hurricanes, rain, or disruptive weather is not uncommon, keeping homes safe from damage is on every homeowner's mind. In this example, Ultimate Roofing takes time to understand neighbors' needs and proactively shares suggestions to solve their pain points, helping establish themselves as a reliable expert. Educational content like this also builds trust with local homeowners, who will see the business as a smart and helpful partner rather than someone trying to sell them something. For your next post, offer your services to be of assistance to homeowners by educating them on how to ensure safety, how to arrange for repairs, and address home repair concerns and needs.


#4 Incorporate video to stand out and establish your brand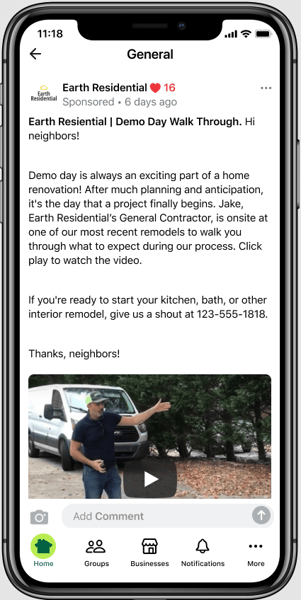 Why it works: If you are a business that is trying to stand out from a crowded market, video can be an effective marketing asset to establish your brand and convey your competitive differentiators. For real estate agents, real estate listings with videos receive 403% more inquiries than those without it, making video work as a lead generation booster. In this example, Earth Residential, a local construction business, shares a video to showcase results from their work and educate customers on the process and progress of Demo, or demolition, day. The video makes for compelling social proof and provides the "wow" factor that would otherwise be limited with text or a print material.
---
Neighborhood Sponsorship posts provide a dynamic opportunity to connect Nextdoor members with local businesses based on real-time conversations. As part of Neighborhood Sponsorship, in addition to profile ads, every Sponsor gets two customizable posts per month per sponsored ZIP code. If you're a local business new to Nextdoor, get started with your Neighborhood Sponsorship and check what ZIP codes are available here.